Tom Kraeutler : This is the Money Pit Top Products Podcast. I'm Tom Kraeutler in Las Vegas, Nevada, at the Consumer Electronics Show. Well, one of the leaders in home improvement is, of course, Lowe's. Lowe's is now introducing a new platform that's going to make it easier and more affordable, and more convenient for us to operate our homes, and it's called Iris. Iris is touted as the place where the smart phone meets the smart home. It's an affordable, customizable home security and home management system that gives you the power and flexibility to protect and control your home from anywhere, using your smart phone or tablet. With us to talk about that is Mick Koster. So, Mick, are you sort of the father of the Iris system?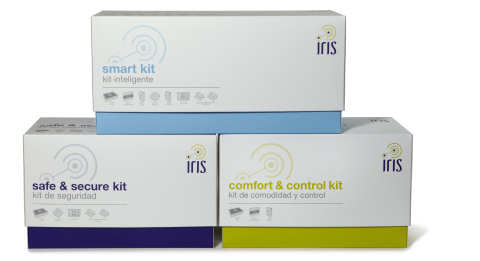 Mick Koster : Yeah, I guess you could kind of say that. We helped design and develop and conceptualize the whole go to market strategy for Lowe's. It came out of our new business development group, and that's where I helped start get it all rolling and get it out there. So we've been in market since 2012.
Tom Kraeutler : Just so folks know what Iris is, it essentially is a software platform that enables you to add different controls to the platform to make your home safer, more secure, and certainly more convenient, correct?
Mick Koster : Yeah, exactly. It's all controlled through our primary hub, so that's a central, the heart of the system. Then that talks out to our software platrform, and you control that through your app. Through your smart phone, through your tablet, through your computer. You're able to control all those different devices, set all those kind of unique rules to really customize it, make your life simple, seamless, a lot more easier to manage.
Tom Kraeutler : It used to be when you were interested in a home automation system, you had to invest in a very big, expensive to install hub. Hubs are still parts of these systems, but they've become far more affordable and manageable, correct?
Mick Koster : Yes. Ours retails now at $99. We continue to press to get that cost down. We want to make that as affordable as we can, because, truly, quite honestly, that's a barrier to entry. So we're just trying to get that, to make it as affordable as we can. We want every consumer to be able to afford an Iris-type system. So that's really what we're trying to focus in on.
Tom Kraeutler : The hub, essentially, plugs into your wireless network, say into your router, and that, therefore, communicates with all these other modular components. So let's talk about some of those more popular components. Now, we all know that we can control lights and outlets and switches, and that sort of thing. I want to talk about some of the components that people really may not understand that they can control througha system like Iris, one of which is your main water valve.
Mick Koster : Yeah, so that's a great new product we're really excited about. It's a leak smart shutoff valve. In essence, what you're doing, you're putting that in line with your main water line, and you can now remotely open and close that valve. So when you go away for vacation, you go out of town for the weekend, you can remotely close it. You don't have to try to remember, hey, did I actually leave the water valve off? What we do is we actually pair that with the other devices across the home, like leak sensors. Once you tie that in, I can put a leak sensor behind a toilet, I can put a leak sensor behind my washer, behind my refrigerator. If you actually have a leak, we can automatically shut that valve off. Turn a $20,000 loss into a $20 loss, right? Just really make it simple and seamless, and give consumers peace of mind.
Tom Kraeutler : That's great information to have, because here we are in Las Vegas, and I know in my part of the country it's about 7 degrees right now. If we were to have a broken, frozen pipe, I'd like to know that my house is flooding before tomorrow when I get home.
Mick Koster : Exactly. That's the whole idea. We partnered with insurance companies, because there really are great opportunities. Like Liberty Mutual, like State Farm, to try to help consumers get a discount on their insurance as they move forward with these types of systems and these types of devices. It just makes life a lot easier, so you can actually get incremental benefits. Beyond just being able to control it, you can also save money.
Tom Kraeutler : Some of the other components that you could add to the Iris system, a thermostat, correct? Can help you improve your energy efficiency?
Mick Koster : Yeah, exactly. I think thermostats, motions sensors control, there's a lot of basics that really kind of come along with a smart home system today. Those are kind of almost like antis. Those thermostats are really great, because they do help you save a lot of money. They help you save energy. There's no need to heat the home when you're not home, and similarly, we have a hot water heater. So, same thing. I don't need to heat the hot water when I'm only there to take a shower at 7:30 in the morning, give the kids a bath at 7:30 at night. Same concept, right? How do we make your home more efficient, and how do we help you save more money? Do it simple, seamless. Do it easy.
Tom Kraeutler : So we have these elements all plugged into the Iris system. Does it give us the ability to schedule things? For example, when we come home, to have the lights come on and the heat go up?
Mick Koster : Yeah, absolutely. That's the whole convenience opportunity. Just make my life easier, so when I'm coming home, what's the environment I want to have, and make it easy for the consumer to be able to schedule that, set that up, set up special rules. For some people that's based upon sunset and sunrise. For some people, it's when I walk in the door. For other people it's, wait till this person walks in the door. When my kids come home, do this. When I come home, do that. Iris is one of the platforms that does a great job of making it easy for consumers to kind of control those different types of use cases.
Tom Kraeutler : It is all about making it easy. This technology can be quite overwhelming, but with a platform like Iris, you can start small, get comfortable with it, and add on from there.
Mick Koster : Yeah, exactly. What we're trying to do is bring in all the national brands that you know and trust already from Lowe's today. So, all of our partners are major national brands, like a First Alert, like a Whirlpool. We try to bring all those national brands in and really just make it easy for the consumer to know, hey this is going to work with Iris. You see a little, works with Iris logo in our store, you know it just works on the system. You don't have to worry about what the technology is behind the scenes.
Tom Kraeutler : Perfect. Thank you. Mick Koster from Lowe's, talking about the Iris system, the safer, smarter, more convenient way for you to manage your home. Thanks so much for being part of the program.
Mick Koster : Yeah, absolutely. Thanks for having me.