Your window coverings can help you conserve home energy and prevent the sun from fading your furnishings – but adjusting them can be a real hassle. You either end up opening and closing your blinds and shades all over your house twice a day, or you give up and just leave them in one position.
Bali automated shades, powered by Somfy, can present a solution. Bali is a market leader in attractive blinds, Somfy are the experts in motorized technology for window treatments, and their myLink device allows you to control your motorized blinds with your smartphone. You can even set personalized schedules, so you never have to remember to open or close your blinds again.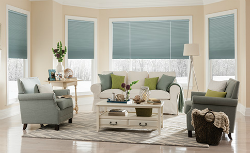 With the Somfy myLink app, you can schedule your windows to close during the hottest hours of the day or open in the morning to let in sunlight. Create different schedules for different days and let your window coverings open and close automatically without the inconvenience of having to walk around the house adjusting your shades.
The Somfy myLink app lets you control multiple window coverings all at once from your smartphone. This includes hard-to-reach window coverings, which means no more climbing a ladder to reach your skylight or stepping into the tub to close your bathroom shades.
The Somfy myLink app is simple to install and set up, and intuitive to use. Bali automated shades powered by Somfy also include battery-powered and plug-in options, so hardwiring isn't necessary for installation. They also integrate with other popular home automation systems, including Iris, Wink, Connect, Connect4 and more.
The Bali line of window treatments offers a wide range of styles, fabrics and colors for every taste. Motorized treatments provide a cleaner, more streamlined look, and the lack of cords makes them safer for kids and pets. Motorization starts at about $200. Price includes the motor, power source and control. (Shade is additional.)
Bali automated window treatments, powered by Somfy, combine style with enhanced functionality to boost convenience, ease of use and safety. Visit www.Baliblinds.com to find your closest retailer, such as Home Depot, Lowes or JCPenney.