Tom Kraeutler : This is The Money Pit's Top Products podcast. I'm Tom Kraeutler at the 2015 International Builders Show. Today home buyers are looking for safe, comfortable and efficient homes and there are great companies out to support that goal, one of which is Vivent. Vivent is one of the largest home automation and security providers in North America and they also offer a solar service, where they'll actually install solar systems into your house and help you profit from the savings. With me to talk about that is Tom Few. He's the vice-president of business development. Welcome, Tom.
Tom Few : Good morning.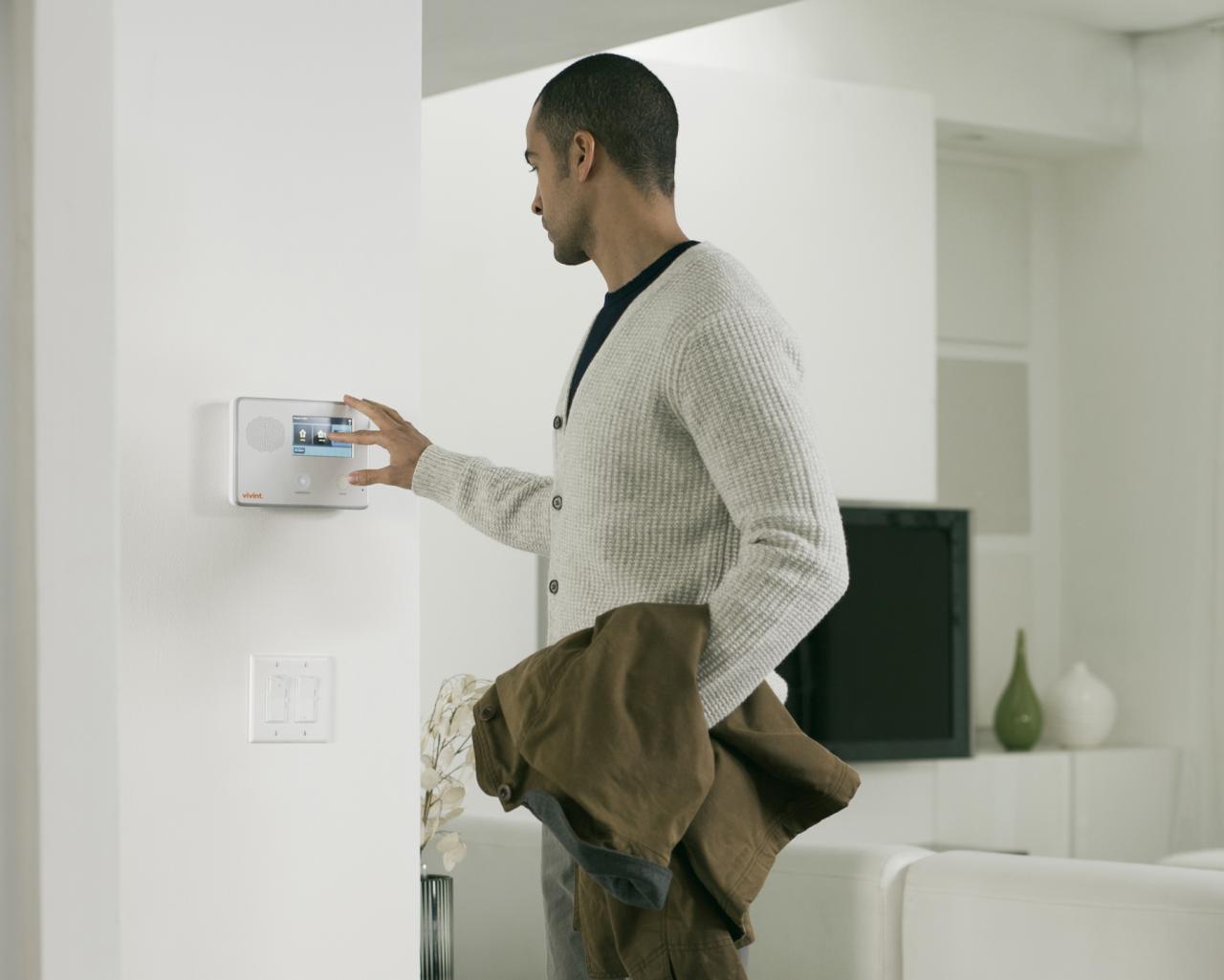 Tom Kraeutler : Tell me about the background on Vivent. How long have you guys been around and how did you get your start?
Tom Few : Well, Vivent was established in 1999 and we view ourselves as a consumer electronics company now. What we did is, we took security home automation and energy management and we tied it together into one unit that's affordable to the masses and that's been something that has not been accomplished yet in our industry. Typically, if you want to get into home automation, it's very, very expensive and it's made for the elite and this is really made for everybody.
Tom Kraeutler : One unit: In other words, we don't have to put in a whole centrally wired hub system with Vivent? We just start with what, a control panel?
Tom Few : Yeah, everything revolves around the control panel. Everything is wireless. It puts about five different technologies into the box and allows us to integrate through Z-wave technologies, 900 megahertz; just about anything that's out there, so it's not intrusive to an existing home. We can work with a new build and we can work with a retrofit.
Tom Kraeutler : The wiring is really obsolete at this point, in terms of having to run wiring to each door, window, that sort of thing; smoke detector?
Tom Few : Yeah, so you can do one or the other, so in a new build, we would wire it if the builder would like to, but with wireless technology today, it's not necessary.
Tom Kraeutler : All right. Let's talk about some of the technology that you're featuring at the 2015 International Builders Show. Your system includes not only alarms for windows and doors, you actually have a built in door lock that you can open remotely.
Tom Few : Yeah, so the ecosystem that we built, we've actually went out and did a lot of exploring to see what was relevant in the space and what we did is, we manufacture our own products. We took some really smart IP and bought it and really took it to the next level and so what we allow ourselves to do then, is to integrate into any home, [protect 02:14] any home, automate any home and that's from an energy management perspective, which is thermostats, lighting control, any kind of automation in that regard and then locks and what have you. What we've done, which is unique to the industry, is we vertically integrated everything we have into our own platform, so we own our own platform, our own cloud, our own app and everything is controlled by your iPhone or your iPad or a browser.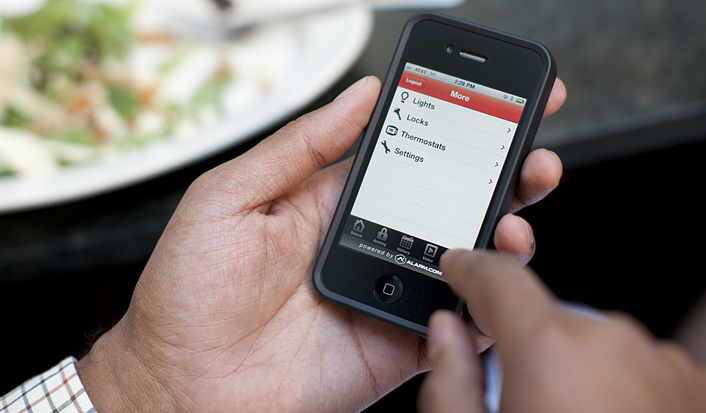 Tom Kraeutler : Now when it comes to monitoring these systems, obviously, remote monitoring is incorporated into the system. Is there a way that the consumer communicates directly through the panel with the monitoring service?
Tom Few : Absolutely, so what we do is Vivent Voice, so in the event of an emergency, we immediately come down via two-way voice, which is hands free communication to the home owner, authenticate it to the person who's [inaudible 02:55] is supposed to be there and take care of any kind of emergency that's occurring. In the event if there's an emergency where someone's fallen and couldn't get up, we're talking to them, we're bringing in the EMS and they're communicating with the client. Same with fire, same with [burg 03:09], same with any kind of incident that would occur in a home.
Tom Kraeutler : I understand that your new control panel actually has a camera built into it, so you'll be able to see the representative on the other end that you're talking to.
Tom Few : Yeah, everything's got a unique identifier. It's in conjunction with a camera. We have multiple different applications for cameras in the home and outside the home. Everything's done through our wireless network and we kind of own the wireless network in a hotspot in the home, off the initial internet connections the home already has.
Tom Kraeutler : What happens if the internet goes down? How do we still remain protected?
Tom Few : That's the unique thing about our products. We have dual path going out of our panel, so internet is what we typically use to make sure that we're seeing a feed from video, put our communication back to our command center [inaudible 03:51] our emergency services done through a cell service or CDMA, so in essence, a cell phone.
Tom Kraeutler : We're talking to Tom Few. He's the VP of business development for Vivent. One of the things that home automation systems can do now that was never possible before, was to actually be smart enough to know what the weather's going to be and react based on that. You have a connection with The Weather Channel. How does that work?
Tom Few : Yeah, we tie in on the backend to understand what the weather in any particular area is going to be. We have a million subscribers throughout the United States and in the event of an emergency such as a hurricane or a tornado, typically, the early warning signs are a very manual process, whereby somebody has to go down and ring the bell and let people know that there's something going on. With our integration with our backend, we go ahead and send a signal down to the [arm 04:34] system and let them know, so they'll know a good ten minutes before anybody else will that there's a tornado or a hurricane coming that way and to take cover or make sure their home is prepared.
Tom Kraeutler : That could be a real lifesaver.
Tom Few : It has. We have testimonies showing us so.
Tom Kraeutler : Let's talk about your solar offerings.
Tom Few : Yeah, so solar is something that's fairly new to us. We're in our infancy. We're about five years old, but in that five years time, we've become the second largest solar provider in the residential space in the country. About forty-five days ago, we did our IPO, so that was pretty exciting for us and now in 2015, now that we can have an arms length through a relationship with our solar side, we're going to work on an integration piece that actually takes a solar piece and integrates with our home automation piece.
Tom Kraeutler : How does a consumer know if solar makes sense for them?
Tom Few : Well, the way we do it, through some government tax incentives and in particular areas of the country where energy's very expensive, Vivent subsidizes the entire installation and a customer has immediate savings, so from a cost perspective, it's almost a no-brainer for the customer.
Tom Kraeutler : All right. Tom Few from Vivent. Thank you so much for being a part of The Money Pit's Top Products podcast.
Tom Few : Thanks for having us.