If you're tired of flakes falling on your face, food, and clothes, or just grossed out by the dust and dirt it collects, it's probably time to get rid of your home's popcorn ceilings. The bad news is that you're a bit behind the times, since the popcorn ceiling craze ended a couple decades ago. The good news is, so many people have had to remove popcorn ceiling that it's become a relatively easy and commonplace DIY project for homeowners.
Why were popcorn ceilings ever popular?
The one thing you'll notice when you've successfully completed your weekend "Popcorn Ceiling Removal Project" is the sound. Popcorn ceilings weren't always named by their appearance. They were once known by their function, as "acoustic ceilings," so called because of how effectively they dulled noise and echoes. In a room with wood floors, acoustic ceilings were a much-welcomed auditory relief–but nothing some soft furniture and a couple throw rugs (or carpet) won't fix.
These 1950s thru 80's-era throwbacks were also popular among builders, however for an entirely different reason. Textured popcorn ceilings were ideal for hiding imperfections, like sloppy drywall finish work, and resulted in far fewer complaints from new homeowners.
That's about it! The list of popcorn ceiling benefits ends there. Everybody knows the rest of the story. With age, they catch dust, flake off, their institutionalized aesthetic doesn't make a house feel much like a home, and they're an often a repellent to potential buyers if you're trying to sell your property. Now it's time to bring your home into the 21st century.
A few precautionary steps will save you headaches later on.
Best to Test First for Asbestos
An important precautionary step will save you headaches later on. No matter how you choose to tackle the job, you'll want to start with an asbestos test.
Asbestos was very cheap and very popular once it was found to be effective in heat resistance and insulation. It's also obviously very toxic. Since it wasn't t banned until the late 1970s (or later, depending on your location), it's not rare to find it in homes built even in the 1980s. According to one National Institute for Health Study "Asbestos-textured ceilings are a possible source of asbestos exposure and there may be a risk of developing cancer in individuals exposed to ceiling deterioration."
A basic asbestos test is cheap and available for purchase at all major hardware stores. If you do test positive for asbestos, removal could be costly. In that case, you might opt to repaint the popcorn ceiling rather than remove it.
Three ways to remove popcorn ceilings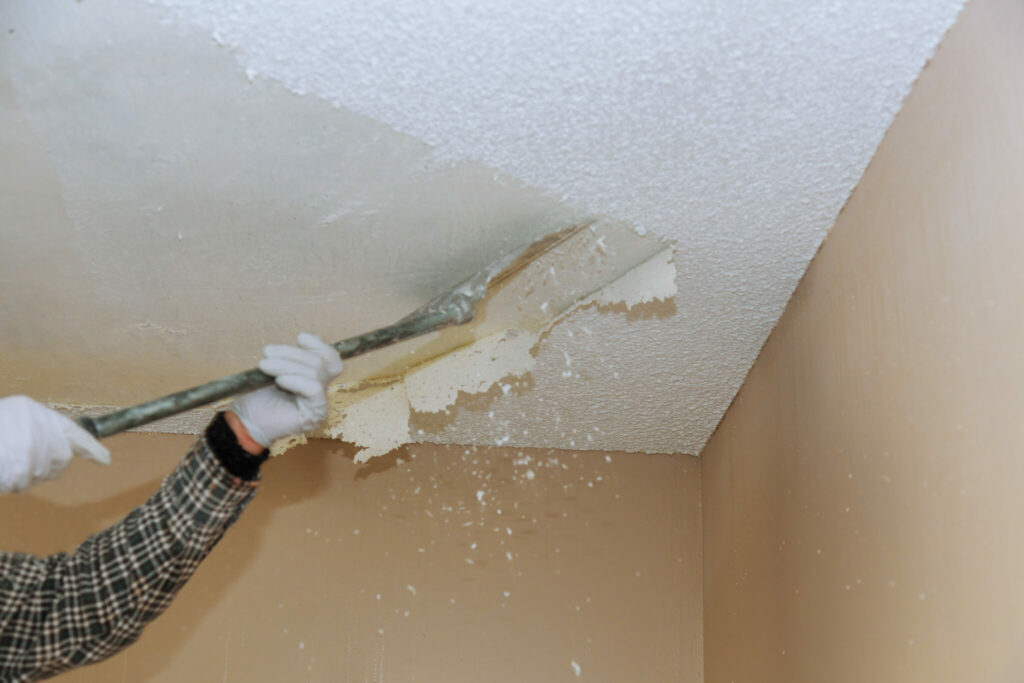 Option 1: The Wet Scrape
The most common way to fully eradicate your popcorn ceiling is to just scrape it off. But as with any home improvement project, it sounds a little easier than it actually is.
Start with a simple one-gallon garden pump sprayer and lightly mist the ceiling. Do not over-spray, and try to avoid walls and any electrical outlets. After 10 to 15 minutes, you should be able to take a spackle or putty knife and simply scrape off the ceiling texture. Go slow, and start in a small area to make sure it has absorbed the water. (Note that painted popcorn ceiling may not absorb moisture, which is another reason to test a small area first.) Once you've scraped the entire ceiling, take a survey of the job so far. If the ceiling is smooth, consider yourself a pro (or lucky). If it's not, move on to the sanding stage.
Option 2: The Dry Scrape
The second option is the "dry scrape" method. This is completely doable–meaning it has been done, with varying levels of success–but it's not encouraged, for a number of reasons. One, it's not an option at all if you do have asbestos (or lead paint), due to the risk of airborne toxicity. Second, it's really messy. If the wet scrape is an option, the dry scrape shouldn't be.
Some will argue that water can absorb into the ceiling, causing it to expand, sag, or crack. That may be true, but if your ceiling sags after a wet scrape, you overdid the "mist" phase. Remember, the idea behind the wet scrape isn't to douse the ceiling with a garden hose, but to lightly mist the popcorn material just enough to allow it to pull away from the ceiling and fall (rather than float) once it's scraped. If you know a guy and this is his method, by all means we don't want to break up a friendship, but otherwise we recommend against the dry scrape method.
Whether you choose the wet or dry scrape method do yourself a favor and start with a tarp, some tape, and a screwdriver. Remove light fixtures and tape over any exposed electrical boxes, move out any furniture, and tape down a tarp across the entire floor. You'll save a ton of time, hassle, and possibly even damage.
Smooth finish or textured paint
Regardless which scrape method you chose, unfortunately, you won't have a smooth, paint-ready ceiling just by scraping, but you're close! If you managed to remove all of the popcorn material, you'll still very likely be left with an uneven surface or other blemishes (remember this as one of the reasons popcorn ceiling became popular in the first place). You'll probably have small dings and gouges to fix, as well. At a minimum, you'll want to take a pole sander and hit the rougher spots. Depending on how smoothly the popcorn came off during scraping, you may need to take a few laps around the ceiling to even it out.
A quick tip about the scraper: If your tools are brand new, it's wise to take a file to the corners of your scraper, rounding them off. This will minimize some of the divots that are inevitable when doing a project like this.
Lastly, depending on how large and smooth the area, consider a textured paint as a finish — and be absolutely sure to apply a primer coat first. It will seal the surfaces and set you up for good results with the top layer of paint.
Option 3: Cover It
After you get your asbestos test but before you actually start scraping, make sure your popcorn ceiling isn't painted over. You can usually tell, but if not, wet a small area as a test. If it is painted, scraping it becomes much more difficult just by the sheer amount of force (and left-over damage) it will take. Whether you find paint, lead, or asbestos, the second most popular approach to removing popcorn ceilings is to just cover it. This also won't break the bank, since drywall (or gypsum boards), a bucket of screws, and some drywall mud will cost a couple hundred dollars, depending on the size of the room. This option will take a bit more time and is more difficult without a partner, but you if you budget your time appropriately and consider renting a drywall lift, it's still very much a DIY project.
If you do decide to cover the ceiling with new drywall, remember you'll need to extend any electrical boxes to meet the new drywall surface. Fortunately, there are box extenders readily available for this.
Handy Tools to Remove Popcorn Ceilings
No matter how large the surface you're looking at fixing, you're still going to save big on labor if you do it yourself. If time is a problem, consider upping your game with scrapers tools made specifically for popcorn ceilings.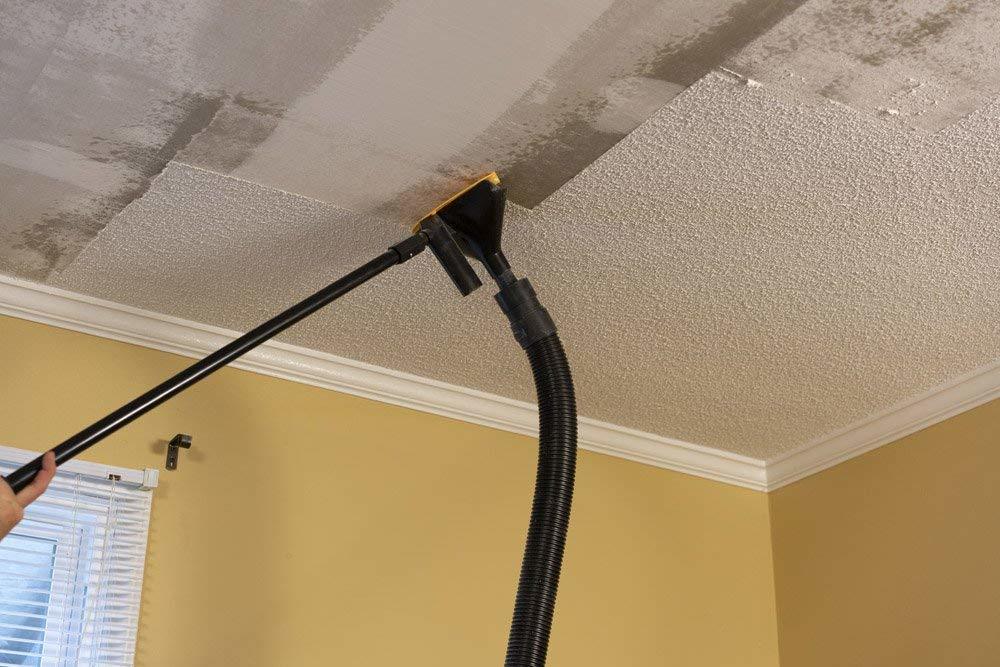 POPeeze tool will make the job of popcorn ceiling removal much safer, cleaner and more efficient than conventional methods. We love this tool because it solves one of the real hassles of removing popcorn ceilings: gravity! Scraping the ceiling texture allows the debris to fall to the your face, cloths and floor. Just attach POPeeze to your shop vacuum hose and a pole to make the difficult task of removing popcorn ceilings much easier. It generates significantly less mess to clean up – but its not recommended for ceilings that have been painted over.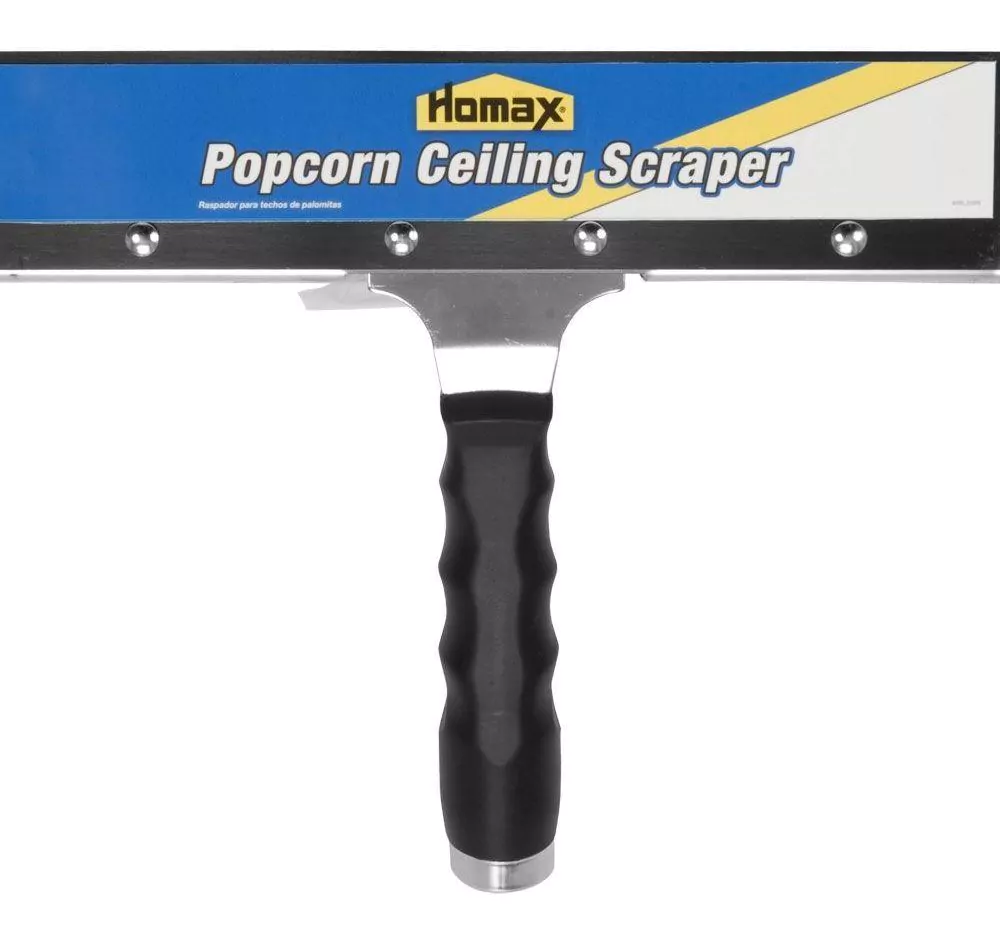 This handy tool is similar to the PopEEZE product but does not require a shop vac attachment. Instead, it features a unique bag attachment that captures texture as it is removed, so the texture falls into a bag and not on the floor. Homax Popcorn Ceiling Scraper is designed to protect and prevent ceiling materials from gouges. It has a 12 inch blade and connects to any standard extension handle.
This handy sprayer is usually reserved for weed killers and other such garden applications. But if you are removing a popcorn ceiling, the adjustable nozzle and extended reach of the spray make it a great way to dampen the ceiling without overspray. Its comes in 1, 2 or 3 gallon sizes, but considering that water weighs about 8 pounds per gallon, and that you may be carrying this up and down a ladder, its best to stick with a one gallon unit.
Finishing Touches
Whether you're looking to paint, texture, panel or tile, check out our blog for more ideas on how to make your ceilings smooth and aesthetic, including "5 Ways to Crush Ugly Walls," "Ceiling Makeover Ideas" as well as how-to guides like "How to Cover Stain in Popcorn Ceiling," "How to Fix a Popcorn Ceiling," and "How to Patch a Popcorn Ceiling."