LESLIE: Well, the original bath vanity consisted of nothing more than a piece of furniture with a bowl on top and a pitcher of water kept nearby.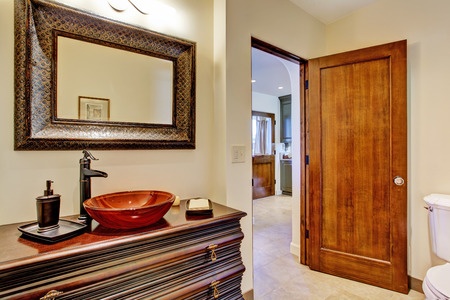 TOM: You can get that vintage look but with the convenience of modern plumbing by building a bath vanity from recycled pieces. Here to tell us how is This Old House heating-and-plumbing contractor Richard Trethewey.
Hi, Richard.
RICHARD: Hey, guys.
TOM: Hey, so the look of sort of a bowl on top of a vanity, which we also call a "vessel sink," seems to be making a pretty big comeback. We see it in all of the design centers. We're seeing it at the trade show. People really like that it's a throwback to times gone by, right?
RICHARD: Right. It is the rage these days, you know. I personally – I'm not sure if it's as functional as having a more conventional bowl where the water all works its way in but people love the look. I think it does harken back to the old days of plumbing and I think they're nostalgic for that.
LESLIE: Well, what I think is interesting when you're working with a vessel sink, Richard, is that I feel like your options for bases sort of really expands then. Because you can go with something that's much more vintage-inspired or perhaps even a found piece of furniture to make it work.
RICHARD: Taking an old dresser or some beautiful, old sideboard sort of piece and try to make it feel like it was around at the turn of the last century.
There are some cautions with that, though. I mean that beautiful, old dresser has drawers; it's a dresser. So, now, you're going to put a vanity bowl or a vessel on top of it, well, let's talk about the drain. Well, the drain has to come down exactly through the center. So, one thing that has to be done is the plumber has to rough-in in the wall exactly where the center of that is, so that the drain can hopefully come right through to where the drain of the vessel is and not have to completely cut away all the drawers.
Now, we just did one of these on our most recent This Old House project, this Italianate – this beautiful Italianate house. And Tommy Silva, as usual, worked his magic where he took the drawers and cut them exactly so that when you pulled open that drawer, it was cut to allow for the trap and the drain to be perfectly in the center of that drain. And it was detailed in perfectly.
Well, that takes work, that takes money and it takes time. So, I want to caution people that this is not just throw a dresser underneath and think it's not going to have some issues trying to get it modified in there. It's a labor of love to get this thing working and so that you have both drawers and a functioning, working drain.
TOM: Well, besides converting dressers, does this approach work with other types of furniture, as well?
RICHARD: Yeah. The antique sideboard. We've seen old, oak desks are done. Even an old table where those legs of the table stand proud and really give a beautiful visual element to the front of it.
You do want to be cautious about the heights. You tend to want to have a vanity to be not at the 36-inch height of most kitchen counters; you want it down to 29 or 30. And that's generally what a table height is. But you want to get the right height so it's functional for people, too.
TOM: Yeah. And that's a good point because the vessel sink is going to sit on top of that vanity surface or that dresser surface, just like a bowl would.
RICHARD: That's right.
TOM: And so that's going to add a few inches there. Then I imagine the faucets are specialized, too, because they have to reach up and over and in.
RICHARD: That's right. You're not just going to have the conventional 4-inch-wide (inaudible at 0:23:40). You know, conventional faucets come in either 4 inches on center or 8 inches on center to fit into conventional sinks. These are generally going to be single-hole faucets that have a gooseneck spout of some sort to bring that water up and over the lip of that lavatory.
TOM: I see that ending up as one of those what's-wrong-with-this-picture images where the vessel sink is installed but the faucet is about 4 inches off the counter of the picture (ph) itself.
RICHARD: And don't forget to leave a towel handy for all the water that sprays on the wrong side.
TOM: Yeah, that's right.
LESLIE: I feel like I make a mess regardless of the type of sink I use.
RICHARD: Yeah. This is not the vessel for you, Leslie.
TOM: I'm kind of with you on this, Richard. It seems like it's more work. Because I just imagine myself with three kids always wiping up the top of that surface around the sink.
RICHARD: Yeah.
TOM: It's hard enough to wipe out the sink; now you've got to wipe the furniture every single time.
RICHARD: Look, this is a design fad, we can call it right now, and it's hot and people love it. And I've got to admit it looks beautiful. Most often, I see it in beautiful, high-end restaurants. They might use it because they have people to clean and wipe those things down every day.
For a day-to-day sink, I'm not sure about its functionality enough, particularly with places with kids.
TOM: Well, if you decide to go ahead and install the vessel sink, now you have the options, thanks to our friend, Richard Trethewey, the plumbing-and-heating contractor on TV's This Old House.
Thanks again, Richard, for stopping by The Money Pit.
RICHARD: Thanks, guys.
LESLIE: Catch the current season of This Old House and Ask This Old House on PBS. For local listings and step-by-step videos of many common home improvement projects, visit ThisOldHouse.com.
TOM: And This Old House and Ask This Old House are brought to you by GMC. GMC, we are professional grade.