The pragmatists among us may view the bath vanity as purely functional, which is certainly understandable. After all, the main purpose of a vanity is to support the bathroom sink and provide much-needed storage space. But that doesn't mean a vanity can't also be architecturally interesting and the stylish centerpiece to your bathroom.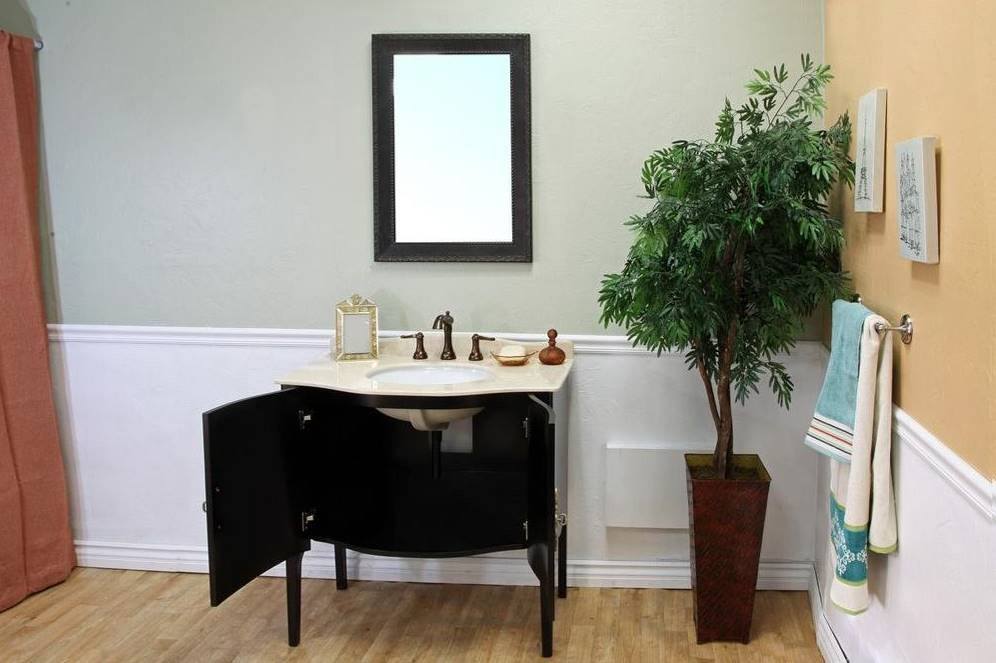 If you're planning a bathroom remodel, keep in mind that the bath vanity will have a big impact on a bath's style, architectural design and beauty. And its influence isn't affected by the size of the bathroom: small or large, the right vanity will provide form and function and help transform an ordinary bath into something spectacular.
1.
Single or Double?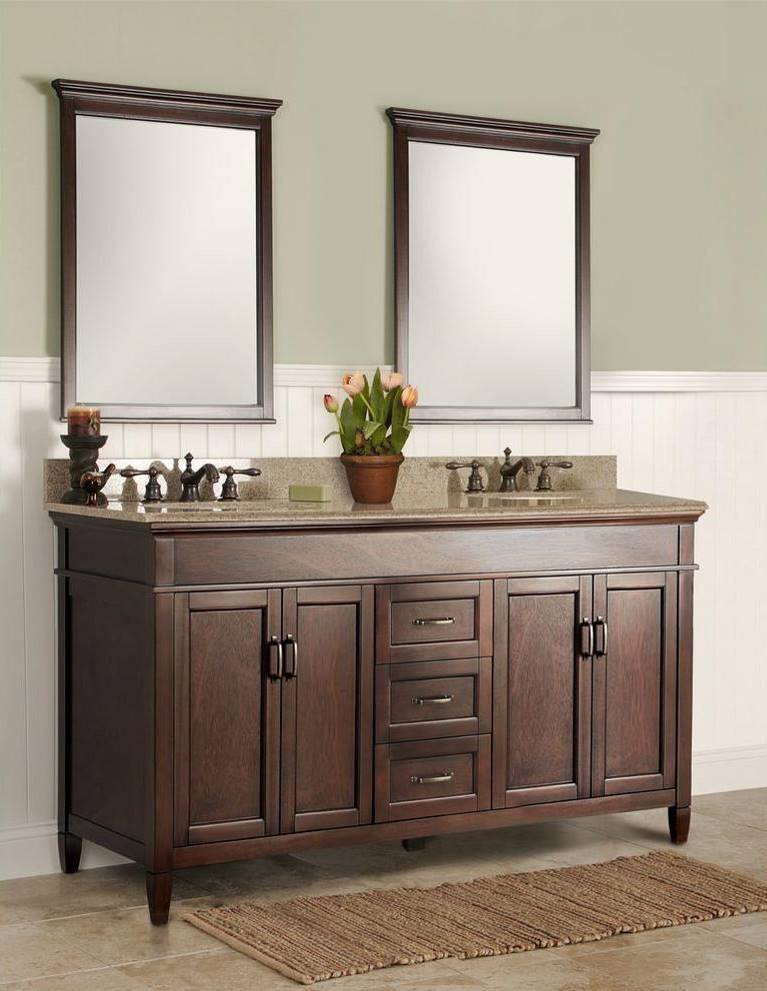 The first thing you must decide is whether to buy a single-sink vanity or double-sink bath vanity. Both types are available in a wide variety of sizes, styles and prices to suit virtually any size bathroom or budget.
Single vanities are ideal for half baths, three-quarter baths, powder rooms and guest bathrooms. Double vanities are typically installed in master baths and shared bathrooms used by more than one person, such as a kids' bathroom or an in-law's bath. The obvious benefit of a double vanity is that it can accommodate two people at the same time, but just as important, it has twice as much storage space as a single-sink cabinet.
When comparing bath vanities, be sure to ask what's included in the price. Most vanities come with a countertop; others include a counter and sink. Some are sold as bare cabinets and you must purchase the counter and sink separately.
Once you've decided between a single or double bath vanity, it's time to identify which style vanity best complements your bathroom.
2.
Contemporary Styling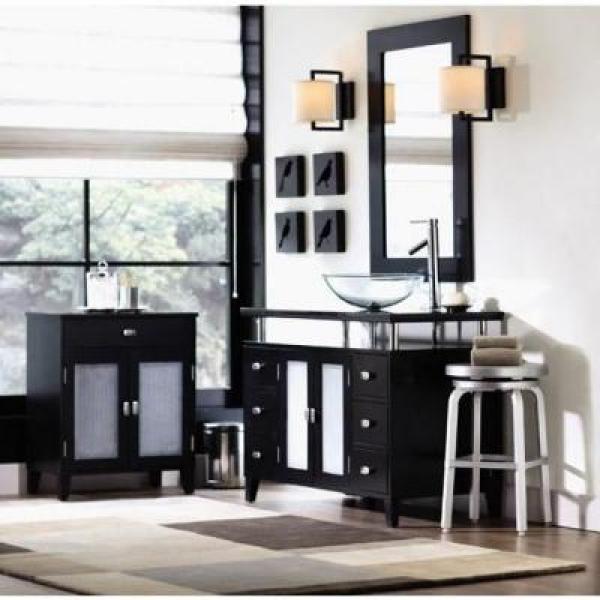 If your bath features modern fixtures, fittings and finishes, then look for a contemporary-style vanity that has clean, straight lines, flat surfaces and a minimum amount of adornment. Today's most popular contemporary vanities have dark-stained wood finishes with contrasting brushed chrome or nickel hardware.
Modern-style vanities often have sinks molded right into the countertop for a clean, seamless look. But to create a more dramatic impact, consider installing a vessel sink that sits on top of the counter.
3.
Free-Standing Vanities
For many decades, the majority of bath vanities were installed as built-in units, spanning from wall to wall. While this approach is still popular today, there's a rapidly growing trend toward free-standing vanities.
Several years ago, cabinet manufacturers began offering vanities that look like freestanding pieces of fine furniture. Most resemble a chest of drawers or wooden dresser, complete with decorative carved or turned feet, and a stained or painted finish. Free-standing vanities come in both single- and double-sink configurations, and install as easily as any other type of vanity. No special plumbing is required.
4.
Open-Shelf Vanities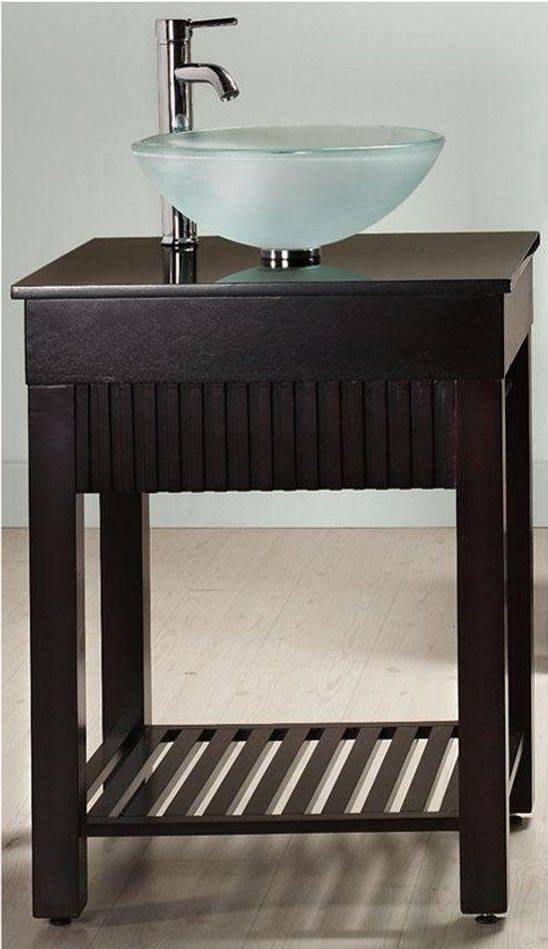 While most bath vanity cabinets have doors and drawers, there are several open-concept designs that have easy-to-access shelves. This style is visually lighter and less boxy-looking than a traditional vanity cabinet.
However, because of its limited storage space, an open-shelf vanity is best installed in a bathroom that also has a storage cabinet or closet. Use baskets and trays to help organize and contain items stored on the shelves. And keep in mind that with an open-shelf vanity, the plumbing below the sink is exposed and often visible.
5.
Space-Saving Vanities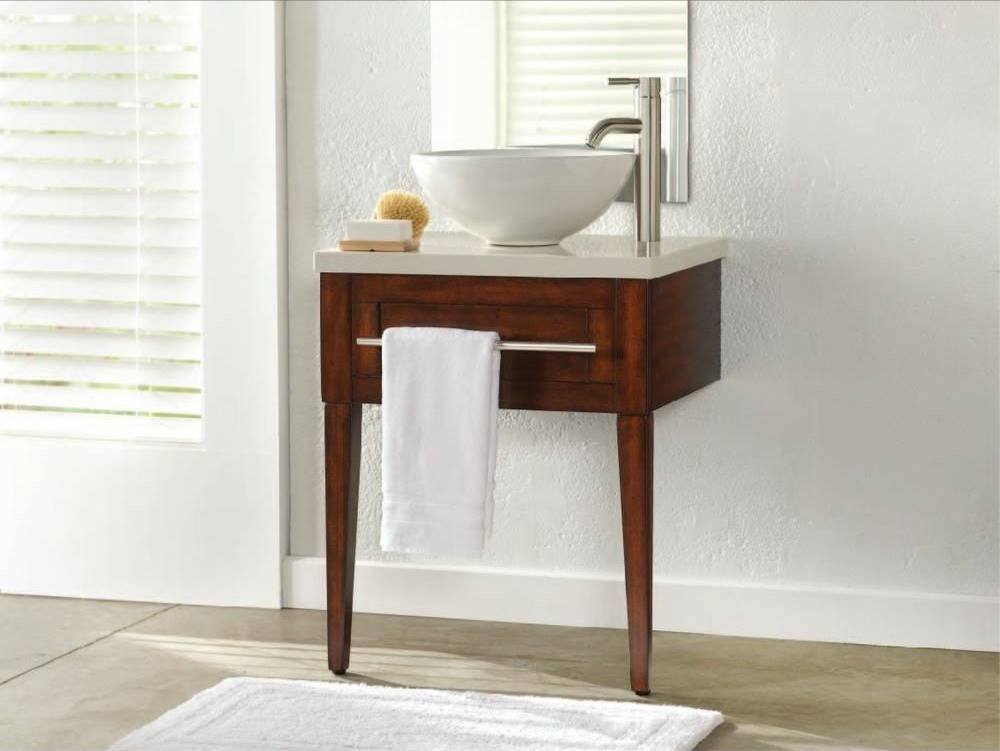 No matter how small, cramped or crowded your bathroom may be, you're sure to find a stylish bath vanity that'll comfortably fit the space. Most major cabinet manufacturers offer a line of compact vanities, starting as small as 10 in. deep x 16 in. wide. These tiny cabinets don't provide much storage space, but they're perfectly proportioned to fit into the smallest baths.
When floor space is particularly scarce, consider a triangular shaped vanity that fits snugly into the room's corner. If necessary, hire a plumber to extend the water-supply lines and drain and vent pipes to the corner of the bath.
If you've not shopped for a bath vanity lately, you're in for a treat. No longer are your choices limited to the two-door cabinet in white or wood-stained. Choose from the array of the bath vanities above and customize your bathroom's look to match your personal style.
Joseph Truini has years of experience as a home-improvement expert, having worked as a remodeling contractor, cabinetmaker and carpenter. Joe has authored six books: his latest is Build Like a Pro: Installing Floors. Joe writes on his expertise for Home Depot.