A beautiful bathroom sink can be the focal point of a bathroom. Bathroom sinks combine function and practicality with decor and aesthetics. There are a few different styles to dip into, depending on the space you have and the level of installation difficulty you're willing to take on.
Drop-in sinks are the easiest to install, as their name implies, and are simply set into a cut-out in the surface of your bathroom countertop or vanity cabinet. Correct sizing between the two is critical, and you'll also want to make sure that there are no obstructions underneath to interfere with the plumbing or the bowl itself. Under-counter mounting is another way to go, contributing to a sleek countertop surface and easy cleaning, and focusing attention on the fancy faucet mounted on the countertop above.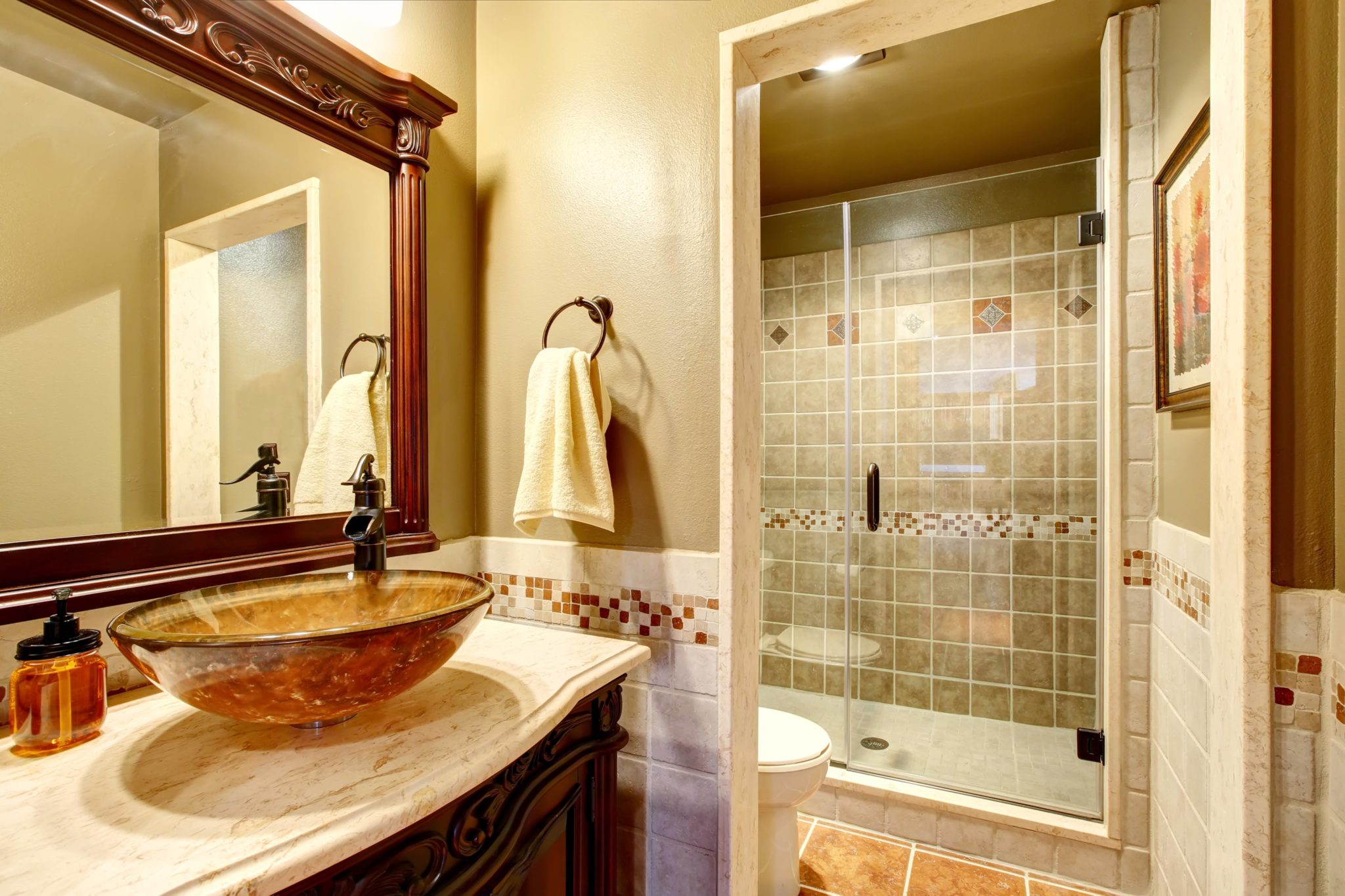 Bigger statements can be made with pedestal sinks, console tables, and vessel sinks, which all have a stand-alone, custom-furnishing feel. Pedestal sinks typically offer sophisticated styling, larger-than-standard bowls, and make a small bathroom appear larger. Console sinks with legs achieve the same visual illusion, but often with the added benefit of added storage and more counter space.
Vessel sinks sit atop surfaces like objets d'art, ranging from petite Asian tansu chests to swatches of stone. If you're drawn to the vessel look, shop for a faucet that directs water into the center of the bowl. Faucets can also be mounted on the wall behind the vessel sink or atop the furniture item it is placed upon. Check to make sure the water in your delicate curved vessel sink doesn't shoot back out and indelicately drench the user. We recommend vessel sinks for use in powder rooms, where they get the attention they deserve, versus using them as everyday sinks.
Finally, make sure your new faucet matches the hole drillings in your sink, or, for an undermount sink, that you have room on your countertop to drill through.
Two sinks are better than one
Even in bathrooms with small spaces, when the budget and plumbing capacity will allow, nothing brings harmony to a shared master bathroom like separate grooming stations. Two sinks, two mirrors, two areas, one for each person to get ready. It allows couples to use the space separately even though they're together, without interfering in each other's routines.
Today's bathroom furniture options go well beyond consoles, and are so much smarter than those old vanities with the voluminous wasted space under the sink. It can be awesome to retrofit an old vanity to create a custom piece, but we really like furniture that comes from bathroom experts, like Kohler and American Standard. It's scaled appropriately with storage options built cleverly around the plumbing.
Finally, install sinks and vanities at a comfortable height of around 34 inches that allows for standing or sitting while washing.
A thoughtfully chosen bathroom sink with the proper installation can elevate the look of your bathroom while allowing you to groom with ease. These tips and pointers will help you select a bathroom sink that works with your space and needs.