Kitchen remodeling is a fantastic way to add value and enjoyment to your home. Not only do kitchen's often serve as mission control for most families, they are also one of the first spots scrutinized by value-hunting homebuyers. While some kitchen remodeling projects can be very expensive, many can be done at a fraction of the cost.
So whether you plan to stay a while or move on soon, a small investment in your kitchen's function and good looks can go a long way toward enriching daily routines and enhancing the overall value of your home. Here are several tips to remodel your kitchen without burning too much cash.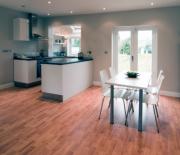 Replace countertops –
Including a sparkling new countertop in your kitchen remodeling project make a stylish statement, whether the look is naturally neutral or fashion-forward. There are many countertop materials to choose from. The one you choose will depend on the expanse of countertop area you need to re-cover and the expense you're willing to spare.
Natural stone such as granite is tops for sophisticated good looks and durability. Engineered stone is also a wonderful option with a lower price point. Ceramic tile is a countertop material you can install yourself that can add personality and variety. More countertop options such as solid surfacing, concrete and composites with recycled content provide unique character, color and texture.
Spruce up kitchen cabinets, inside and out – Kitchen cabinets can be replaced, refaced or refinished. If you have well-built wood or laminate kitchen cabinets, refinishing them is the most a cost-effective improvement.
First, do a careful check to make sure that your prep work won't involve sanding through thin kitchen cabinet veneers. Next, start refinishing the cabinets, following the step by step process outlined by the paint manufacturer's instructions. Accessorize refreshed cabinetry with sparkling new kitchen cabinet hardware.
Finally, work inside the kitchen cabinets to make the most of the space you have using specially sized organizers and full-service fittings. Fresh, stable shelf liners will create an easy-clean interior for the cabinet and protect dishes, glassware and serving pieces.
Let in the light – The right lighting can make time spent in the kitchen both useful and pleasurable. Your kitchen remodeling project should include a combination of energy-smart fixtures and day lighting. Track lighting, rope lighting and recessed fixtures will help put work areas in the spotlight, and installation of a tubular skylight can add sunlight in hard to reach places. Also consider replacing a standard over-the sink window with a greenhouse window. You'll get extra illumination while visually extending the space and creating a home for a fresh herb garden.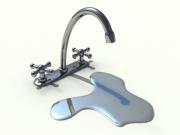 Freshen up the flooring –
Installing new floor during your kitchen remodeling project is another great way to transform your space. There are a lot of reasons to love laminate flooring in particular: it's affordable, simpler than ever to install, available in a range of formats and styles, stands up to moisture challenges, and is easy to clean and maintain. Vinyl tile is another do-it-yourself option, and can be applied to both subtle and dramatic effects.
Kitchen sinks and faucets – Dress up a serviceable sink with a new faucet, and, as you're able, bring appliances up to date. Shop for Water Sense-qualified models, and you'll also reduce your water bills, thanks to technologies that save up to 30 percent on water usage. Adding new ENERGY STAR appliances to your kitchen remodeling project, which use far less energy than older appliances, can also add to the savings. Coordinate appliance finishes and colors for a unified, more subtle kitchen flavor, avoiding strong colors or details that veer too much toward the eclectic.
Walls and Ceilings – Finish off your kitchen remodeling project with a fresh coat of paint or some new wall coverings.Go for a decorative vibe that plays to contemporary tastes and creates a clutter-free work space. Select wall coverings with clean, fresh colors and simple patterns, and remember that windows are best left undressed. Finally, edit countertop collections and wall décor to enhance an open, generous look and create a clear path to culinary enlightenment.