Home improvement DIY projects come in many shapes and forms. Maybe someone is an experienced carpenter who can tackle a big kitchen or bathroom renovation without a professional crew, or maybe someone has seen a few too many HGTV episodes and feels inspired to spruce up their abode.
Regardless of the motivation for the renovation, do-it-yourself endeavors can often end up disappointing, stressing, and costing more than their creators anticipated. In fact, a new study by ImproveNet found that 63% of people who have done a home DIY endeavor regretted at least one of their projects.
The study surveyed 2,000 Americans who have experience with some type of DIY home improvement project going awry. Whether it ended up costing more out-of-pocket, took much longer than expected, or they hated the results, the study paints a cautionary tale of DIY adventures.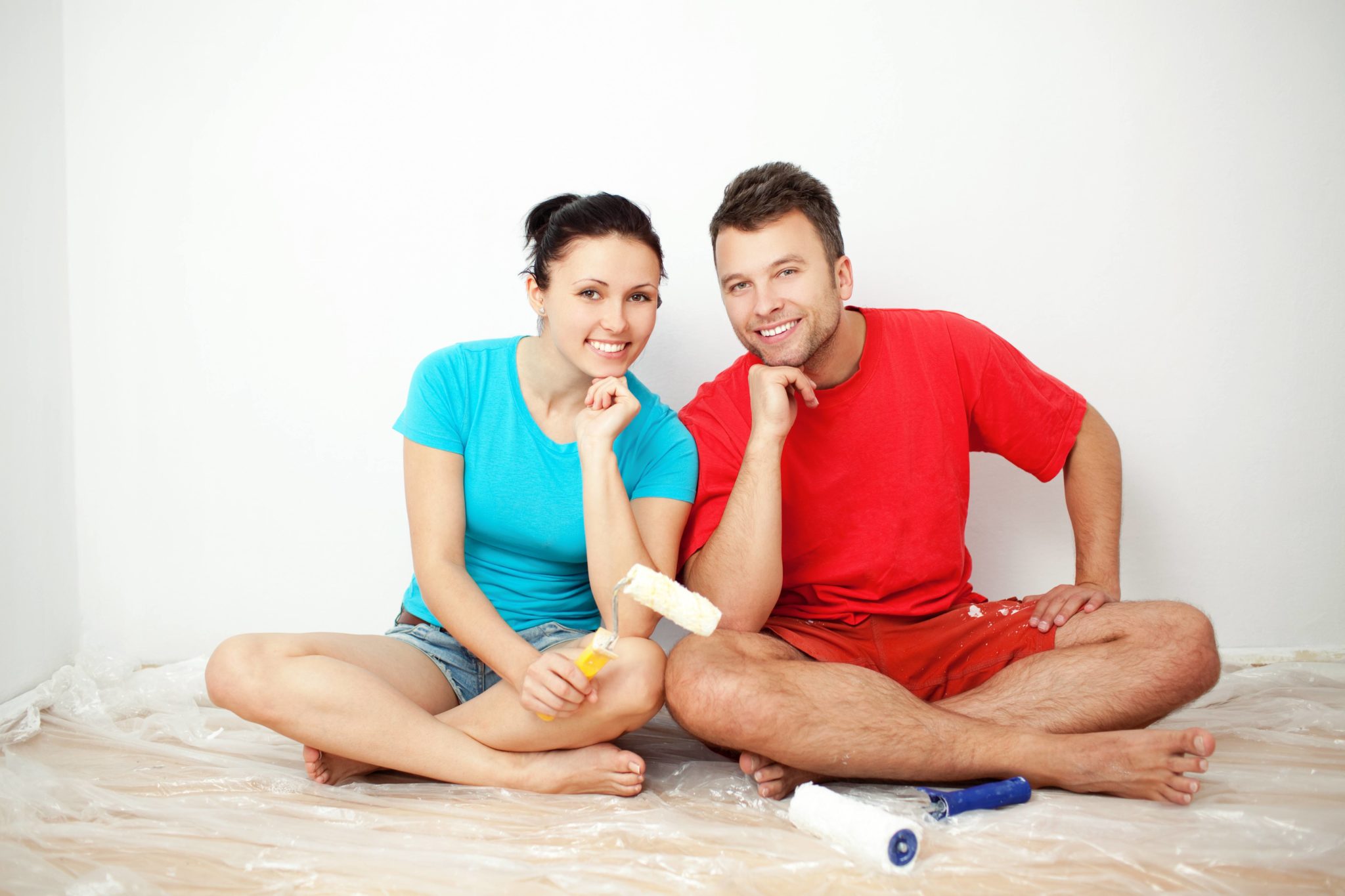 10 most popular projects of those who have attempted a DIY:
Interior painting (40%)

Adding trees/shrubs (20%)

Installing floor tiles (20%)

Installing kitchen/bath fixtures (18%)

Building furniture (17%)

Installing hardwood floors (14%)

Installing carpet (13%)

Installing trim/moldings ( 13%)

Installing lighting (13%)

Designing landscaping (13%)
10 least popular projects of those who have attempted a DIY:
Installing a fireplace (2%)

Repairing foundations (3%)

Add/expand a room (3%)

Install gutters (4%)

Install roof (4%)

Install patio/walkway (5%)

Install sprinklers (5%)

Install countertops (6%)

Install deck (6%)

Install basement (6%)
So why do people decide to take on their DIY project? The largest percentage of respondents in the ImproveNet study said they wanted to save money (56%), while some wanted to challenge themselves (20%), others wanted to do it for fun (14%), and some have more confidence in themselves than professionals and answered that they wanted to "make sure it's done right" (10%).
On average, people hoped to save at least 60% of what they would have to pay a professional to do the same job. But the ugly truth is that many DIY attempts got their homeowner into hot water. The study found that when DIY projects run over budget, people end up spending nearly twice what they originally projected.
Other Ways Projects Went Wrong:
17% said it cost more than anticipated

8% said they caused damage to their home

6% said they were injured
Just over half of the respondents said the project looked longer than they anticipated, half said it was physically hard than they thought it would be, and 48% answered that it was technically harder than they anticipated.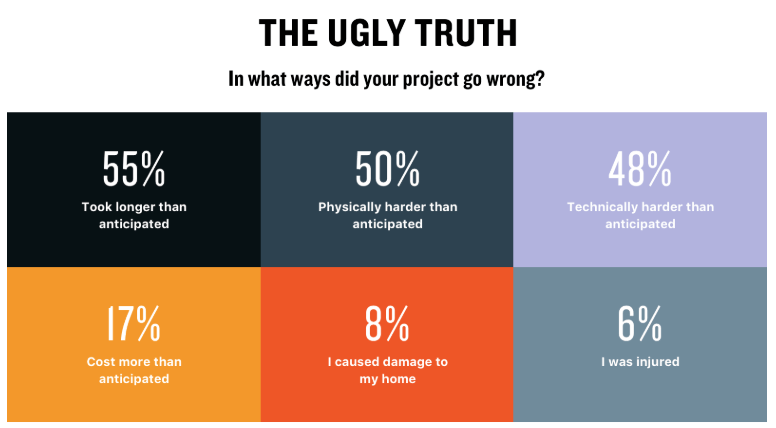 Projects that Took Longer:
Repairing foundation

Installing patio/walkway

Exterior painting
Projects that were Technically Harder:
Installing electrical

Installing backsplash

Building furniture
Projects that were Physically Harder:
Installing roof

Designing landscape

Installing patio/walkway
Projects that Cost More:
Repairing foundation

Installing fireplace

Designing landscape
Projects that Caused Injury:
Installing fireplace

Installing windows

Repairing foundation
Projects that Caused Damage:
Repairing foundation

Replacing ceiling

Installing Roof
Every DIY project starts with a distinct vision. Maybe it was something they saw on television, in a magazine or on Pinterest, but ImproveNet's study found that oftentimes DIY doers walked away disappointed with the results.
The biggest disappointment came with the physical appearance of the DIY when all was said and done. Roughly half (55%) said the project "didn't look good" when they finished it. About a quarter of people (24%) said their project "didn't function well," and about one-in-five (21%) said their DIY didn't stand up over time.
Installing floor tiles ranked in the top three projects that disappoint both visually and longevity. Other top projects that often come out looking bad include interior paint jobs and hardwood floors. While more technical initiatives like installing kitchen and bath fixtures, electrical and doors ranked high for poor functionality.
So who is to blame for failed DIY: The overly ambitious homeowner or the source of the instruction?
ImproveNet found that DIYers spend, on average, six hours of research before and during their project. It may come as no surprise that the top resource for guidance in the digital era is YouTube, with 65% of people saying they've used YouTube videos to help complete their project. The second most popular resources, with 51% of people using them, are home improvement websites.
Other Resources for Instruction:
45% turn to a family member or a friend

20% ask a store clerk

16% read books and magazines for help

14% rely on a TV show to instruct them how to do it
When all is said and done, some projects may just be too big and ambitious for the average DIYer. ImproveNet found that the number-one, most regretted, DIY project is installing floor tiles. A major initiative that costs money, takes time, and oftentimes expertise to execute well. On the other hand the least regretted projects tended to be smaller in scale. The least regretted DIY project, of the 32 types of projects included in the survey, is installing lighting, followed by adding trees/shrubs, installing trim/moldings, installing countertops and doors.
Most Regretted DIY Projects:
Install floor tiles

Replace ceiling

Refinish hardwood floor

Install Carpet

Finish basement

Install hardwood floor

Refinish cabinetry

Install sprinklers

Install shower/bath

Interior painting

Install roof

Interior wallpaper

Add/expand room

Install cabinetry

Install deck

Design landscape

Install electrical

Install patio/walkway

Build furniture

Install backsplash

Install kitchen/bath fixtures

Install fencing

Exterior painting

Install fireplace

Install gutters

Repair foundation

Install windows

Install doors

Install countertops

Install trim/moldings

Add trees/shrubs

Install lighting
Before tackling your next home improvement project, maybe take from the experience of others, a third of which have had to call a professional to redo their work after experimenting with DIY.