Gone are the days when rugs were limited to those traditional oriental carpets with more or less the same set of patterns. Today, there is a massive variety of rugs that are available in countless patterns and color combinations.
Rugs can be pre-assembled or bought individually in different shapes and in different materials. Handmade area rugs are often known for their quality, but they tend to be more expensive too. If you're looking for a new area rug and have questions or concerns, you'll definitely want to read this guide to find all of the answers to your burning questions.
How do you choose the right carpet?
To choose the perfect rug, first and foremost focus on the size, then the shape, material, color and pattern- and to be honest, it really all depends on where you will be laying the rug. Measure the area of ​​the room where you want to place the rug so you can determine what the ideal size will be. There are rugs available in so many different shapes: rectangular, round, oval and irregular – so you can be creative, or be very specific when choosing your new modern area rug.
After choosing the rug size, you will probably need to determine the material, color and design. In this guide, we will also discuss different techniques and tips on how to care for them.
How to choose a rug for the living room
Choosing a rug for your living room depends on the space you plan. The size of a rug depends on the size of the room and the exact location where it will be laid. It can either fit in the middle or the corner of a room, or even cover a larger area. If the focal point is furniture in the living room, and it's one color (potentially a shade of brown), a patterned rug is a good choice. If your furniture is upholstered or has an elaborate design, a simple colored rug is the right choice.
In a living room with many patterns, it is best to choose a single-colored rug.
In a living room with a patterned environment, preferably choose a patterned rug.
How to choose a rug for the bedroom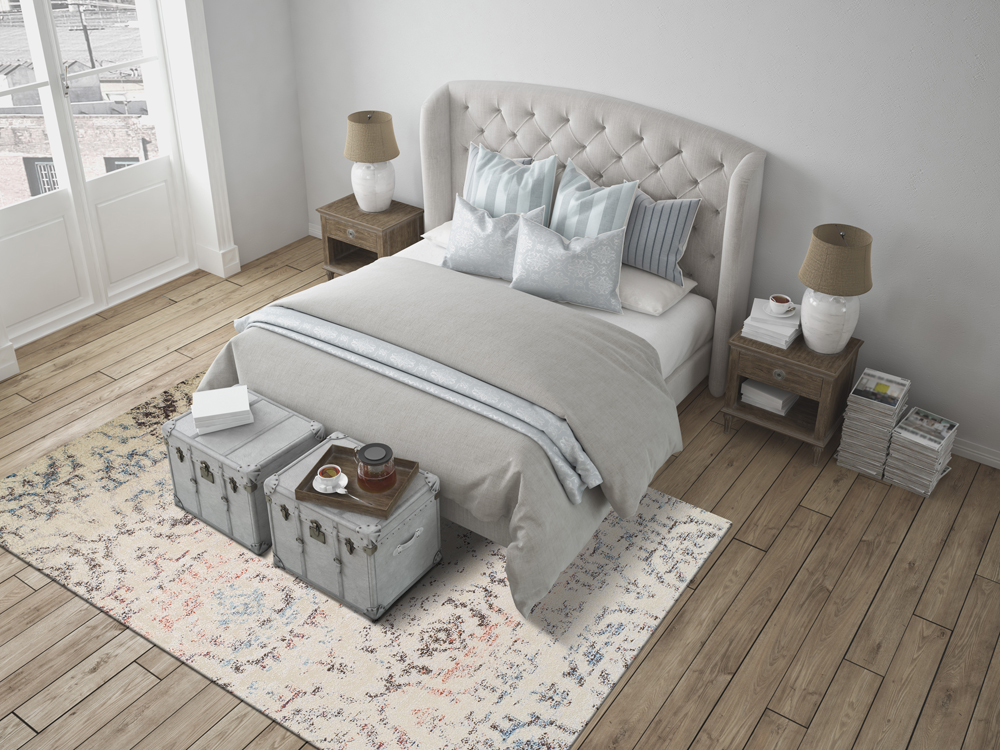 The choice of a carpet for your bedroom depends on the size and style of the room. The bedroom is an intimate space, and the color and style of your rug do play a part in setting the mood here.
Choose a rug with dark, rich colors made from soft materials like fur or wool for a more intimate feel. Choose a large rug if you'd like it to stretch under your bed or use small rugs along each side of the bed for the perfect landing.
Fur or wool: To create an intimate atmosphere
Large carpet: That can be pulled out under the bed
Small room carpets: place them on either side of the bed for a cozy landing
How to choose a rug for the bathroom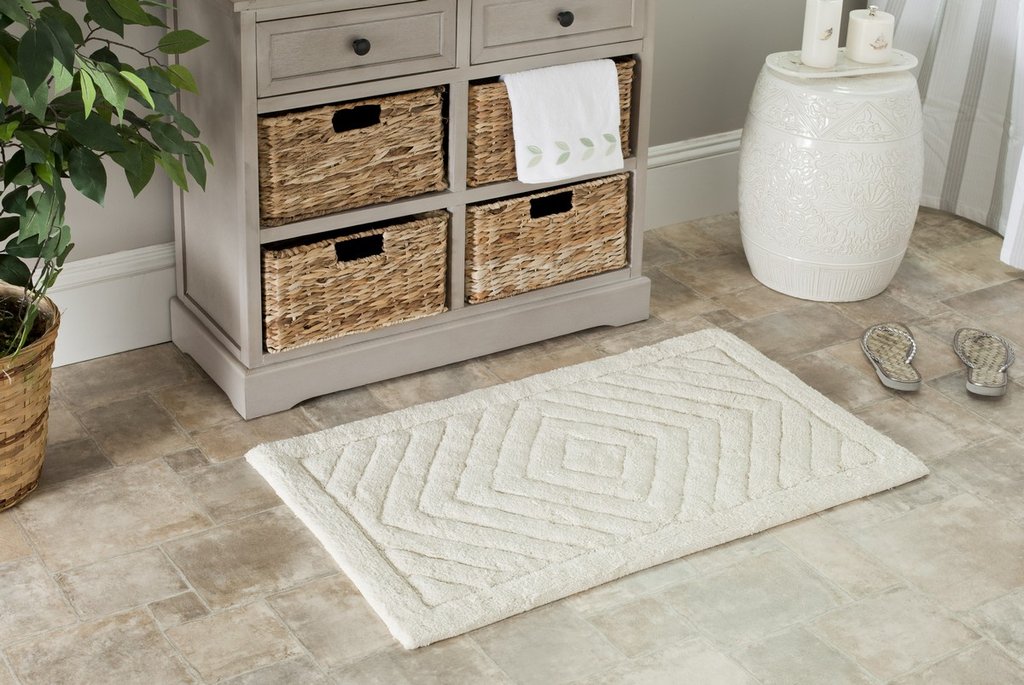 The choice of carpet for your bathroom depends on the size and style of the room. If your bathroom is small, choose a light colored rug for ​​the sink area, in the bathroom. This will make the warmer and softer on the feet.
Moisture is an inconvenience in the bathroom. It is, therefore, best to choose a rug that is not very absorbent and dries quickly. Synthetic fiber carpets such as nylon and polypropylene are stain resistant and do not get moldy very quickly.
Never use a rug made of wool for the bathroom as it does not dry quickly and is very absorbent.
Light colors: ideal for small bathrooms
Synthetic fibers: stain and mold repellent
Avoid wool: it soaks up liquids and dries very slowly
Different materials used for carpets
We've covered some of the different materials depending on the space, but there's more. Carpets can be made from fabric, plastic , natural fiber, leather, animal skin, metal, wood, composite materials and other materials.
Keep in mind that wool is a popular material for indoor carpets, while nylon, jute and natural fibers are preferred for outdoor use. You can use outdoor carpets indoors; however, it is not advisable to place indoor carpets outdoors as the materials used can easily be harmed.
A popular material for indoor use: wool
Preferred materials for outdoor carpets: nylon, jute and natural fibers
What you should know about colors and patterns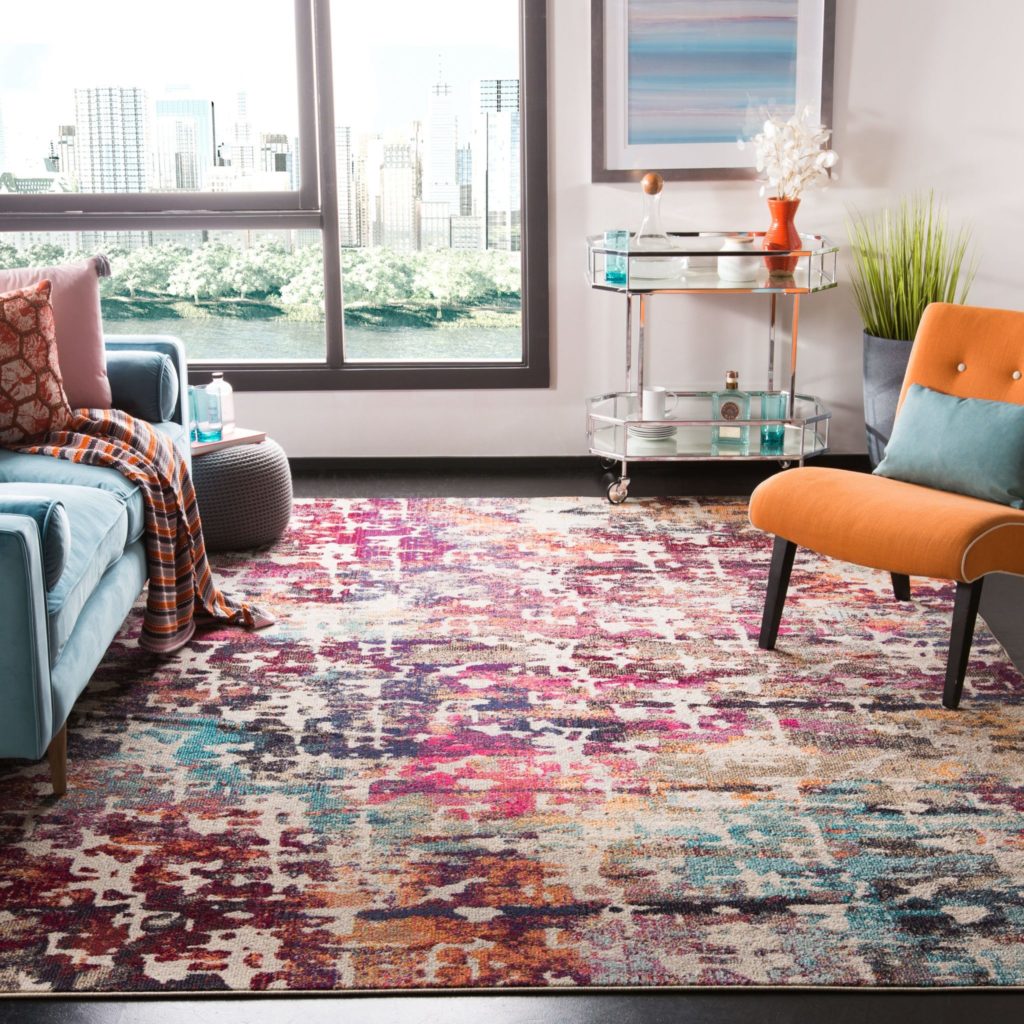 If you need help choosing a color or design, take a moment to look at the individual elements of the room in question. Then, choose a color that is already part of the room and inspires you.
As a basic rule of thumb, you can choose solid colors for carpets for a room that has a lot of furniture that is patterned, colorful, or intricately designed. If the room is rather simple and minimalistic, you can explore more creative options and choose a rug with a fancy pattern.
Frequently used rooms: Think of a single-colored carpet
Simple rooms: Choose a patterned, colorful or elaborately designed carpet.
How do you care for your carpet?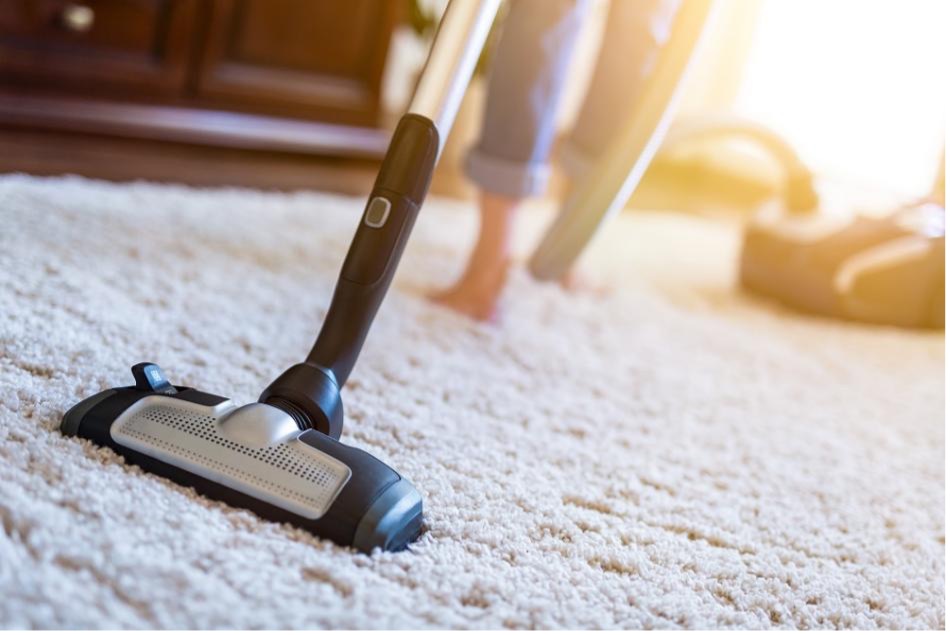 It is recommended that you vacuum regularly to keep your carpet clean. A good vacuum cleaner will vacuum the dust trapped in the carpet. Do not use products that contain chemicals that will damage the material or fade the colors of your carpet.
Handle delicate fringes on carpets with care. Outdoor carpets require little maintenance compared to indoor carpets, but you should still vacuum or shake them out regularly.
Ready to shop for your favorite designer rugs? At The Rug District, you can shop through a highly curated range of the most exquisite rugs online from top global brands, all in one place.