LESLIE: Painting a room is the most economical way to drastically change your décor. It's easy and affordable. And the only thing you have to decide is the color and then the sheen.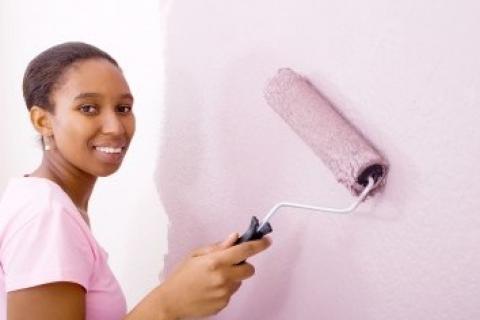 TOM: Yes. And while most people can spend days or even weeks choosing that perfect color for the rooms, when it comes to paint sheen, it's kind of an afterthought.
Kevin O'Connor is the host of TV's This Old House and is here with tips on how to choose the best sheen to make your project truly shine.
Welcome, Kevin.
KEVIN: Hey, guys. Great to be here.
TOM: Now, this is something that people really don't focus on. They really worry about the color and having that look right. But if you get the sheen wrong, the project is just not going to come out well.
KEVIN: No. And in my household, I don't get to vote on the color, because I'm colorblind, but I do get to vote on the sheen.
LESLIE: No, you're done. You're not allowed.
KEVIN: And basically, you have to sort of categorize it. And you start with flat and this is a matte appearance. And it has no sheen at all.
And this is really good for surfaces when you are covering a surface that's not in the best condition. Because the more reflective or shiny the sheen, the more those imperfections that are going to show, like the nail pops or the drywall seams. So this is great for ceilings but it's not good for high-traffic areas or high-touch areas because it shows the scuffs and smudges and it can be hard to clean.
TOM: Now, many people do believe it's hard to clean but there is sort of an upgraded matte, isn't there? What's it called ? Washable flat?
LESLIE: It's called a scrubbable matte and it's sort of the step up from flat. And it's great for, you know, a person who wants that same matte finish but wants something that's far more durable and a little bit – it's actually cleanable. You can take one of those magic erasers and give it a clean on it and not worry about the color kind of coming off. So it's good if you've got kids and you know how things happen with kids and walls.
KEVIN: Oh, they happen.
LESLIE: They do.
TOM: Now, what about the next step up? We call that "eggshell."
KEVIN: Yeah, eggshell. And they call it that because it actually resembles the surface of an actual eggshell, where it's mostly flat but there's also just a little hint of sheen. It's good for a smooth finish because it reflects a little bit more of the light but it still hides some of the imperfections. And it's a little bit more washable but it's probably not as durable as the paints with even more sheen.
LESLIE: Now, I think from a décor standpoint, I like to choose eggshell for clients when we're working with a paint color that has a little bit more of a jewel tone or a velvety feel to it, sort of a lushness – like a beautiful, wool type of gray or an eggplant or a burgundy – something that has a richness to it that really needs to feel luxurious. I think eggshell does it.
KEVIN: See, now that is a designer's insight right there.
TOM: Luxurious feel.
KEVIN: Absolutely. Velvety.
TOM: Yes, yes, yes.
LESLIE: It gives it that look.
TOM: Yeah. You probably wouldn't have used luxurious feel and paint in the same sentence, right?
KEVIN: Never. Never.
TOM: Alright. Moving it up from there, let's talk about satin.
KEVIN: So, satin has a silky sheen and that reflects probably just enough light. It works great in some kitchens and bathrooms, the kids' rooms and hallways. I would use it even in some walls on the rooms because I think it's going to give it a nice pop.
LESLIE: Mm-hmm. I've used it in intimate powder-room spaces that have a beautiful lighting fixture in there or an interesting ceiling fixture. I think it can give a room just the right amount of sparkle, if you will. So satin could be a good wall choice. I've seen people use it for trim. It's not my favorite because I don't think it has that glossy feel that I like woodwork to have.
KEVIN: Yeah. And you're going to be able to clean the satin a little bit but I'm with you: I think semi-gloss, the next level up, is going to be easier to clean.
LESLIE: Mm-hmm. Easy go-to.
KEVIN: Right, absolutely. And that's why it's great for places where you're fingerprint-prone. So things like trim or molding, doors and cabinets, semi-gloss is great. Put it on the kitchen cabinets, in the bathrooms. It's durable and it's highly washable.
TOM: Now, speaking of durability, if you really want a tough, tough surface, you've got to go high-gloss, right?
KEVIN: High-gloss is – it's got the highest shine and it's great for those hard-working rooms. So like a utility room or the playroom where washability is a must, high-gloss is your solution. You don't want to use it in any place where you're worried about seeing those imperfections. Because with something with this much sheen, it's going to point and highlight every single one of them.
LESLIE: See, now, I know that that's the technical part of it but I've used it in kind of a fancily-designed living room, on one wall in a crazy red or a very vibrant color, to give that almost appearance of lacquer, which could be a really desired design feel.
KEVIN: Yep.
LESLIE: I've even done the ceiling and the crown molding in the same high-gloss color to sort of do something visually interesting in a space, as well.
TOM: So if you want to use it strategically, it's probably OK.
LESLIE: Absolutely.
TOM: But you're most likely not going to paint all the walls high-gloss at the same time.
LESLIE: No, no. You'll go crazy.
KEVIN: It's going to make a statement.
TOM: That's for sure.
LESLIE: It will bounce light around and you will go bananas.
TOM: We're talking to Kevin O'Connor – he's the host of TV's This Old House – about how to choose a good paint finish.
Now, Kevin, besides a sheen, there are a lot of specialized finishes out there today. Any favorites?
KEVIN: Yeah. We've got one in our household and it's actually a magnetic paint, believe it or not. We've got it down in the basement playroom. It looks just like all the other paint out there. You can cover it up with traditional paint and everything sticks to it. So the kids have got all the little magnetic letters down there. They have a great time playing.
And there's another one that I haven't used yet but I'd like to. Well, first of all, there's chalkboard paint. You can actually paint a wall to make it look like a chalkboard, act like a chalkboard and you can use real chalk on it.
TOM: Right.
KEVIN: But there's one that I haven't used but I want to and it's a dry-erase paint. So it comes in lots of great colors. You can paint a wall like it and I'm thinking to myself, "Why am I not doing this?" When the kids get the markers out and they write on the wall, you can just wipe this stuff right off. So some great specialty paints to consider.
TOM: I don't know. I don't know if it's a good idea to teach kids that it's OK to write on walls with markers. I just think that could go wrong very quickly.
LESLIE: Yeah. How do you define – "This is the area but not this area."
KEVIN: (inaudible at 0:27:04).
TOM: And not the one that says "permanent marker."
Well, those are some fun ideas. Kevin O'Connor, the host of TV's This Old House, thanks so much for stopping by The Money Pit.
KEVIN: My pleasure to be here.
LESLIE: Catch the current season of This Old House and Ask This Old House on PBS. For local listings and step-by-step videos of many common home improvement projects, visit ThisOldHouse.com.
TOM: And This Old House and Ask This Old House are brought to you by The Home Depot. More saving, more doing.