Repairing or replacing your home's flooring may be easier than you thought. Tom Kraeutler and Leslie Segrete host The Money Pit, a nationally syndicated radio show that fields hundred of calls each week from listeners seeking home improvement solutions. Tom & Leslie respond to some of the most common questions they receive about repairing or replacing floors.
Q: My husband and I recently purchased a 1969 two-story Colonial and were surprised to find that the first level had hardwood floors under wall-to-wall carpets. The floors seem to be structurally in good shape but they do need to be refinished. Is this a job that we can do ourselves?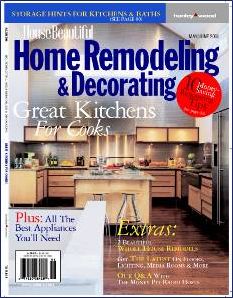 Tom: The 60's were certainly an interesting time. Besides love beads, peace signs and bell-bottoms, the construction industry had a few odd habits of their own: like installing hardwood floors and then promptly covering them with wall to wall carpets! Fortunately for you, that carpeting probably made a great drop cloth which has protected those floors for decades. Your job now, is just to spiff up the finish.
The easiest way to do that is to rent a floor buffer with sanding screens. The screens gently rotate to take off only the top layer of finish and won't damage the surface underneath. Then, mop on an oil-based polyurethane finish with a lamb's wool applicator. This useful tool, available at any home center, looks like a sponge mop and lays down a silky smooth finish in a fraction of the time it would take to do it using a brush. For best results, use several thin coats and try to avoid heavy traffic on the floor for a few days after the finish is applied so that it can fully harden.
Leslie: Another great option for refinishing those beautiful floors is to paint them. Yes – I did say paint! This is an inexpensive trick to turn a not so beautiful floor into something unique. With paint, your options are truly endless and your only limits are your imagination. The best part about this project is that if you ever decide to go back to your original wood flooring you can.
The first thing you need to do is decide what type of design you want. If painting the entire floor seems a bit too adventurous for you, you can take this idea and create a painted area rug and even go as far as painting a decorative trim or fringe on the edge of your rug . Checkerboard patterns look great on the floor and definitely do not have to be your standard black and white, why not chocolate brown and robin's egg blue. How about painting your child's favorite nursery rhyme on the floor of the playroom? Or even quotes and sayings that just brighten your day as the border on your new painted floor.
For best results be sure to prep your flooring. If you have bare wood you need to sand and prime it. If you have a varnished floor the area you wish to paint will need to be sanded to remove the gloss then primed and painted. Be sure to allow every layer of your painted floor to dry thoroughly before moving on to the next step. Once all of your work is dry apply water based polyurethane, available in many finishes from matte to gloss, to provide a protective layer to allow you to enjoy your hard work for years to come.
Q: What do you think about laminate floors? Are they tougher than laminate countertops?
Leslie: Yes! Laminate floors are a wonderful flooring option that should not be confused with the relative softness of a laminate countertop. Laminate floors are both rugged and beautiful. In fact, by design, the surface is more than 20 times harder than the laminates used for kitchen and bath tops. What's more, laminate floors come in an endless variety of styles and colors, including patterns that mimic everything from modern hardwoods to antique stone tiles.
Tom: Easy installation is another benefit of laminate floors. Most manufacturers use a version of a self-locking, tongue and grove, joint that lets installers simply snap the floors into place. Patterned floors are also a possibility. Armstrong even offers a Herringbone design where individual panels lock together at right angles to form an intricate pattern which is indistinguishable from real wood (see www.armstrong.com).
Q: The second floor of our home has some very loud squeaks that can wake the dead in the middle of the night. Besides the noise, I'm concerned that these might mean our floors are weak.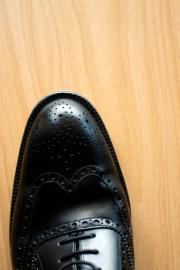 Tom: Floor squeaks are annoying but rarely signal impending structural doom. Generally, squeaks are caused by loose floor boards. If the squeaking are is under carpet, the sure-fire best solution to quiet them is the remove the carpet and screw down the loose sub-floors to the floor joists. If the squeak is under hardwood floors, these can be re-nailed from the surface using finish nails driven into the floor joists, then set below the surface of the floor and filled with wood putty.
Q: We're looking for flooring options for a basement playroom that is durable but not boring. Any suggestions?
Leslie: Carpet tiles are a great option for playrooms. The tiles come as individual squares that are laid down piece by piece to form the finished floor. Because they go down as individual tiles, they can be easily replaced. If tiles ever become damaged, you simply pull them out and replace them with new ones.
Legato makes a carpet tile I've used a lot. They are simple to install, available for around $3 a square foot and come in a variety of colors. But besides being gorgeous, they are truly functional as well. They're pretreated with both Scotch Gard and AlphaSan to give you stain protection and protection from odor and bacteria, making them perfect for the basement playroom. Besides being easy to install, their shape resembles puzzle pieces. With no square edges, the seams just disappear as you lay them down. After a quick vacuuming, you'll forget they are tiles at all.
Q: We're remodeling our family room and my husband is campaigning for hardwood floors. I'm concerned about wear and tear as this room will receive a lot of traffic. Will pre-finished floors will stand up to the test of time?
Tom: Just a few years ago, I would have told you to skip pre-finished floors for rooms that get tons of traffic. However, there have been many changes on the way pre-finished floors are, well, finished. Nowadays, aluminum oxide, added to the finish at the factory through a multi-step process, makes pre-finished floors an extremely durable option. If you are wondering why this material has such a magical impact on durability, you might consider the other product it is very commonly used for: sandpaper!
Repairing and replacing flooring is a common home improvement project, especially since floors take more wear and tear than alomost any other surface in your house! With these tips, you'll know just what to do.