Warmer weather brings the return of outdoor living and all its pleasures but also the constant high traffic of guests, kids and pets through patio doors. If your patio door needs repair or replacement, here's how to buy a patio door that delivers durability, energy efficiency and storm protection.
Determine your preferred door style
Patio doors can serve as a beautiful accent to your home's décor by offering bright views of the outside and more natural light inside. But what style door is right for you? There are two primary types of patio doors: hinged (swinging) or sliding. Which one you end up buying depends on your home's layout and style and how you plan to use the door.
Hinged patio doors offer classic French-door elegance, often fitting nicely in a kitchen connecting to a patio or a family room that leads to the deck. If interior space is at a premium, you might consider a hinged patio door that swings out. This type of door is ideal if you live in a climate with high wind and inclement weather, since winds simply push the door against the jamb, ensuring a tighter seal.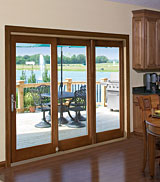 Sliding patio doors come in a variety of styles and offer space advantages unavailable with other door styles. This more contemporary look is ideal for spaces where you want a large viewing area and lots of light. A decision you'll need to make regarding your sliding door before you place the order is this: which way do you want it to slide? You'll be able to make this decision based not only on the physical layout of your home and the proposed placement of the door, but also based on desired foot-traffic patterns to and from the sliding door.
Choose durable materials and components
Plan on buying a patio door made of durable materials that can hold up to the high traffic and still look good over time. Fiberglass offers the ideal blend of beauty and durability, with finer detail and better performance than other materials. Patio doors made with fiberglass won't ding, dent or rust like steel doors, and won't swell, rot, crack or warp like wood doors. Many fiberglass patio door styles also have design features to complement your home's interior and exterior design.
For example, Therma-Tru's Fiber-Classic® Hinged Patio Doors offer an exterior wood grain look, with an interior that is ready to stain or paint. Smooth-Star® Hinged Patio Doors feature a smooth, crisp surface that rivals the look of fine painted wood, with an interior that can be painted any color to match your décor. Both are available in a wide variety of sizes including 6'6″, 6'8″ and 8'0″ tall systems, and come factory finished in exterior colors White, Almond, Stone and Bronze.
Provide protection from the elements
Summertime can be prone to quickly changing weather conditions, so it's also important to choose doors that can protect your home from storm damage. For example, Therma-Tru offers its Tru-Defense™ patio doors built to withstand heat, rain and cold, with advanced engineering that virtually eliminates air and water leaks. The patio doors have an air, water and structural performance rating of DP-40 or higher. This rating indicates that the unit passed a structural test equal to 150 mph winds and a water penetration test under conditions equal to 8″ of rain per hour driven by 49 mph winds; and an air infiltration test pressure equal to 25 mph winds.
Proper protection from the elements means your patio doors will have to be able to handle the worst Mother Nature has to offer. Look for features such as a profiled sill that provides flush contact with the door bottom to seal out air and water; a door bottom sweep that prevents air and water from leaking in; and a rain deflector that repels water away from all sealing components.
What to ask your dealer/contractor
Once you've decided what you want in a patio door, do a little homework before choosing a dealer or contractor to install it. Get recommendations from friends and neighbors to find someone who may already be familiar with the neighborhood's homes and building codes. Call at least three contractors and set up appointments to interview them. Ask each contractor if they are licensed in your city and state; what insurance coverage they have (then call the insurance company to confirm); what kinds of permits may be required; and if they will provide you with an itemized estimate that includes all materials, labor and a time frame.
Also, ask for references and then check them. Find out how the contractor handled ordering, delivery and inspection; if they stayed on schedule and if the project came in on budget. Finally, simply ask if they would use the contractor again or recommend them to a family member or friends.
By following these steps, you'll be prepared for summer patio season by buying a new patio door that will help you enjoy your outdoor space all summer long and for years to come.