Table of Contents

[Hide]

[Show]
If I had to pick just one décor element that has the potential to make the most difference to space, I'd go for lighting every time. The right lighting can transform a dead space to a welcoming nook, improve the practicality of functional areas, and add warmth and charm to any decorating scheme. However, if you're a beginner with lighting, it can be one of the most difficult elements to get just right. Lighting outdoor areas can feel especially daunting with the extra considerations of safety and weatherproof to take into account. So I've put together this beginner's guide to outdoor lighting to help you get started.
Safety First
Wet conditions and electricity don't mix well while combining dry conditions and open flames is also a bad idea. Stay safe by following these basic tips and check out this article from thespruce.com for more information:
Engage an electrician to install weatherproof electrical outlets to connect permanent or semi-permanent outdoor lighting installations. Your outlets should include Ground Fault Circuit Interrupter Protection – GFCI – as a standard feature. If you need to you can run outdoor-rated extension cords from your external outlets to your lighting fixture, but running a regular extension cord from your garage or house to power external lighting is just asking for trouble.
Use fixtures that are appropriate for external use. If a fixture will be outdoors but under a roof, for example on a covered porch, look on the packaging for wording such as 'suitable for outdoor use'. If the fixture will be fully exposed to all the weather then look for wording like 'weatherproof'.
Battery-powered or solar-powered fixtures also need to be rated for outdoor use. Outdoor pathway lighting is great for those of us who may not have much lighting leading up to their homes.
Take care in placing items such as candles and fire pits and consider changing weather conditions. Candles hanging from branches or fire pits located in grassy areas might be fine in spring and autumn but may represent a significant fire risk in the middle of a long dry summer.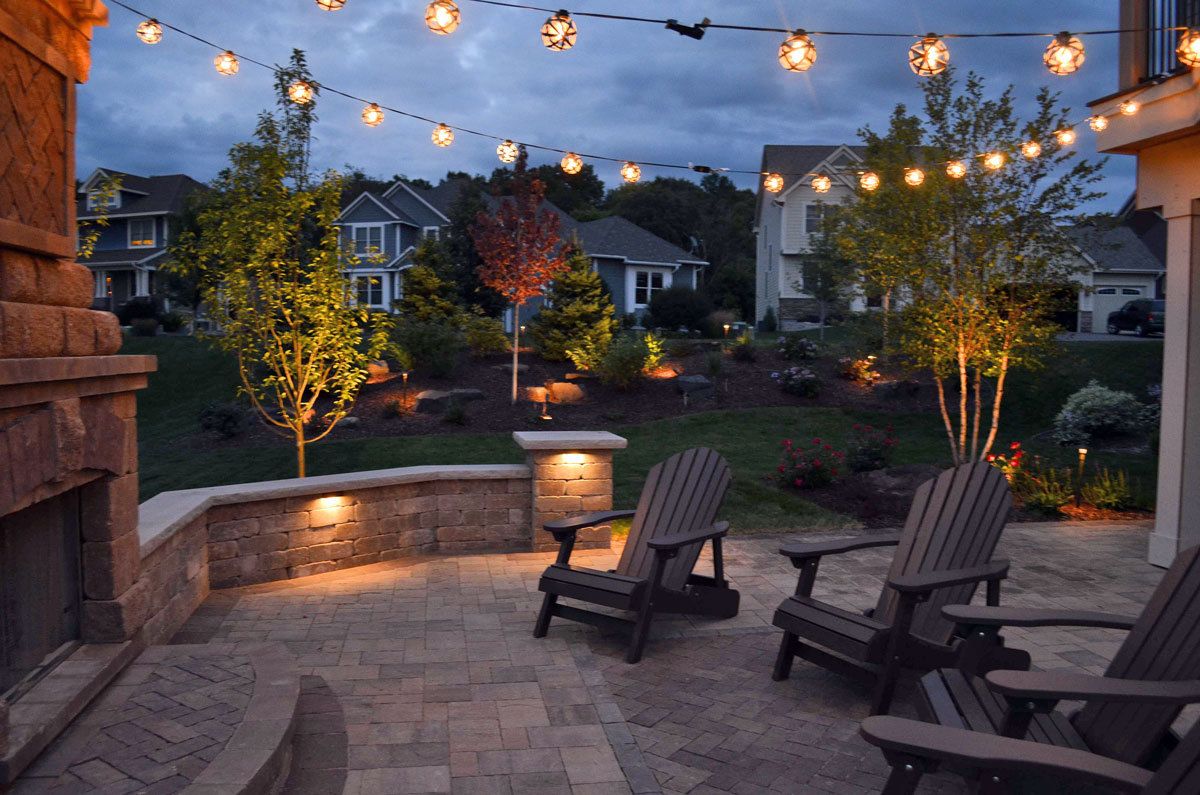 Add Task Lighting
You might be familiar with the idea of task lighting indoors, and it's an equally important idea outdoors as well, particularly with the growing popularity of covered outdoor grilling areas. A popular choice for these areas is to install a combined ceiling fan and light. The light provides general illumination for food preparation and clean-up whilst the fan keeps away mosquitos and other bugs whisk away the smoke and cooking odors and keep both the chef and their guests cool on hot summer evenings. You might also like to add higher-voltage halogen lighting around your grill area to give a clean white light that will help to ensure your time your steaks to perfection.
Similarly, if you like to garden and have a potting area, you might like to add a suitable landscape lighting design. I enjoy relaxing on my porch with a book and a glass of wine on warm evenings, so I've added a reading light where I like to sit.
You might also like to consider adding some lighting at strategic spots around the exterior of your house. A popular spot is next to the entry doors to your home. Motion-sensor solar-powered lights such as those on offer from Everbrite lighting are easy to install, are a practical choice when you're looking for your keys, and may also help to deter thieves. However, do check on the performance of solar-powered fixtures before you buy.
Create Magic And Excitement With Outdoor Lighting
The other main reason for installing outdoor lighting is to create some magic, romance, and visual excitement. Combine low lights, spotlights, and string lights to create different lighting layers and highlight specific features. Add charm with lanterns, candles, and lamps.
Once you get started, the possibilities are almost endless. You can twist string lights through trees, drape them between structures, wind them around columns, and hang them from rooflines. Surround seating areas with ground-height lights shining upward through shrubs and hang colored mason jars containing candles from their branches.
Edging a pathway or steps with landscape lighting, rope lights or solar lights serves a practical purpose, and can also tempt you out to discover the mysteries of your garden by night. Add spotlights to illuminate statues and enhance your water features with colored lights for a magical effect.
I hope you've enjoyed reading this article on outdoor lighting, please go ahead and let me know your thoughts in the comments section underneath and do feel free to share it with your friends.
Editors Note: Nadya Jones is a blogger and an entrepreneur. She is the co-founder of Allen Roth HQ, a blog about home design and improvements. With her husband Brett, she writes tips and tricks they learned while renovating their house in Raleigh, North Carolina. Nadya handles the interior design. Brett implements her ideas in a cost-efficient way. Follow them on Twitter and Pinterest.