This summer many will be spending more vacation time at home instead of traveling to a distant location. According to the American Lighting Association (ALA), with a few updates to your outdoor lighting, you can enjoy a mini vacation at home. With a few simple home improvements, it's easier – and less expensive – than you might imagine to transform your existing patio, deck, or pool area into a retreat that you can love well into the evening hours.
"The best strategy is to clearly define your objectives," says Joe Rey-Barreau, education consultant for the ALA and an associate professor at the University of Kentucky's School of Interior Design. "It's not necessary to illuminate everything in your yard, so decide which areas are the highest priorities," he advises. "It is generally better to begin closest to the house, since that is where most activities take place."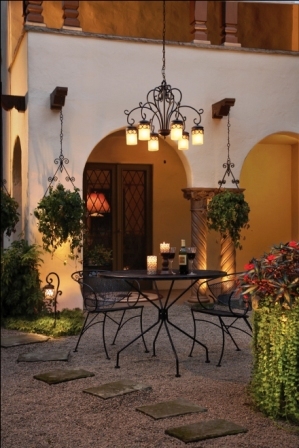 Outdoor Lighting: Beauty on a Budget
"Creating a beautiful landscape doesn't have to be expensive," says Rick Wiedemer of Hinkley Lighting. "A few well-placed, low-voltage path or accent lights can have a huge impact on a well-manicured landscape." No lawn is too small. "Even modest homes or those with limited yards or gardens can benefit," he states. "Low-voltage landscape lighting is inexpensive, safe and relatively easy to install."
A handy homeowner can install a low-voltage outdoor lighting system over a weekend. All that is needed are some basic tools, a transformer (which reduces standard 120-volt household current to the safe 12-volt level), outdoor low-voltage copper cable, and low-voltage lighting fixtures – all of which you can find at your local home center or lighting showroom.
"The best thing about using low-voltage lighting outdoors is you don't have to do everything at once," says Lew Waltz of Philips Hadco. "I recommend purchasing a transformer that is larger than you immediately need to allow for future expansion of your outdoor lighting plan. Instead of purchasing a transformer that is just large enough for the deck, buy one that will operate two to three times that amount of wattage." Waltz points out that since you only pay for the energy consumed by the fixtures, you won't be wasting energy and also won't have to replace that transformer if you add more lighting later.
How do you start? Select two or three items that are important to you during the daylight hours, such as an ornamental tree, a water feature, a sculpture, etc. A fixture or two trained on each of these features will make your backyard come to life after dark. You can go back and fill in with some additional lighting later, if the budget is tight this year.
Another important tip is to buy the best quality and well-constructed fixtures you can afford. "They will last for decades," Waltz says, adding, "There are a tremendous number of homeowners who purchase the least expensive fixtures they can find, only to discover that they need to replace them within a year or two. That actually ends up costing more over a 10-year period than if they had purchased better-quality products in the beginning," he says.
When laying out your project, remember a little light goes a long way outdoors. Consulting with a lighting professional at your local ALA-member lighting showroom can help you avoid making the common mistake of too many fixtures in one area.
"I see this happen a lot with path lighting," Waltz notes. "Folks will place fixtures six to eight feet apart when lighting a sidewalk, and they end up using 10 fixtures for a 50- to 60-foot path. That path can easily be illuminated with three to four fixtures if you select a fixture that is designed by a reputable manufacturer that builds performance into their products. You will save considerable amount of money on the project by not having to purchase and install extra fixtures to accomplish the desired effect."
These days there are many more decorative landscape lighting fixtures than the basic black path lights. Wiedemer suggests taking inspiration from your home's interior or exterior architectural elements. "The combination of form plus function is very important," he says.
"The idea of enhancing your outdoor environment to reflect your personal style is very popular, especially as we look for more ways to extend the amount of time we spend outside. There are many attractive designs available and you can add color and interest with different glass choices, unique castings, nature-inspired shapes, and architectural elements," Wiedemer says.
Add Outdoor Light, Not Energy
One of the simplest ways to save on electricity costs is to use a photocell, according to Rey-Barreau. "When it becomes dark or daylight, the photocell automatically turns the lights on and off," he says. Photocells can be used either for complete outdoor lighting systems or for single fixtures, such as by the back door.
"Another common type of control is a timer that turns the lights on and off at specific times," Rey-Barreau says. "It's particularly useful to have both a photocell and a timer. With that combination, the timer is set to turn the lights on in the late afternoon, but the photocell will override the timer if there is enough daylight available." Wiedemer suggests low-voltage halogen lighting as a less-expensive alternative to a typical incandescent line-voltage system. "Low-voltage halogen operates very efficiently, and the amount of light (lumen output per watt) is much greater than with incandescent bulb equivalents," he explains.
An even more efficient light source – and what Wiedemer refers to as "a true 'green' solution" – is LED. This developing lighting technology provides equivalent light output to that of halogen or incandescent, but at considerable energy savings of up to 75 percent less. Wiedemer estimates the average lifespan of a well-made LED light source to exceed 40,000 hours or more than 12 years of average nightly use. If you install timers with the transformers to turn the system off during late night hours, you will not only cut down even further on energy costs, but will also increase the lifespan of the bulbs.
To learn more about outdoor lighting for your home, talk to a lighting professional at an ALA-member showroom or go to www.americanlightingassoc.com.