There's nothing like decking the halls to put you in the holiday spirit. Imagine the added glow of knowing that your festive displays are not only beautiful, but good for the environment, too! This year, make your holiday a green one by following these tips on eco-friendly ways to decorate your home.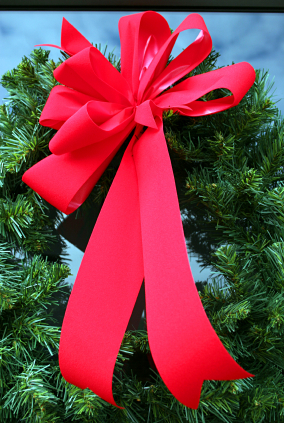 Outdoor holiday string lighting helps create the magic of the season, but it can also use a tremendous amount of energy. Do the earth–and your wallet–a favor by waiting until it's dark out to turn the lights on, and switching them off again before you go to bed. You can even set a timer so you don't have to remember.
Green holiday lighting isn't only about when you run the lights, but also what kind of lights you run. LED lights are an environmentally sound alternative to standard incandescent bulbs; they can use up to 90% less energy to produce the same amount of light. They can also last up to 10 times longer and are cool to the touch, reducing the risk of fire.
You might even consider taking green lighting one step further and using solar power to run your LED holiday lights rather than a power outlet. Solar powered lights require no power cords, so you can place them almost anywhere as long as the solar panel gets enough sunlight.
LED lights (the kind you plug in) are also a great choice for decorating your Christmas tree. And when it comes to that tree, choose a real rather than artificial variety to be kind to our planet and your own health. Most fake trees in the US are imported from China and are typically made of PVC, which creates toxins when it is produced and degrades as it ages. An independent study done by a firm of experts in sustainable development found that an artificial Christmas tree must be used for 20 years to leave an environmental footprint as small as a natural tree.
Real trees and other greenery such as wreaths and garlands are biodegradable and can be dropped off at recycling centers to be turned into compost and mulch. To find a Christmas tree drop-off near you, visit earth911.com and type in your zip code. If you can, try to purchase an organic tree that hasn't been treated with pesticides or chemicals. GreenPromise.com has a state-by-state directory of organic tree farms.
If you want to take the concept of an eco-friendly Christmas tree to the next level, get a living tree that you can plant in your yard after it's done gracing your home's interior! Evergreen trees produce oxygen all year round and provide cover for wildlife in the winter. Another benefit of a live tree is that you don't have to go through the often frustrating process of attaching it to a stand. However, the pot of soil it comes in makes it heavy, so go for a small tree (around four feet) which will be easier to deal with.
A live tree does require some planning; you should dig the hole in your yard in November, before the ground freezes, and select a spot well away from your house so the tree has plenty of room to grow. Also be sure to choose a species native to your region so that it will thrive and you can look forward to turning it into a beautiful outdoor Christmas tree next year!
As for trimming that tree, and decorating your home in general, consider naturally eco-friendly adornments like popcorn and cranberry garlands, fresh fruit centerpieces and cookie or eggshell ornaments. You could also use pine cones or repurpose cookie cutters and old toys. Homegrown herbs, old ornaments, and old sweaters can all be turned into festive wreaths. There is no need to buy new decorations when your imagination is the only limit to turning your home into an eco-friendly winter wonderland, inside and out!