Kitchen backsplashes pull double duty: protecting your walls while also expressing your decorative style. They can make a big statement – or, if you'd prefer, coordinate more quietly to match your kitchen cabinets and countertop. Looking for new kitchen backsplash ideas? Look no further. These five trends put a fresh spin on the traditional backsplash.
1. Install tiles in an interesting pattern
Horizontal subway tiles are fairly standard, but it's far from the only tile layout option. Why not try a herringbone or chevron pattern? Another popular choice right now is a backsplash of long, thin tiles arranged vertically. A vertical arrangement is also a way to help vertical outlets blend in more. (Just keep in mind that the more complicated the pattern, the wiser it might be to enlist the help of a tile professional.) If you're sold on horizontal, though, you can still put a new spin on it by going with a stacked installation rather than the traditional broken-joint installation.
2. Stick to one tile for the whole backsplash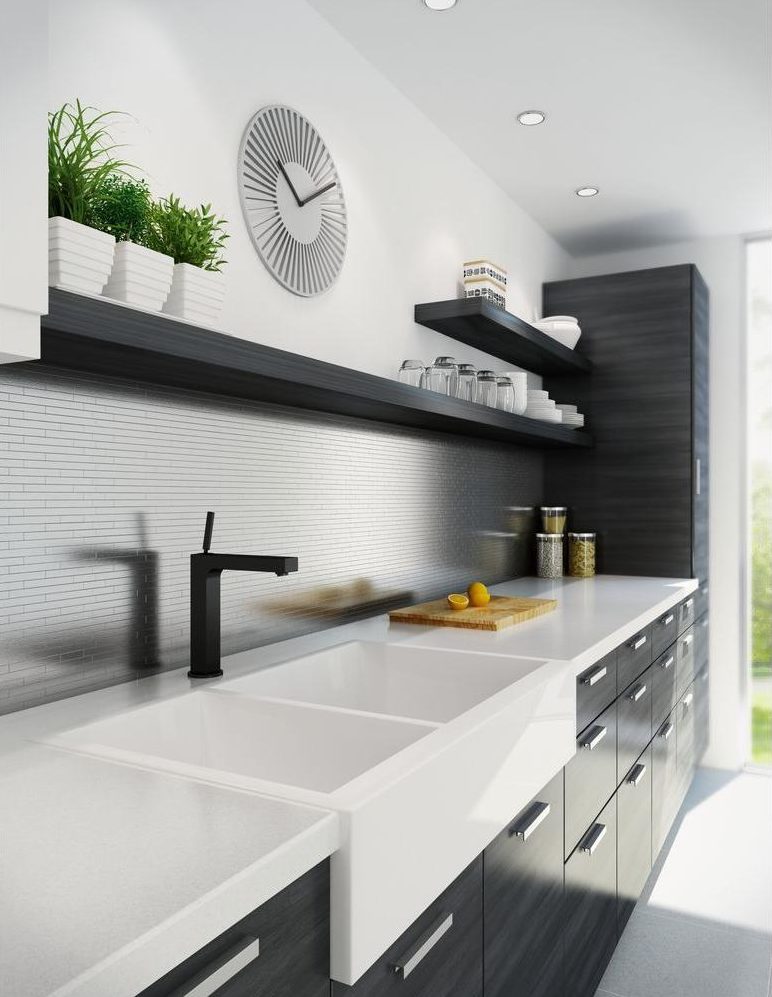 Backsplashes with borders, accent tiles or complicated mosaics are falling out of favor, and minimalist, one-tile designs are on the rise. Why create an intricate pattern that will only be hidden or become disjointed once your countertop appliances and canisters are in place? By contrast, a clean, simple, consistent tile looks chic and uncluttered. If you agree with the mantra "less is more," this could be the backsplash look for you.
3. Forget tile – go for laminate!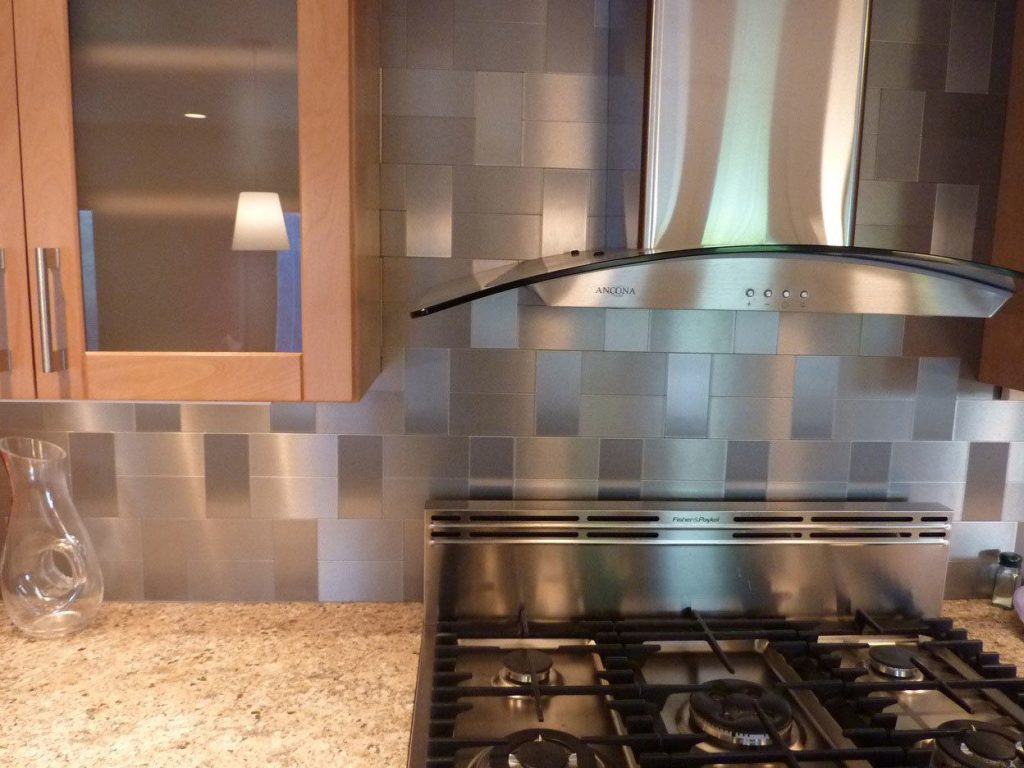 While unquestionably beautiful, tile can pose some cleaning challenges when grout gets dirty and discolored. For an easy-to-install, low-maintenance material, laminate can't be beat. It's also budget friendly, and can even be a great way to use up any excess laminate flooring material you might be stuck with. If the laminate is wood-patterned, using it as a backsplash can create a cozy mountain lodge or cabin feel. But the wood look is probably best reserved for kitchens with painted rather than wood grain cabinets, as a wood-on-wood look might be overkill. Or, go for a completely different look with this stainless-steel patterned laminate!
4. Or chalkboard paint!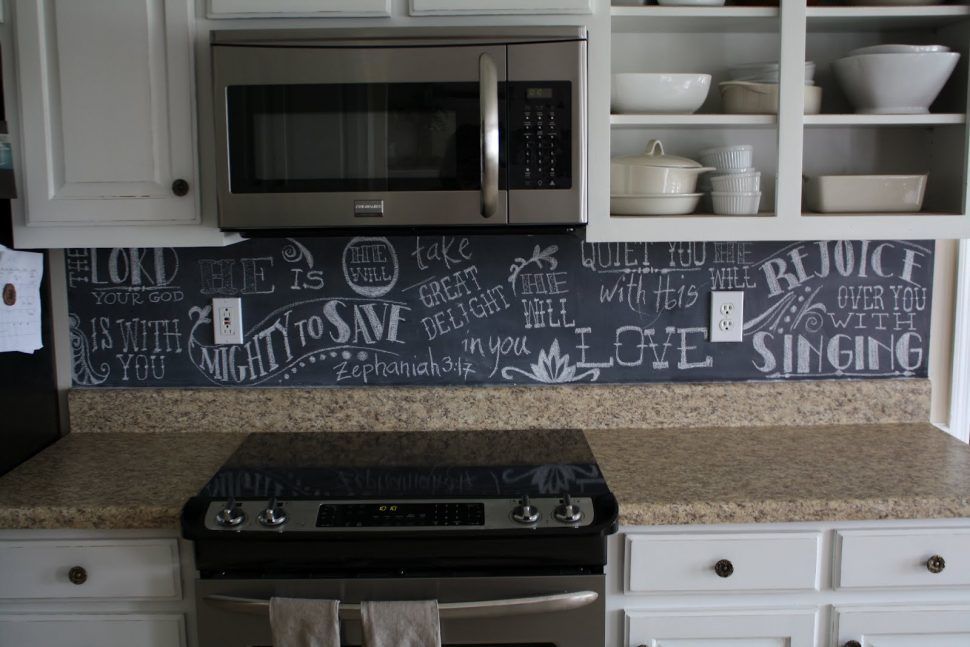 It's fun, it's of-the-moment, and it's a way to let your imagination run wild! Draw ever-changing patterns to suit your mood, doodle or play games, or write inspiring mottos or messages. It can also be practical, as it provides a handy way to keep a running grocery list, write out a recipe in a big and easy-to-reference format, or post a schedule of the week's family meals. It's also a perfect solution for renters living in a home with a kitchen that lacks a backsplash, as it's a cheap and completely reversible option.
5. Extend the backsplash all the way to the ceiling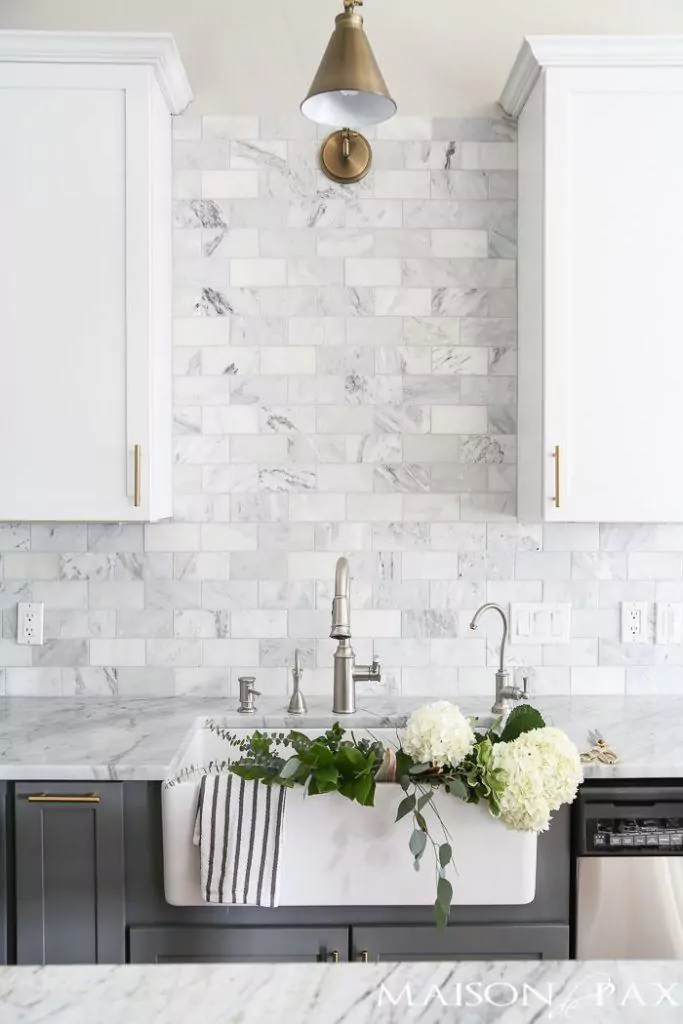 Whether you choose tile or another material, why stop when you hit the cabinets? If you have the budget and are going for a contemporary look, a backsplash that goes all the way up the wall can be striking and also enhance a sense of height in the room. One key consideration: if there was ever a backsplash design that called for the use of a single tile, as mentioned in #2, this is it. Otherwise, the extended backsplash would just be busy and overwhelming.
Any of these five ideas would be a great way to upgrade a boring or dated kitchen backsplash. Although their purpose is functional, kitchen backsplashes provide a perfect canvas for a homeowner to show off their aesthetic, whether it be bold, understated, or somewhere in between.