Tom Kraeutler :
This is the Money Pit's Top Products podcast coming to you today from the Consumer Electronics Show 2015 in Las Vegas. Home security is a big theme in this show. One company that's been offering us home security for over 140 years is
ADT
. They're here with some new additions to their home security platform. We're going to talk to Tim Rader now from ADT. Welcome, Tim.
Tim Rader :
Thanks, Tom. Appreciate it.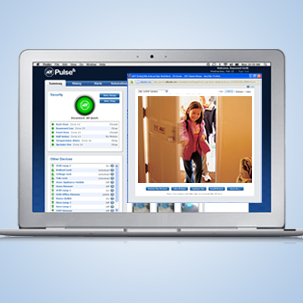 Tom Kraeutler :
Give me some background on ADT. 140 years in business. How many customers do you serve?
Tim Rader :
Over 7 million.
Tom Kraeutler :
Wow. You've been keeping those burglars at bay for a long time.
Tim Rader :
Yes, sir. We have. We have our own central stations, actually 3 spread across the country, as well as 2 in Canada. We are the leader in the security business.
Tom Kraeutler :
Okay. You're the leader in the professional security business. You offer monitored systems. What are some of the benefits of a monitored system over the growing popularity of DIY systems?
Tim Rader :
In a monitored system, we have operators standing by 24/7/365. If there is any kind of event from your system, it will be forwarded to ADT and we will immediately take action. We verify the alarm event. Then we will contact the customer. Then if needed, we'll dispatch the proper authorities.
Tom Kraeutler :
So the key is you've got a human involved. With these DIY systems, even as sophisticated as they are, they can make phone calls and they can talk to you, but they can't really call authorities. That's the big differentiator, isn't it?
Tim Rader :
That's correct. In some jurisdictions actually, you have to be a licensed alarm company to be able to dispatch either the police or the fire authorities. When ADT calls one of those authorities, they take immediate action because we are a professionally-installed security system.
Tom Kraeutler :
All right. Let's talk about some of your newest systems.
ADT Pulse
is one of the systems that's been out now for a long time. It offers all the basic security functions, but it's really now starting to grow to expand into home automation. What are some of the additional elements to the Pulse system that we're going to see coming out?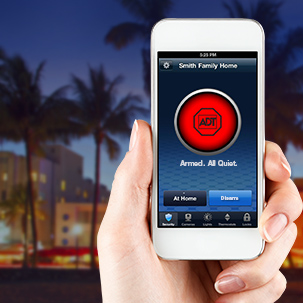 Tim Rader :
All right, Tom. Pulse has been out about 3 years. We've got over a million customers on the Pulse platform. What we found out was customers want to go to that next level. They want to be able to control their lifestyle, as we would call it. We do life safety. Now we do lifestyle. In that lifestyle space, they want to see their home, actually look in and see with cameras. They want to know if events occur. The front door gets open. Johnny or Betty comes home from school. We want to know they came home from school, came home safely, and we get a video clip that they came home alone. Additionally, we may want to control thermostats in our secondary home, or our summer home, or know if we have a freeze event. We can do that as well. All that can be done from a PC, a tablet, or from any smart device. We've just announced a new product called Pulse Voice app, where actually voice commands can turn your system on and off remotely. We additionally just launched another new product, which is a garage door controller. How many times have we gone to work and asked ourselves, did we close the garage door? With that application, you can look, you can see the garage door is open, and you can immediately take action and close the door remotely.
Tom Kraeutler :
It sounds like you combined total home automation with total communication.
Tim Rader :
That's correct, right. Over the broadband, we now have that capability to do all this functionality with video. We can also do lighting control, like as I mentioned thermostats. The video piece is probably the strongest piece of that portfolio.
Tom Kraeutler :
Now what happens if we have a power failure when this systems is in our homes and operating? How much functionality do we lose?
Tim Rader :
ADT, again, being a professionally-installed security system, we require all of our life safety devices to have 24-hour battery backup. They are compliance listed. That means that truly, when the power goes out, we must still provide full security support. We will stop providing some of the Pulse support, but again, we're not compromising any of the security.
Tom Kraeutler :
All right. Professional security is an area where there's a lot of sales pressure. It's a business that has to be in-home sold most of the time. The sales people come into your house. They make you a lot of promises. If you're talking to a wide variety of vendors, as all consumers should, what kinds of questions would you want them to ask about other systems they might be comparing against Pulse?
Tim Rader :
First and foremost, how long have they been in business? Second of all, one of the key features that ADT brings is we have our own monitoring centers. I believe that's a very, very important piece in that it is our operators monitoring our systems. We actually can provide a little more information with that configuration. I would ask those questions. Also, I would ask what partners they're using. As an example, we partner with some of the larger players in the business, like Kwikset and GE Jasco, etc. All of our products are ADT lab certified. We have a lab that must … These products must pass that certification.
Tom Kraeutler :
For example, if I had a Kwikset lock that was paired with my ADT pulse system, it would be operated under the same software platform?
Tim Rader :
That's correct. We would know and expect specific commands from that device and to that device that are controlled by our system.
Tom Kraeutler :
All right, those are great tips. Tim Rader from ADT. Thank you so much.
Tim Rader :
Thank you, Tom. Appreciate it.