Table of Contents

[Hide]

[Show]
If you're a "get me to the finish line as fast as possible" kind of person, then you'll have to rethink your mental strategy before tackling some major outdoor DIY projects. It doesn't matter if you're re-painting a back deck, fixing the gaps in your concrete walkway or resurfacing a patio. Success with most of these projects is all about investing time up front, so that the final result is perfect.
For outdoor projects, before you can improve a surface, you have to strip it down, clean it up and fix it.
C
Restoring Concrete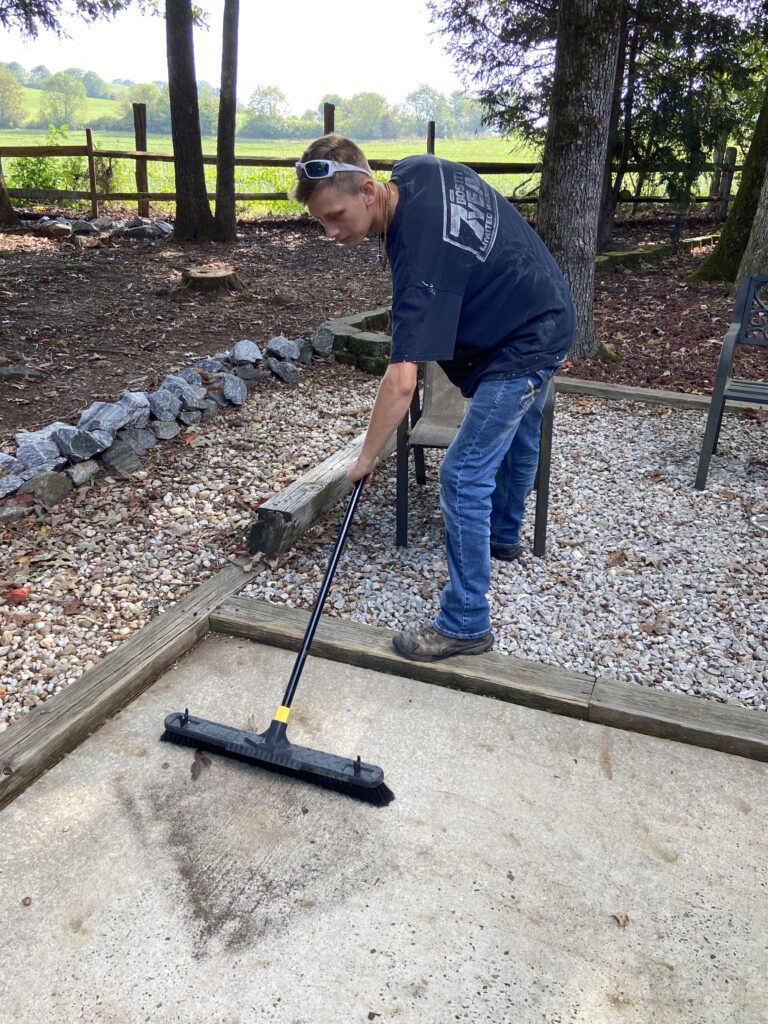 In a best case scenario, your concrete surface is in very good shape, with no cracks, pits or holes. If this is the case, use a pressure washer with at least 1700 p.s.i. with a "turbo nozzle" or "orbital tip" to clean the surface. Move slowly, in a sweeping motion, a few inches above the concrete surface. Take your time with this step to clean out all the concrete pores, and then let dry thoroughly.
After the cleaning, if the pressure washing uncovered cracks, pitted areas or chunks of missing concrete, you need a cement filler. Rock Patch™ is ideal for this fix.
Made with a tough polymer/stone formula, the pre-mixed compound comes out of the container ready to use. The cement-free product requires no messy mixing. Simply pop the lid, stir and apply with a scraper or trowel.
This odorless product has flexibility to it and can be worked with slowly. It doesn't dry quickly like concrete. Take your time to smooth it into the location you wish to repair. Then let it dry to create a rock hard surface.
Normal cure time is 24 hours for Rock Patch. Dry times should be increased when the product is applied thick or in damp, cool conditions. After the Rock Patch thoroughly dries, move on to the surface system you wish to add to your concrete.
Prepping Wood for Refinishing
If you're preparing your exterior wood surfaces for a recoating, start by taking an honest look at your wood. A few small holes and cracks are fine and can be prepped. However, you can't coat wood that's covered with a previous coating. You'll have to strip that down to the bare wood. Also, if the wood is weak or spongy, look for signs of rot. You may end up having to replace the affected wood areas before coating it.
Once you've carefully reviewed the wood, pull out your hammer and screw driver. Tighten any deck screws and tap down any nails. If either appear rusty, replace with new galvanized ones. So that a bond can be formed with the new coating, scruff the wood surface with 100 grit sandpaper, then vacuum away the sanding dust carefully.
If you're working on pressure treated lumber boards, wet a section of the deck with water. Then pour on a pressure treated wood cleaner. Scrub the planks with a deck brush to remove dirt, surface residues and wood fibers. Rinse and pressure wash. Repeat these steps and let the boards dry for several days. Use a moisture meter to confirm a reading of about 15% to begin the next step.
Sealing Wood Surfaces
With the surface clean and dry, it's time to protect them from future moisture and rot. Fill larger cracks, holes or "checking" in the boards with ElastoLock® Water-Proof Rubber Membrane. Roll on a uniform, generous coat of ElastoLock with a 3/8" roller. Brush the solution in between the deck boards to waterproof those surfaces as well. Also, be sure to generously coat all cut ends of the planks to block water intrusion. (If possible, coat the underside of the deck with ElastoLock too, for ultimate water protection all around.)
ElastoLock will fill minor cracks and checking and create a more uniform, waterproof and resilient surface. It will also function as an intermediate coating and adhesion promoter for coatings that will follow. Allow 24 hours to dry before proceeding with your desired coating system.
Slow down, plan out extra time to fix and prep your outdoor surfaces. That's the best way to gain success for your upgrades around the home.