If we had to name a project that can really change the look of a kitchen, or even a bath, replacing the countertop would be high on the list! Countertops provide the largest horizontal work surface in the house. But because they are designed for just that: work, they get worn and stained, and this is especially true ithe top is made from Formica or other surface. But while removing and replacing that old top is a costly and complicated project, simply restoring the surface with a stone coating is not.
Whether you're looking at a full-scale kitchen redo with an island countertop and lots of space, or a smaller bathroom vanity top, we've found the SpreadStone™ Countertop Finishing Kit a simple DIY alternative to a full scale reno that's both affordable and durable.
Available online for about $125, this complete kit can cover up to 40 square feet in countertop space at a far lower cost than countertop replacement. There are 11 real stone colors to select from, and the entire project can be completed in a weekend with attractive, long-lasting results.
SpreadStone: Real Stone, Not Stone Color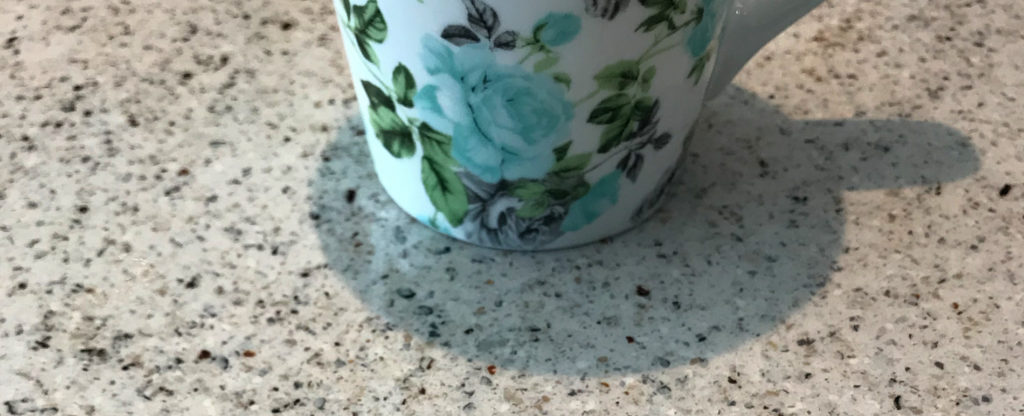 One of the differentiators between the SpreadStone product and other countertop refinishing kits is that this is an actual, stone coating and not merely a faux finish. It's a real decorative stone layer embedded into a durable coating that is far thicker than any paint.
In fact, the manufacturer, Daich Coatings, has specialized in these products for years. They combine their expertise in polymer coatings chemistry with nature's most enduring raw material — STONE — and use it to create a line of unique finishes that make surfaces which are both beautiful — and incredibly durable.
DIY or Not? Suitable for All Skill Levels
Whether you consider yourself an experienced DIYer or one who usually hires-out most projects, this particular product has been shown to be easy to apply at any skill level.
DIY-er Reports Long Term Durability
Lisa Warner generally goes "all in" with her DIY home improvement projects. Just like any person, she likes to see long-term positive results from her efforts. After several years of daily use, she's proudest of her achievements refinishing her countertops.
"I started by redoing my outdated kitchen countertops with a SpreadStone Countertop Kit," says Warner, a resident of Mesa, Ariz. "I transformed my basic countertops with the Volcanic Black finish. I had such great results that I used the same product and color in both my main and guest bathrooms."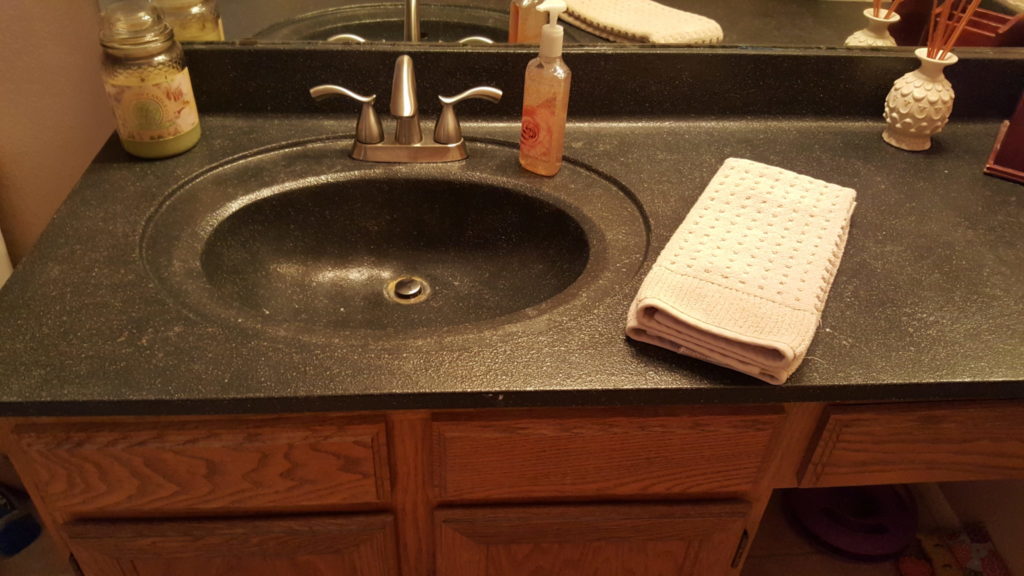 What Warner likes best about her projects from a few years ago is how they have held up.
"My bathroom double sink and counter are all one piece," says Warner. "Because I knew the daily use the sinks would get, I finished them with five coats of sealer. I allowed each coat to dry for 24 hours. Now it's two years later and there has been no chipping. This product is very durable and holds up beautifully."
Non DIY-er Successfully Refinishes "Battle-Scarred" Kitchen Countertop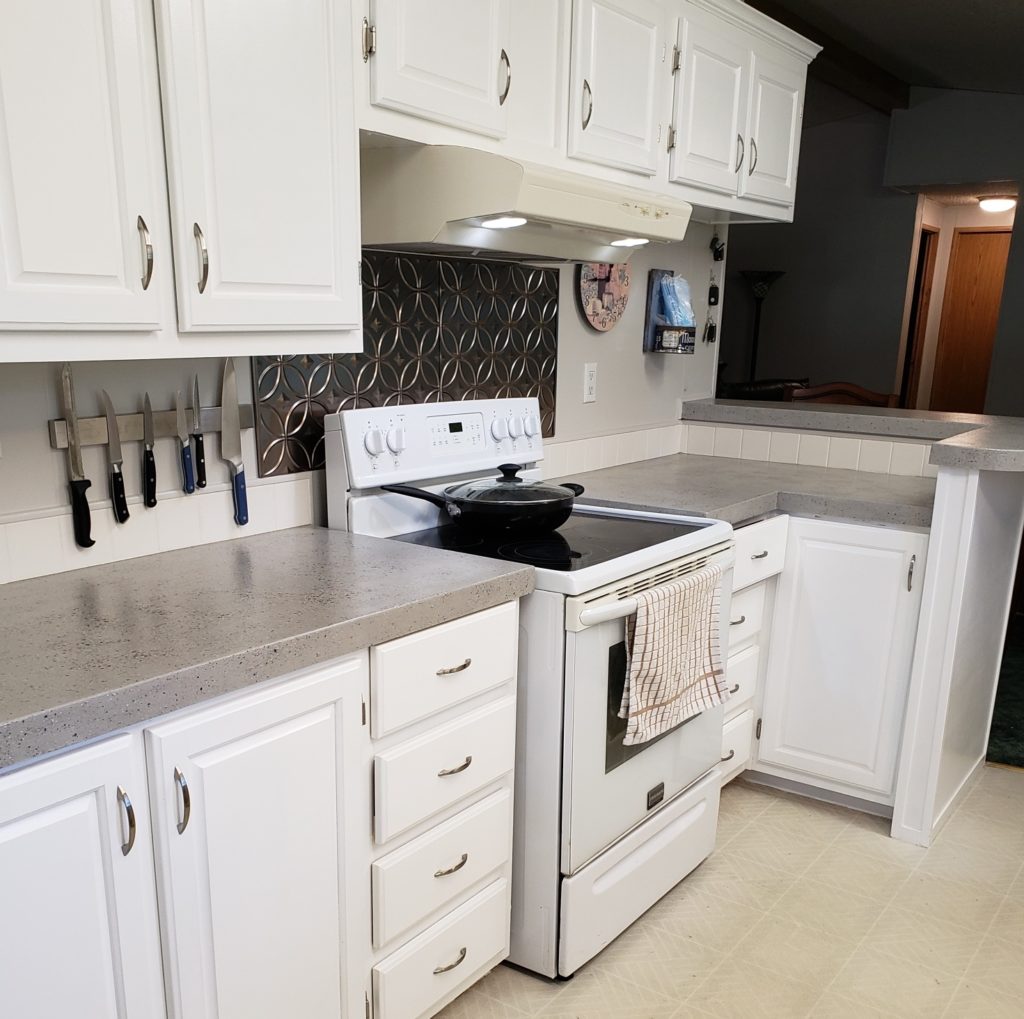 On the flip side of Warner, Teresa Woodruff is not really a DIYer. However, inspired to get rid of her baby blue kitchen countertops, she took the plunge.
"I can, and do, paint inside my home," says Woodruff, a resident of Washington. "So I figured I could roll on a new countertop finish — and I was right!"
After living for 28 years with the "battle scarred and worn" kitchen countertops, Woodruff and her husband, Mark Jensen, dove in to tackle the project. They started by taking out the sink and faucet completely, to give them easy access to the countertop surface.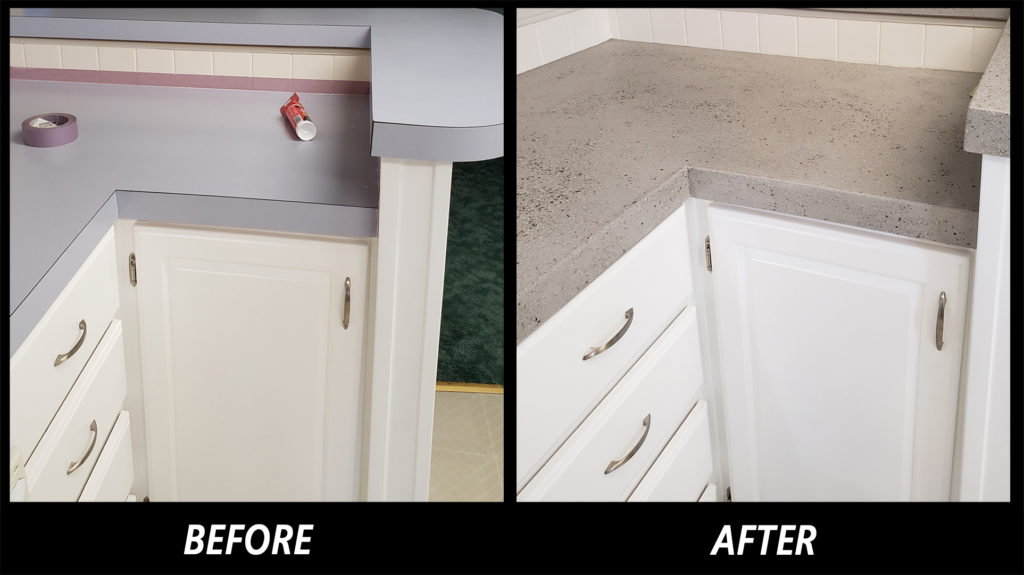 "Preparation is everything," says Woodruff. "If you follow the instructions you're in great shape."
Woodruff and Jensen decided to start by painting all their kitchen cabinets white. Then they painted the walls Agreeable Gray (SW 7029) by Sherwin-Williams®. Adding the Onyx Fog countertops was the perfect fit. After that they installed a two-piece light bronze metal-looking backsplash above the stove. New flooring and appliances will be added soon.
"The countertop kit was a life saver," says Woodruff. "I bought a second kit to coat our two small bathroom countertops. I guess I'm really becoming a DIYer after all!"
Step-by-Step: Here's What You Need to Know to Get This Project Done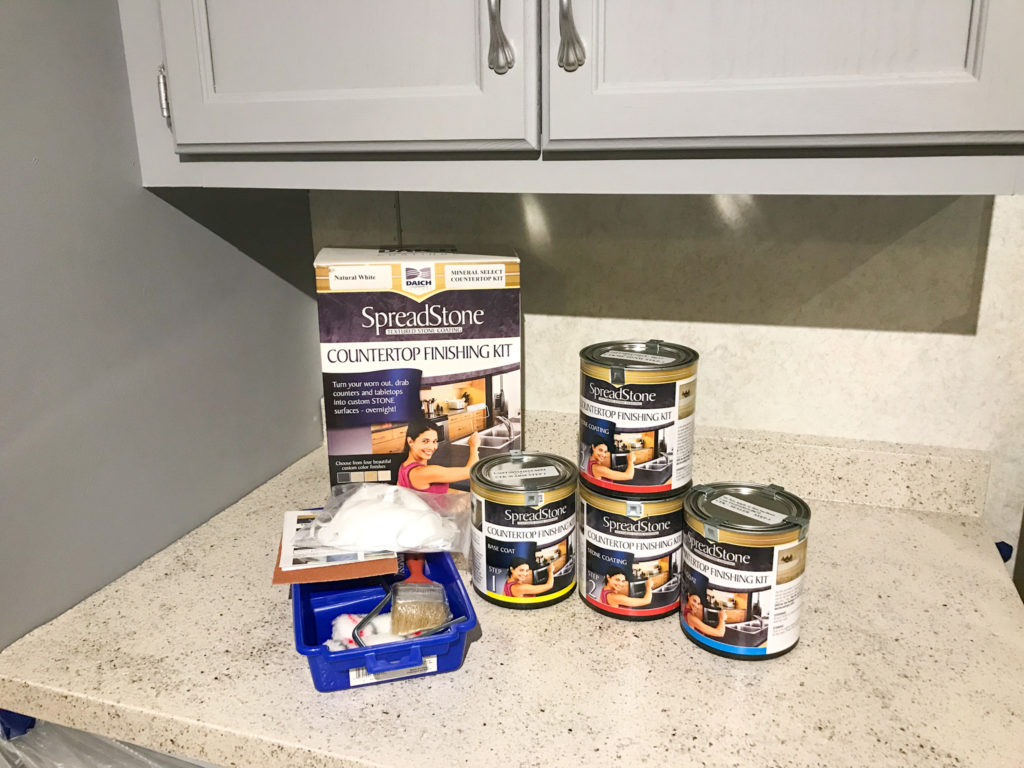 To achieve the kind of results Warner and Woodruff got, follow these step-by-step instructions and tips:
Get Ready
Measure your countertop space. Decide how many feet of space you need to cover.
Order your kit online. Major retailers like The Home Depot and Lowes offer the SpreadStone kit with free shipping.
Before your kit arrives. Take the time to fully clean your countertop surface. If you have any deep cracks or holes, patch them. Then sand so they're flush with the countertop. Make sure the patched material is fully dry before starting the kit application.
Prep the Countertop Surface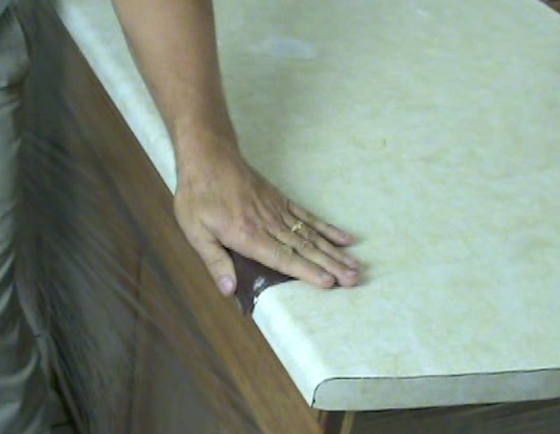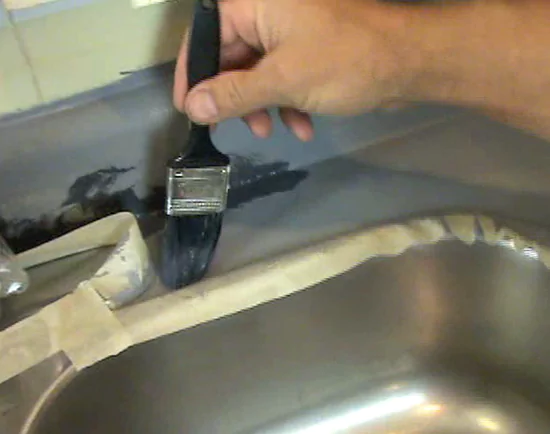 Begin by masking adjoining surfaces with painter's tape. You may also wish to add plastic coatings over nearby floor areas and/or cabinets.
Depending on your preference, you can either tape off your sink and faucet edges with painter's tape where they meet the countertop, or you can temporarily remove them.
Now, how do you get the surface of your existing countertop ready?
Generally, there are four types of countertops in most homes: laminate, wood, concrete and tile. Here's how to prep the surfaces for each type. Keep in mind you may wish to wear a dust mask for your own comfort.
Laminate Prep: Scuff the clean surface with sandpaper enclosed with the kit. Many people prefer to use an orbital sander for less "elbow grease" work. Either is fine. You're trying to create a rough surface for a good bond. As a final step, wash thoroughly.
Wood or Concrete Prep: Remove any pre-existing coatings. You'll want to get down to the base material, clean it and then let it dry.
Tile Countertops: Apply two very thin layers of ElastoLock® two hours apart as a bond enhancer. Let this dry at least 24 hours before proceeding.
Once you've completed the prep, you're just 4 steps away from Instagram-worthy results!
Step 1: Apply the Base Coat
Prior to use, mix the Countertop Base Coat thoroughly with a stir stick.
To apply, use the small brush from the kit for tight areas as well as corners, along edges, etc. Wash the brush with soap and water immediately after use since you will be using it again.
Apply a thin, uniform Base Coat over the remaining countertop surface with one of the enclosed rollers. When finished, wash the roller with soap and water for the second application.
Allow the Base Coat to dry for about 30 minutes, or until dry to the touch.
Add a second application of Base Coat over all the surface areas. At this point you'll want to let the surface dry for about two hours before proceeding.
Make sure to wash the roller handle and tray with soap and water to prepare for the next step.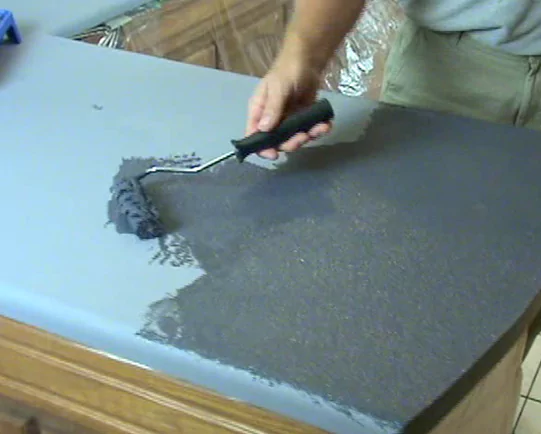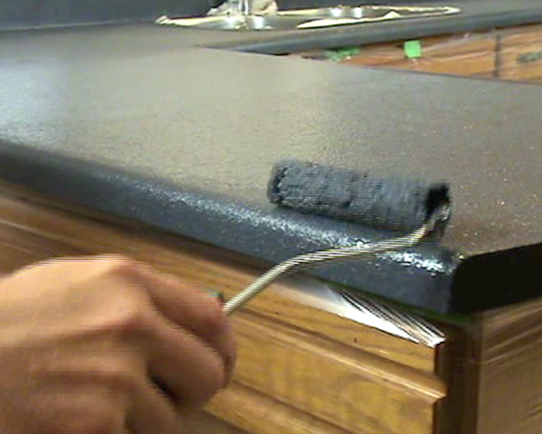 Step 2: Apply the Stone Coat
Before using, mix the SpreadStone Coating thoroughly. Be sure to stir from the bottom of the can upwards in order to disperse any material that has settled at the bottom of the can. An alternative (and sometimes easier) way to achieve this is to use a paint-stirring drill attachment.
Making sure the surface is dry and clean, you can start by using the small brush from the kit to dab the Stone Coating into corners, along edges and in tight areas.
Once the tight areas are done, next saturate one of the kit's enclosed rollers in the deep portion of the paint tray where you've poured some of the Stone Coating.
Apply the SpreadStone Coating over the entire countertop area in a continual "X" pattern. This will uniformly disperse the coating's decorative elements.
You will be able to see the stone texture in the mix as you roll it on. Push the stone around on the surface using varying roller pressure to achieve a uniformly covered surface.
As you complete an area, pass the roller over the wet material a few times with normal pressure to flatten any excessive buildup. If you feel it's a bit too thick or lumpy, just keep rolling it until the pressure gets the uniform results you're looking for.
Once finished, was the roller with soap and water and let the first coat dry for two hours.
After that first coat is fully dry, do the entire process again.
Once the second coat has completely dried, sand it with the sandpaper in the kit. Or, you can use an electric orbital sander. Again, make sure to use a dust mask while sanding.
Continue sanding the surface until it's as smooth or rough as you want the finished surface texture. You'll see the minerals really pop out at this point. The final Clear Coat is not for filling textured areas, so make sure when you finish sanding and clean off the surface, that you're happy with the results.
Let the Stone Coat cure for 24 hours.
Step 3: Apply the SpreadStone Clear Coat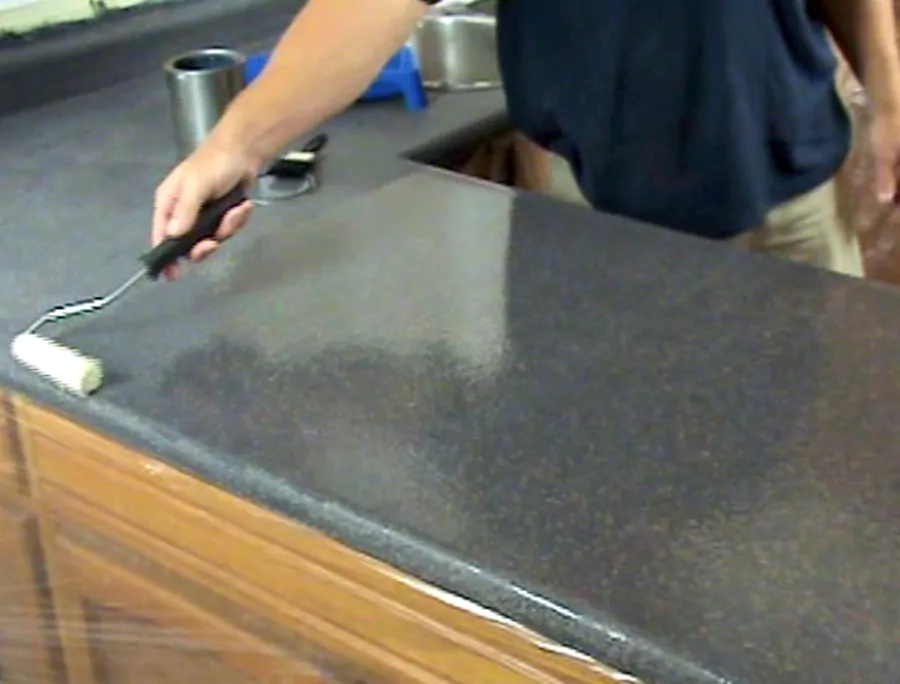 Remove any remaining dust from your countertop with a vacuum or careful sweep.
Wipe the surface down with a clean damp cloth to remove any remaining dust.
Gently stir (do not shake) the contents of the Clear Coat container.
Once again, use the small brush to add the Clear Coat to tight areas and corners. Avoid "pooling" of the coating. Wash this brush once finished, because you'll need it again.
Apply the Clear Coat over the remaining countertop with the roller. Roll over the wet Clear Coat a few times to make sure the entire surface is covered.
Tip: Do not overwork or disturb the Clear Coat with additional roller swipes as it attempts to dry. This could add air bubbles and roughen the finish.
Wash your roller with soap and water.
Allow the Clear Coat to dry for about four hours.
Apply a final Clear Coat layer in the same manner as the first one. This time let it dry 24 hours before use.
Step 4: Clean Up!
Only after the SpreadStone Clear Coat has completely cured should you remove the painter's tape. Score carefully with a utility knife to ensure close, damage-free removal for any areas where the surface finish is near the painter's tape.
To stop water intrusion beneath sinks and other fixtures and the surface coating, a bead of clear caulking is recommended along adjoining edges.
Final Tips for Use and Care of Your New SpreadStone Countertop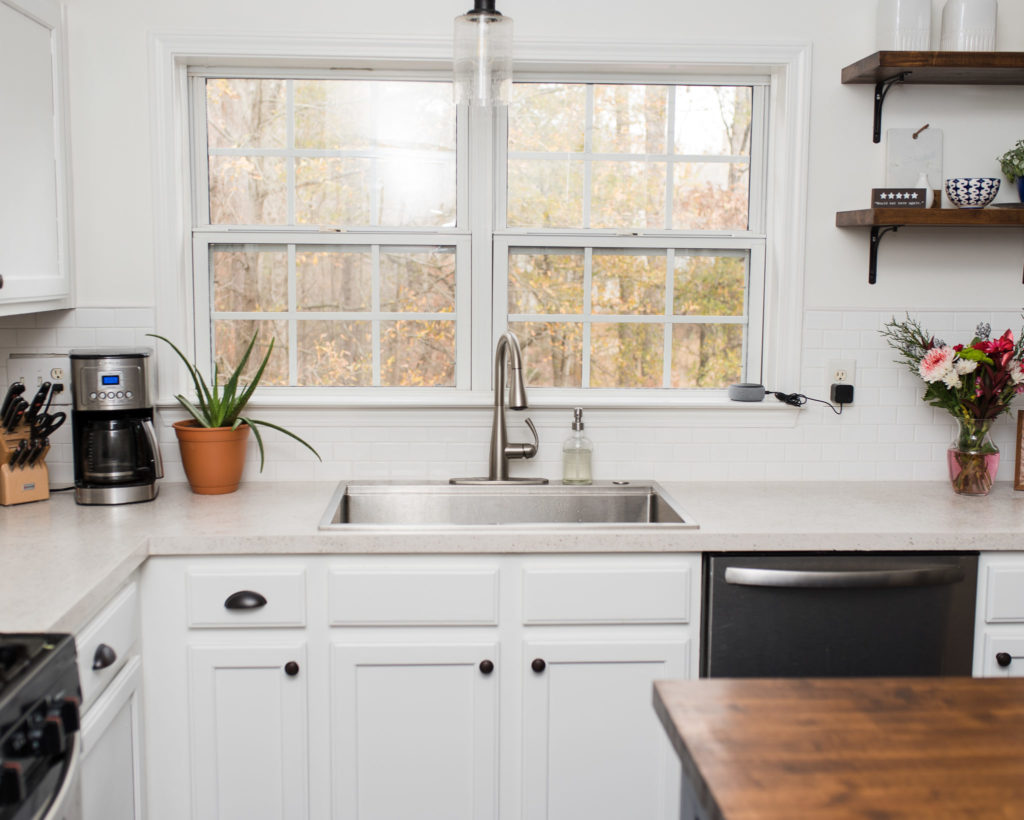 While your countertop will be ready for use after the 24-hour curing period, it will continue to harden and cure for the next seven days. So, for those first seven days, use the countertop sparingly, and don't load any appliances on it.
This beautiful DIY countertop will last for years. To assure that it stays in its best condition, here are some final tips:
Tip #1 – Always use a cutting board, and do not cut directly on the countertop.
Tip #2 – While your countertop is heat resistant, it's still a good idea to use a trivet rather than putting a hot pan directly on the countertop.
Tip #3 – Keep your countertop clean by wiping it after use with a damp cloth or common household cleaner.
For installation videos and more details on this project, go to www.DaichCoatings.com.