As warm weather kicks in, you get to see what winter damage has done to your outdoor concrete surfaces. Maybe the rock salt ate away at some areas of your sidewalk, or your shovel chipped off more than just snow from your driveway. Whatever the case, now is the perfect time to resurface ugly concrete home exteriors.
Prep Paves the Way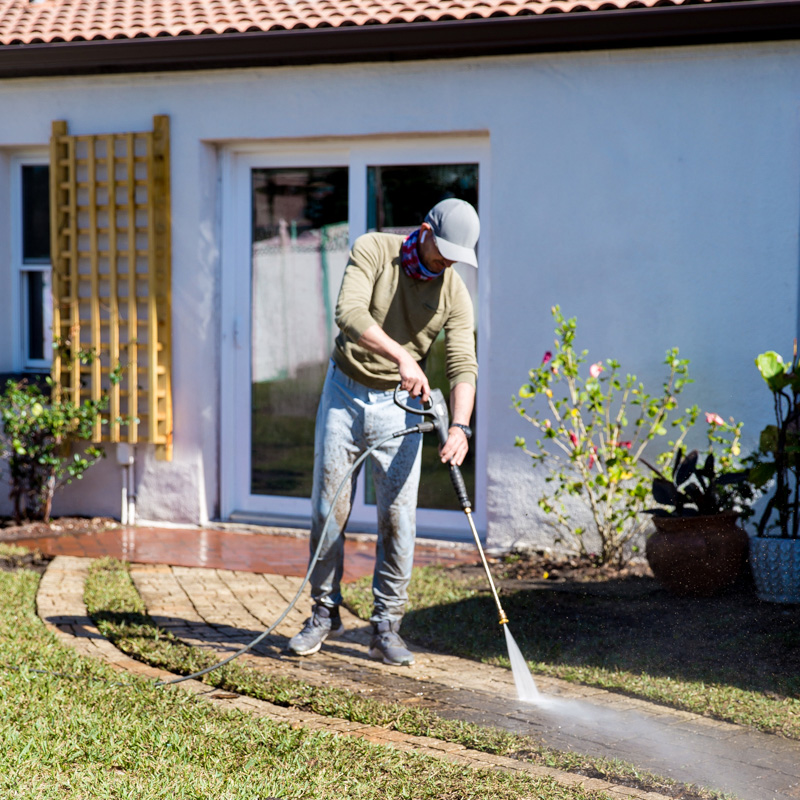 Every project starts with the right prep work, and transforming worn, pitted or just downright disgusting looking concrete is no different. For an outdoor project like this, you'll want to thoroughly power wash the area. If you've got concrete surfaces that really need deep cleaning, use a Concrete Cleaner/Etcher to get rid of the grime. Let it dry naturally, then use your leaf blower to remove loose pieces of cement.
Next, fill in pitted holes, gaps and cracks. Choosing the right product for the job is key. Rock Patch is a filler, leveler and resurfacer that can patch up shallow cracks, holes and pitting in concrete surfaces. For larger projects, ElastoLock waterproof rubber crack filler lets you fill in areas in the concrete before adding a finish coat. Let these products dry completely before moving to the next step.
In my experience, the prep work actually takes the longest, but it's the most important step. Don't try to take shortcuts. You really need to make sure the surface is prepared to accept a coating. If these steps aren't taken now, it's likely the coating won't adhere tightly and you'll be back at this same point again next year.
Concrete Resurfacing Options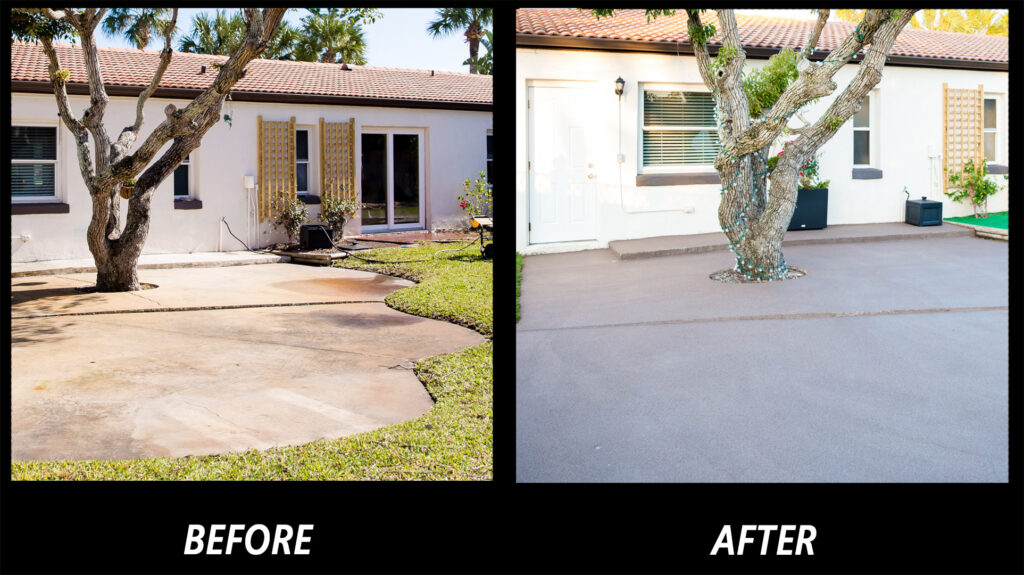 Now that the prep is complete, it's time for the fun part! Daich Coatings offers several decorative and affordable options for DIY concrete coverings to choose from, available online with free shipping from their company, or from Lowe's or Home Depot..
SpreadRock Speckled Granite Surface
Applied with a trowel on both horizontal and vertical surfaces, SpreadRock granite stone coating has exceptional decorative and protective benefits when applied to concrete, masonry and other surfaces. The bonding technology and real stone composition ensure solid adhesion, superior flexibility and dependable durability.
This product comes in some enticing colors, like Mocha, Anvil, Ice Grey, Brownstone, Flint Grey, Sandstone and Sante Fe. Each one also resists rain, snow, salt, chemicals, mold, mildew, UV light and hot tire pickup, along with excessive heat and bitter cold temperatures.
The quick and easy standing squeegee trowel application means you can apply the product from a comfortable standing position. After rolling on a coat of textured primer and letting it dry for two hours, a squeegee is then used to apply two thin coats of SpreadRock. The product covers 33 to 40 square feet per gallon. Once cured for 24 hours, everything is top-coated with a clear sealer.
SpreadRock provides an elegantly authentic speckled granite coating ideal for porches, steps, walkways and entrances and even pool decks and is priced at less than $60 per gallon.
RollerRock Real Stone Coating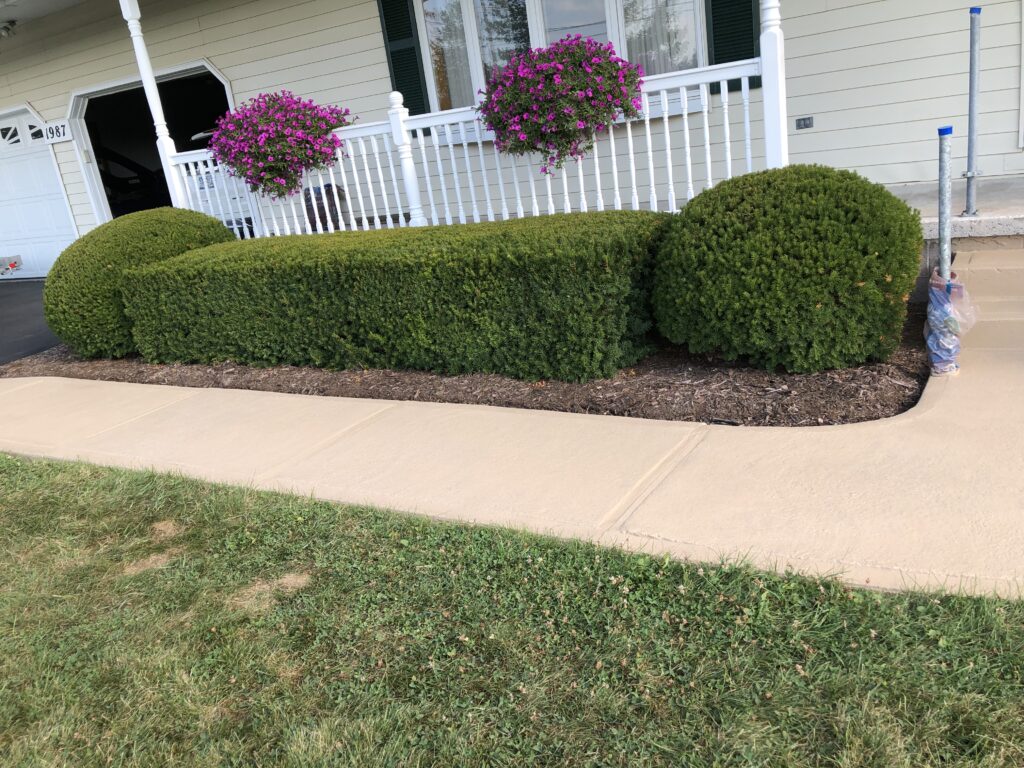 Traditionally used on horizontal surfaces like driveways, garage floors and walkways, RollerRock is a proven economical solution for high coverage areas. Each gallon of the product covers 85 to 100 square feet for under $60, and comes in 15 colors.
With RollerRock, it's all about rolling. After rolling on a coat of textured primer and letting it dry for two hours, a roller is then used to apply two thin coats of RollerRock. Once cured for 24 hours, everything is top-coated with a roll-on clear sealer.
The real stone coating of RollerRock resists salt, chemical, impact and abrasion, along with hot tire pickup, so you can feel comfortable using it on the driveway or in the garage. The product also resists freeze/thaw conditions, mold, mildew, water and UV rays.
RollerRock is laboratory tested to provide up to double the recommended OSHA slip-resistance rating. Two coats is all it takes to achieve a lasting textured stone floor that delivers added foot traction and safety to walking surfaces.
SpreadStone™ Decorative Concrete Resurfacing Kit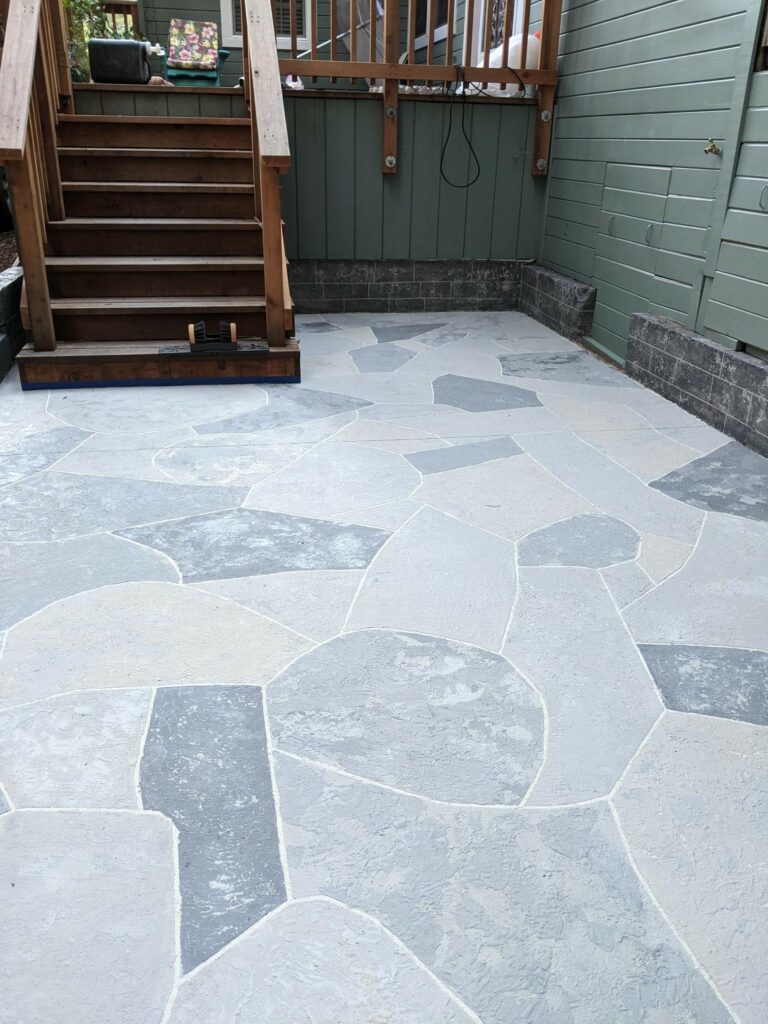 Here's an option for people who like to be a bit more creative. The all-in-one SpreadStone kit includes pre-mixed primer, base coat, accent coat, clear sealer, stone texture roller and grout line stencil tape. With this kit you can design a stunning decorative stone surface fast and easy. Actually, in just a weekend you can transform a pretty standard walkway into a showcase stone sidewalk.
Five appealing colors are available for this kit: Cold Gold Slate, Lake Rock, Midnight Slate, Summit Grey and Sun Ledge. Choose from a kit covering 100 square feet for $155 or a larger kit covering 400 square feet of space for $495.
No matter which kit you select, the results are impressive. The real stone surface resists impact and abrasion, chemicals, water, mold and mildew, along with U/V brittle rays. You'll also find it resists freeze and thaw conditions and heat. An added benefit is the superior traction of the surface serves as a safety feature.
Final Tips for Success
Because the warm summer weather can accelerate drying times, no matter which product your using, the cement transformation should go smoothly at your house. Make sure to invest time and attention to the prep stage and you'll be rewarded with a new cement surface that's good-looking and long-lasting.