Preparing your home for holiday entertaining needn't require an entire season or a big budget. You can easily put your house in order in just one weekend with the right approach, according to Carl Prindle of Furniture.com. Here are his tips for readying any home for festive gatherings of friends and family.
Start fresh: Before you begin, take a good look at your home. Have you outgrown your decor from five, 10 or 20 years ago? Ask a trusted friend for the honest truth, then take action.
Go with the flow: Another easy tip to prepare your home for holiday entertaining is to rearrange furniture to increase floor space and allow guests freer movement. Continue your party's theme from room to room for an uninterrupted flow to the ambiance.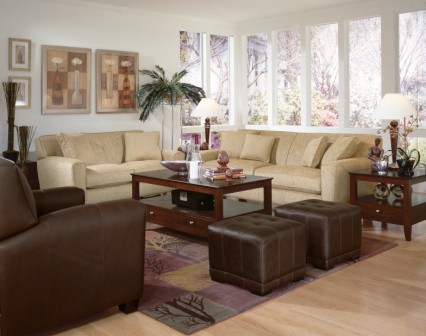 Make small nooks for small talk: Create cozy conversation areas by arranging nesting tables to hold guests' food and drinks. After the holiday festivities, these space-saving tables will be handy for snacks, games, craft projects and more.
Don't crowd: Ten guests won't fit around a dining table made to seat four, no matter how hard you try. Either upgrade to a larger table or spread out with a more casual buffet. You may also consider a bistro-style dining set to evoke a social atmosphere. The taller-than-standard table height makes it easy for guests to serve themselves drinks, buffet dinner or even make their own desserts!
Mix and mix: Matching all the furnishings within a room is passé. Experiment and mix sizes, scales and textures to give your rooms a unique — rather than a retail showroom — style.
Create walls of inspiration: Prepare your home for holiday entertaining by giving the walls a fresh new color, border or mix of textures for visual interest. Express who you are with a new piece of artwork that encourages conversation. The most harmonious arrangements take cues from the room, so try hanging pictures in a rolling up and down grouping over a camelback sofa.
Light up your life: Bring a new look to a room by updating the lighting, making sure lamp heights are equal throughout and all have the same color shade.
Accessorize, accessorize, accessorize: Arrange accessories symmetrically for a formal look, or asymmetrically to get creative. Highlight a special item by placing it against a contrasting surface. Reflect the seasons and bring nature indoors with arrangements of leaves, stones and fresh flowers.
Don't stress: Forget perfection. Anything out of place makes a home more cozy and charming. As you prepare your home for holiday entertaining, go with what feels right. The most important tip — it's your house and above all else, enjoy the party!