Preparation for holiday guests doesn't have to take a lot of time or a big budget. Here's advice from the pros for creating welcoming guest spaces by prioritizing tasks and working with what you have to deck the halls in style.
De-clutter and clean
Going room to room, clear away clutter and stow any items not needed during holiday festivities, including kids' toys, paperwork and extra furniture. Then, get some help with the next round of cleaning. Hiring a housekeeper during the holidays will really free up your time, and you'll be amazed at what a difference it makes. The service is surprisingly affordable, and a professional will clean things you hadn't even thought of cleaning.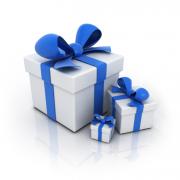 From there, keep every room tidy, and work in easy touch-ups as needed. Keep a small arsenal of surface-specific cleaning wipes and a lightweight carpet sweeper on hand, and use a magic eraser sponge to remove marks from walls.
Furnish for holiday fun
Using the furnishings you have and a few strategic additions, you can easily create welcoming and functional spaces for your holiday guests. The folks at Furniture.com recommend rearranging existing furniture to increase floor space and allow for freer movement. You can also build cozy conversation areas around space-saving nesting tables, and bring a new look to a room by updating the lighting scheme with lamps placed at equal heights and sharing the same shade color.
When it comes to dining preparation, don't crowd your holiday guests and all the holiday goodies with a table that's too small. Upgrade to a larger dining table, or spread out with a more casual buffet. Another popular party option is a bistro-style dining set, with a taller-than-standard table height that makes it easy for guests to serve themselves drinks, buffet dinner, or even assemble their own desserts.
Add a dash of seasonal color
Use such accessories as pillows and throws to accent holiday guest spaces and highlight the colors of the season. Choose colors that speak to the holidays and your family's traditions: rich jewel tones, silvers and grays for an icy, wintry look, or a palette of browns, coppers and bronzes. For extra impact, try colors that are a departure from those in your usual year-round décor.
Simple arrangements of decorative objects are another means of highlighting your holiday palette for holiday guests. Try filling a large hurricane glass with glass ornaments of different sizes from the same color family; also try grouping arrangements of filled hurricane glasses in varied heights, shapes and opacities.
Don'ts for your big to-do
Keep excess holiday stress at bay by avoiding projects that eat up time, resources and energy. Don't choose this season attempt a home project you haven't tried before, stay away from tempting touch-ups that take an excessive amount of time to dry, and don't do anything that involves a busy contractor. In all cases, you could find yourself in the middle of a half-done mess as holiday guests arrive at your door.
Above all, forget perfection in your preparation. Remember that anything out of place makes a space more cozy and charming to holiday guests. It's your house, so go for what feels right and enjoy the season!