New toilets have certainly come a long way from the chamber pot — but they've also come a long way from the mid-'90s.
By now, you're probably familiar with the law that took effect in 1994 that required all toilets manufactured in the U.S. to use no more than 1.6 gallons (6 liters) of water per flush, rather than the previous 3.5 gallons per flush (gpf).
If you've heard of the law, it's probably because you had occasion to experience one of the early 1.6 gpf toilets. Which also means you are likely fairly close pals with your plunger.
The good news is that today's toilets work. It took manufacturers a few years to catch up to the change in the federal law, but many new toilets work better than the originals — some flushing on even less water!
If the plunger is still a big part of your life — or if you're still clinging to an old water-hogging toilet while you and your neighbors are subject to watering bans in drought-stricken areas — you can definitely benefit by overthrowing the old throne and upgrading to a new toilet.
Toilets have long been made of a durable china called "vitreous" china, and are available in one-piece and two-piece styles. One-piece versions are sleek in design without the crevice between the tank and bowl that can collect splashes and be difficult to clean. Two-piece toilets are generally less expensive.
Toilets for kids
There are actually cute little toilets you can buy from both American Standard and Gerber that are smaller and more accessible for the newly toilet-trained among us. Yes, you'll have to replace the toilet in a few years, but it's not a big deal to do so. American Standard also makes a great vanity called Generations with a convenient pull-out step for kids that doubles as a safe, handy stool to replace lightbulbs over the vanity.
Low flow, high tech
There have been some pretty fancy innovations in the tank since back in the day, so your first peek inside won't look anything like you might remember from watching Dad fix the toilet. These are technologies that have arisen since the early 1.6 gpf toilets.
Things to look for in a new toilet include proven power to scour the bowl clean with each flush, and wide, fully-glazed trapways — the part that snakes out the back of the bowl. Trapway is a bit of a misnomer, since the better toilets have wider traps so they don't, well, trap the you-know-what.
There is regular performance testing done on toilets by many water utilities. Go online and do a search on "toilet testing" for the most current results.
Toilet seats have also evolved over time, with new advances like heat. If you can swing it, opt for helpful features like seats that snap off for easy cleaning, and slow-close seats that increase the chances of men in your home actually putting down the seat.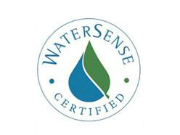 Toilet bowls are offered in elongated and round-front. Elongated bowl rims are about 2″ longer (front-to-back) than a round-front bowl. Most people are more comfortable using an elongated toilet bowl, while round-front bowls can save space in smaller baths.
Use your WaterSense
The folks who brought ENERGY STAR labeling to the world of electrical appliances have now made it just as easy to shop for water-wise fixtures. 2007 marked the debut of the WaterSense label, first showing up on qualifying high-efficiency toilets (HETs). HETs cut down on the current standard maximum of 1.6 gpf by 20% to 1.28 gpf.
If the thought of giving up even more water in your toilet fills you with clog dread, relax. The WaterSense label tells you a product will conserve more water and perform more efficiently than one without it.
To earn the WaterSense mark, products are tested to meet stringent guidelines such as being able to flush away a minimum of 350 grams of soybean paste (you get the idea) and include a flush valve flapper or seal on the flush with the test-proven chemical resistance to ensure that exposure to chlorine and hard water won't lead to toilet leaks over time.
So if you're in the market for a new toilet, look for a high-performance toilet with a wide trap, and, if you're eco-minded, a WaterSense stamp of approval. Follow our tips when shopping for your new toilet, and you might find that your days of frantically grabbing for the plunger are over.