Just as with the clothes and accessories we wear; what our homes sport on their exteriors has everything to do with first impressions, something we call curb appeal. And just as we take care of ourselves, most of us want to make our homes look as attractive as possible, not only for our own pride and enjoyment but also to create a generous welcome for visitors and to keep the peace among our neighbors.
Curb appeal is also an important part of maintaining the value of your Money Pit. When it comes time to sell, potential buyers will conduct an instant assessment of the condition of your home based on their very first impression.
A home's façade and yard cover a lot of square footage, and a tidying makeover can take time and expense. While everything from new siding to a lush lawn has an impact, it's the little things you do that can really make a difference. A stylish new porch light fixture, a fresh coat of paint, the addition of shutters and window boxes, or a few strategically placed containers bursting with colorful blooms can add that sparkle that reads as high home value to passersby.
Whatever level of curb appeal you plan, select products, finishes and installation techniques that'll stand up to the wear and tear your home's exterior receive from seasonal extremes. Long-lasting good looks mean less expense and maintenance for you and extended admiration from everyone else.
Start at the End: What's the Outcome?
As you consider your curb appeal goals, keep things in a scale and style appropriate to your home, and tone down the temptation to express yourself a little too personally up front with an overload of accessories (we're thinking overabundant garden gnomes, maidens showing their petticoats, team logos, and political sentiments). If your abode is under the jurisdiction of a homeowner's association, make sure you're aware of any restrictions that impact colors, accessories and even plantings before investing in items that don't meet standards and aren't returnable.
Assess Your Abilities: There's a lot of great exercises awaiting you outside, where most curb appeal projects are completely DIY-able. Green lawns, tasteful landscaping and container plantings, decorative additions, painting touch-ups and some lighting installations fall into the zone. Professional help is a good idea when you get into mechanics like hard-wired lighting systems, sprinkler systems, siding overhauls, and structural updates.
Setting Your Budget: Budget depends on how much you need to do and how far you want to go with the makeover project at hand. Remember, though, that you can actually accomplish a lot with a critical eye and very few dollars. There may already be several features in your front yard that will be shown off to best advantage with a little hedge trimming, weeding, painting and general cleanup—absolutely free and easy fixes.

Points of Arrival: Driveways and Walkways
The condition of any paths leading toward your home, whether they're for foot traffic or arrivals of the drive-up variety, will certainly smooth the way toward a good impression.
We get a lot of calls at The Money Pit about the driveway, and in almost every instance the problem is the car, not the surface it's parked on. Persistent oil leaks keep a lot of driveways from looking their best, so do all you can to solve the problem at the automotive level before investing time and money in a comprehensive cleanup. The same goes for other kinds of staining and surface damage: take time to investigate the sources of these and make corrections beyond the parking zone in order to avoid a repeat performance. An improperly directed sprinkler system, for instance, can be the source of driveway rust stains and other mineral deposits.
From there, if you've got an asphalt driveway, plan to clean and reseal it─an inexpensive touch-up that you'll only have to repeat every few years. On a clear, dry day, start by soaking up any oil stains with kitty litter and cleaning away other marks with a TSP (trisodium phosphate) washdown. Then use asphalt-compatible products to fill cracks, gaps, and holes, and use a disposable squeegee to apply an airport-grade latex sealer over the entire surface. Make sure that the forecast is clear for the applying and drying time since rain will cause the sealer to run onto sidewalks and streets, leaving unremovable stains. Follow with a generous drying period (up to a couple of days if you can help it), and you'll have an attractive automotive entrance.
Concrete driveways don't need much maintenance outside of the occasional washing and oil-stain soak-up. If a kitty litter application doesn't do the job or you have a stain that's been sitting for quite a while, take out the TSP and mix it to a paste-like consistency and apply it to the stubborn stain. After letting the mixture sit for a bit, you'll be able to rinse any signs of grease and oil away right along with it.
If you seek the path to an enlightened view of your home, an attractive, well-maintained walkway will get you there. Great-looking, hard-wearing materials abound for this design and utility feature, including pre-fab pavers, stamped concrete, and natural stone, and you can literally take your entryway in a whole new direction by creating a meandering pathway or adding steps and stops along the way. Just as with patios, meticulous preparation of the surface underneath a walkway is critical to its safety, longevity and good looks.
Accessibility should also be considered in its design, allowing for a generous width and gradual slope toward at least one household entrance so that those with limited mobility can enter your home with ease.

Days on the Green: Lawns and Landscaping
Lush landscaping has long been one of your home's best exterior assets, almost as long as old guys have been yelling at kids to stay off of it. According to the Professional Landcare Network, good landscaping can add as much as 15 percent to property value.
Well-planned plantings have several practical purposes, too: they're an integral part of the exterior water management plan and prevent puddles and pests from gathering. Foliage helps steer roof runoff away from your home's foundation where it can lead to damaging basement leaks, helps reduce energy use by shading the home in summer and letting sunlight in during winter. Thorny plantings can even help to deter burglars.
Beyond a steady maintenance routine that includes conservation-smart watering, mowing, seasonal fertilizer applications, weeding and learning how to yell "Git off my lawn," it doesn't take much to create a beautiful, welcoming front yard.
First, take a good look at what space already has to go for it. Maybe all you need is to clean out an abandoned flowerbed, trim back overgrown plants and trees or repair a border that otherwise adds stylish definition to current plantings. If replacement plants are in order, make future maintenance a breeze by selecting hardy perennials appropriate for your climate zone and the sun and shade patterns in the yard itself. Save a few spots for colorful annuals and maybe a few decorative herbs or veggies for a seasonal flair. Seek out climate-specific gardening guides to help you plan and plant, and you can also get great advice by chatting with the folks at the local plant nursery when you're ready to shop. Mulch is also a great seasonal investment because it helps to keep moisture where the plants need it most and protect young plants during colder months.
We also love how container gardening dresses up landscapes, whether large or small. Multi-level groupings of potted plantings, window boxes bursting with blooms, and formal topiaries are just a few of the possible accents for a grand entry. Small spaces or entries overseen by your homeowner's association can also be personalized with one or two colorful planters showcasing a tiny bit of green. Go with matching containers for a formal, symmetrical look or choose coordinating planters based on color, style, or finish for an unexpected and fun grouping.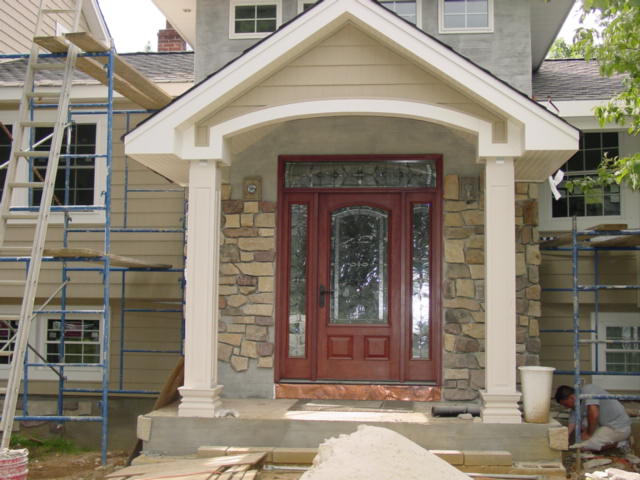 Front Door Belles: First Impressions Pay Off!
After beautiful landscaping, a home's exterior is what draws the eye and creates an entrée to curb appeal compliments. There are few building elements that make a more dramatic visual impact, add to the perceived home value and enhance home security like a beautiful, elegant well-made door. It's a deceptively tricky element to install and adjust thanks to its six surfaces (top, bottom, two edges, two sides), but with a perfect fit, doors are watertight, wind-tight and energy efficient, as well as eye-catching.
In a study by fiberglass door manufacturer Therma-Tru, two groups of consumers were shown photos of the same set of homes and asked to estimate the value of each home pictured. One group was shown photos of homes with their original door and the other group was shown photos of the very same homes with new front doors digitally inserted into the photos.
The result? Consumers estimated that the homes with the enhanced entryways were worth up to $24,000 more than the very same homes with the original front doors.
For a style as well as strength, a fiberglass door is really the best choice going today. Fiberglass manufacturing technology has made such strides in recent years that it's easy to replicate the look of natural wood without the warping, cracking, swelling, splitting and rotting that usually follow. Aluminum and steel varieties are also outclassed by fiberglass' resistance to rust, dings, and dents. Add a coordinating door surround system with sidelights and other architectural detailing to enhance the effect, or make the most of this paintable material with a coat of bright color for a more spirited, individualistic welcome.
The strength and stability of today's door constructions also remove the need for the storm doors of old. High air, water, and structural ratings enable them to stand up to the most extreme weather conditions, and multi-point locking mechanisms contribute to security and peace of mind.
As Money Pit CoHost Leslie Segrete tells the story, a few years back, she and her husband redid their entire front door and entryway system. As far as energy efficiency goes, they noticed a great improvement over the former door, which was so leaky all the way around. All the new materials and tightly interlocking elements on the inside and outside maintain a tight seal, and the whole entry looks beautiful, too. Says Leslie "People in the neighborhood keep telling us how much they like it, and even the FedEx lady is constantly saying, 'I love that door!' And this is three years after we installed it!"