When it comes to your home, you can judge a book by its cover. Projects to improve your home's curb appeal deliver a terrific return on both your emotional and financial investments. Here's a list of exterior house design tips that will perk up your property.
#1. Be Bold
Go out on a limb and paint your front door the happiest color you know. Bright reds, deep ocean blues, or glossy greens create a standout feature. Wait for a warm day and take the door off the hinges and lay it flat across two saw horses. Then lightly sand, prime and paint each side, as well as the edges. If you are planning to sell your house any time soon, rumor has it that a yellow door will help do the trick!
#2. Shape Up
Start with what you've got. Trimming, shaping, and pruning your existing landscaping is an easy way to improve your exterior house design. You might be surprised by the treasure you find in that over grown nightmare. Add a few plants, trees, or shrubs where they will make the most impact for a fresh new look, such as at the walkway that lead to your front door, selecting smaller to larger sized shrubs as you get closer to the building.
#3. Hang Out
Hanging baskets make a happy and welcoming addition to homes with covered porches. Place baskets in between each set of posts for an evenly spaced look. Plant the baskets with the same type of hearty flowers and greenery for an over flowing cascading effect. Then show them the love with a daily dose of water.
#4. Go Boxy
Whether your home is in suburbia or the city, window boxes are a simple way to add architectural and natural appeal to your home's façade. Store bought or home made, window boxes can create instant depth and a focal point for your windows. Paint or stain the window boxes to match your home's shutters or front door. Keep them full all year round with seasonal blooms and greenery for a colorful view or plant herbs like lavender, basil, parsley or thyme for an aromatic experience that is hard to beat.
#5. Welcoming Walkways
Add a walkway to your home's front entrance to draw visitors in. Straight or sweeping, your walkway can be created from pavers, flag stone, stamped concrete, or even aggregate within a border. Finish it off with a row of low-voltage lights for impact and safety to change up your exterior home design.
#6. Under Pressure
Give your home a good scrubbing. Once a year, pressure wash your home's exterior for a good as new glow. Be careful to not set your pressure washer too high or you may just blast a hole right through! Hard to clean areas can more safely be handled with a bleach and water solution applied with a stiff brush. Next, extend the pressure cleaning to your walks to strip away dirt and deliver a brighter path to your door.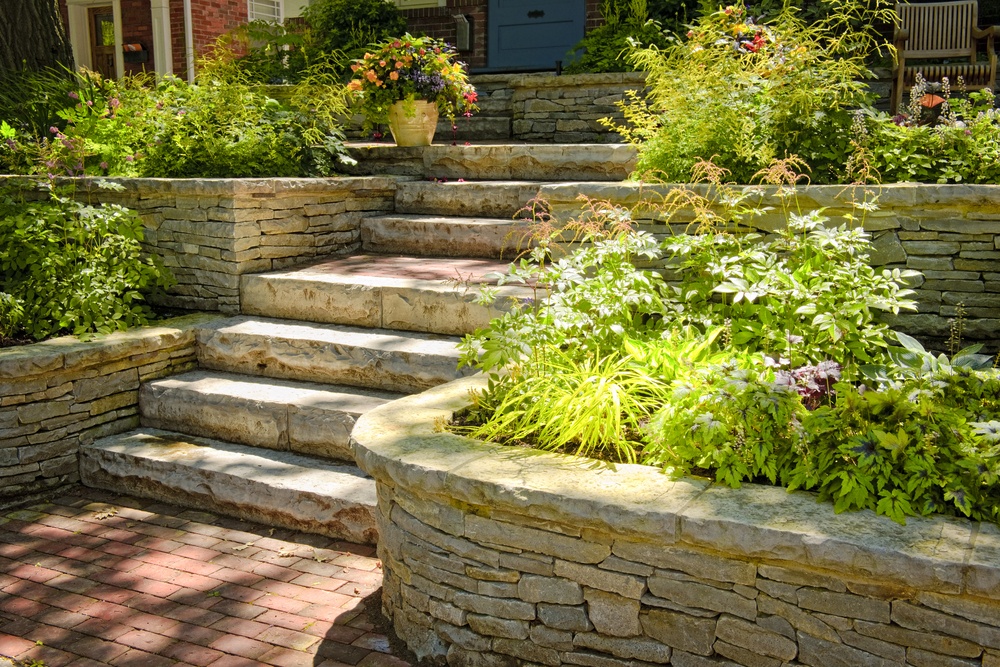 #7. Step it Up
Add appeal to plain concrete steps by facing them with brick, slate, or natural stone. This creates a more earthy and interesting look to a once very plain entrance. For the best results, use good quality mastic and work on a warm and dry day to make sure your new face stays put.
#8. Overhead Attractions
Give visual interest to your garage by creating an arbor that rises on each side of your garage doors and then spans the distance between. Train climbing plants and vines to cover the arbor to add instant appeal to your exterior home design to an otherwise boring view.
#9. Beautiful Borders
Separate the driveway from the yard with a border of evergreens. They will look lively all year long and will create two distinct areas.
#10. Trim Touch Up
Add a decorative edge to the exterior of your home as well as around windows and doors. Paint the trim in a new color that complements your home's façade. If you are lacking inspiration then head to your local paint store for suggestions on exterior color groupings to match your home's style.
#11. Dressed Up Doorways
Add architectural appeal to dreary doors by creating an overhang to your home's front entry. Plan the overhang to mimic your home's architectural style and existing roof line to create a welcoming area to guide visitors to your front door and keep them dry while they wait for your friendly face.
#12. Fence Feats
Create a more inviting back- or side- yard by adding a fence. While it might seem you are doing the opposite, fencing in your space can create a cozier feel and serve as the backdrop for all your future backyard beautification projects. Choose natural building materials that best suit your home's style and remember that neighborhood manners dictate that you should always place the good side out.
#13. Great Gates
Even if you go fenceless, simply adding a gate to your front entrance creates a stately welcome for your visitors. Tall wrought iron-styled gates work well with nicely landscaped bushes and flower beds surrounding the posts. Or, construct masonry columns out of brick or stone and hinge the gates off those columns for a more massive feel.
#14. Green Lights
Solar light fixtures have come a long way in their design and the light that they cast is now a more even and natural looking glow. There eco-friendly marvels can be added to walkways, patios, landscaped area and even as table lamps for your favorite picnic spots. So keep your energy bills down and let Mother Nature do the work.
#15. Light Your Landscape

Why let gardens be enjoyed only in the daytime? Add lighting to your flowers beds, walkways, and planted areas so they can be enjoyed and appreciated after dusk. Use a combination of up-lighting, down-lighting, and side lighting for the best most professional looking effect.
#16. Add Some Bling
Change all the hardware from door knobs and hinges, to knockers and kick plates to a bright brass to add instant shine. This subtle but stylish change will deliver a big impact.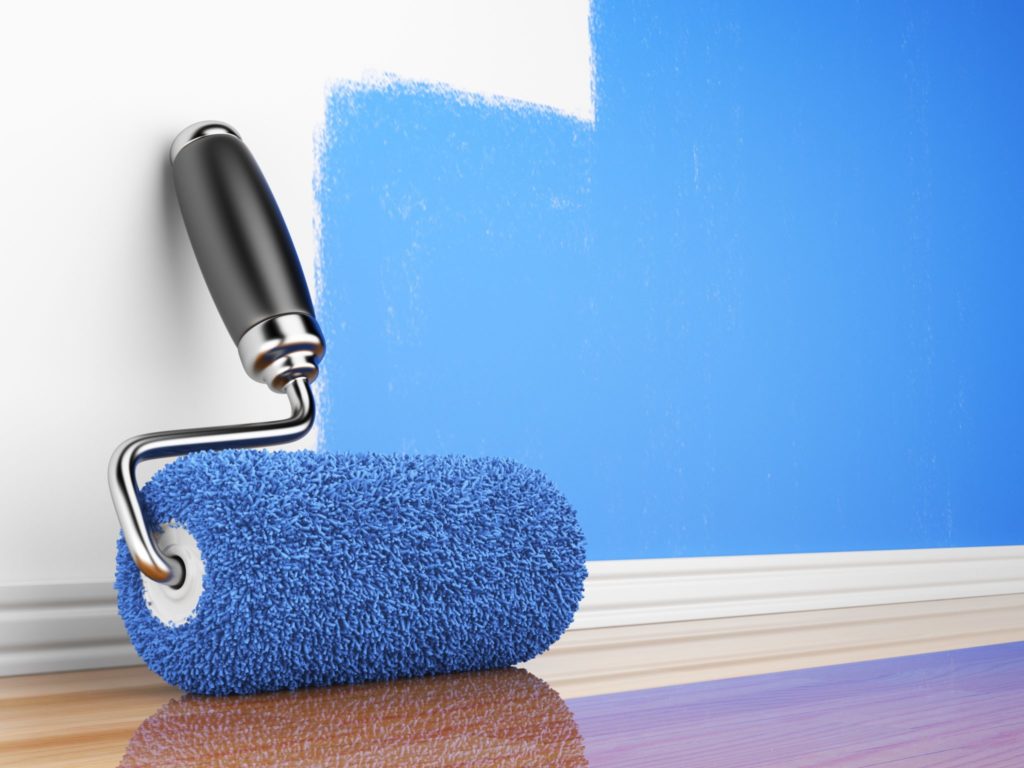 #17. Big Paint Projects
Painting is the least expensive way to deliver dramatic change without dramatic costs. If your home is due for a new hue, refresh it's outlook with a new coat of paint. Chose several hues of the same tone to add dimension to the entire façade. If you don't want to play decorator by yourself, most paint manufacturers offer color collections that do the matching for you by selecting complimentary colors for siding, trim and accents. When painting exteriors, don't skip the priming steps to make sure your paint job lasts through the ages.
#18. Support Style
Dress up wood or steel support columns on your porch or other outdoor area by wrapping them with an architectural column. (This also works for columns in your carport, garage, and basement as well.) Available in many styles from tapered craftsman to gothic styling, most are constructed of cellular PVC or other maintenance free synthetic and made to withstand the elements. They come in two to four pieces and are easily installed by wrapping around the existing support.
#19. Driveway Do-overs
Breathe new life into a tired blacktop driveway on your own by applying a filler and top coat sealer. Re-sealing is a quick way to instantly revive your driveway's appearance on a budget. Many new sealer formulations are latex, making them easy to apply with just a squeegee, and are long lasting.
#20. Invisible Fence
If you want the protection a fence can offer but don't like the aesthetics, black fences are a great solution that offers near invisible security. Made from wrought iron or aluminum, black metal fences are far less obvious to the eye than white metal or PVC fences, as well as wood fences. Continue the illusion by adding a row of green bushes in front of the fence line and watch it magically disappear. Black fencing is a great choice around pools, for example, where fences are absolutely necessary but somewhat unattractive.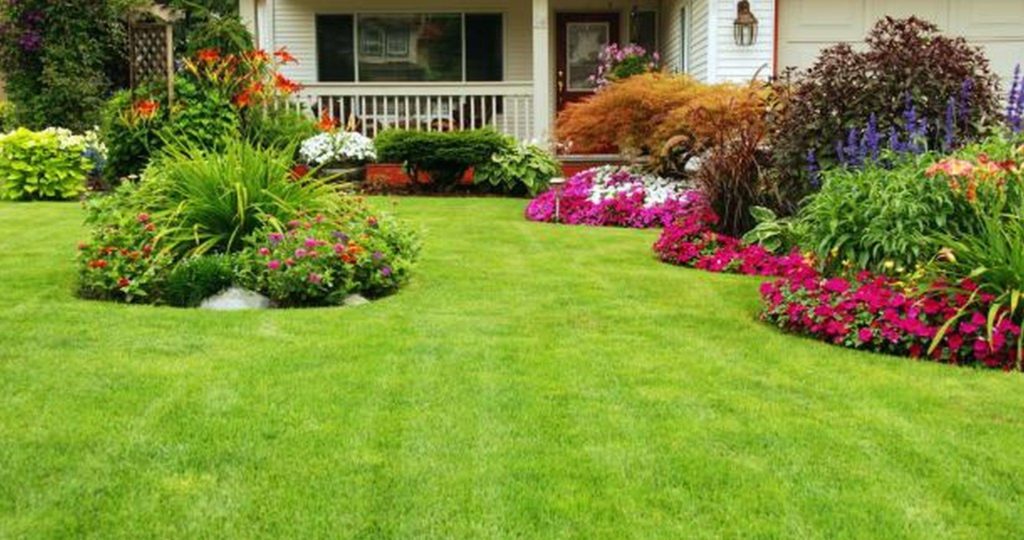 #21. Luscious Lawns
Are you losing the battle of the weeds and having a hard time getting your lawn to grow? Then throw in the towel and start from scratch. Sod is a great way to quickly achieve a lush green lawn and has become increasingly more affordable. Treat it right and it will love you for a lifetime.
#22. Luscious Lawns 2
Another option is a Roundup restoration. Best done in the fall, a pro can spray down your existing weed-infested lawn using Roundup or a similar weed and grass killer, and then reseed the lawn a short time later. As the old lawn dies out, the new seed takes root and results in a brand-new lawn next spring. We will warn you though, for a short time your entire lawn will be brown leaving your neighbors to wonder whether a dreaded disease struck your entire yard!
#23. Luscious Lawns 3
After several years of drought and hauling garden hoses around his yard, Tom decided to finally install a sprinkler system to keep his lawn looking great. Murphy's Law being what it is, installing the sprinkler system cured the drought, but years later he was glad to have a system in place. When installing your system, use plenty of zones and target each head accurately. Remember that the only thing that grows when sprinklers land on sidewalks and driveways is the size of your water bill.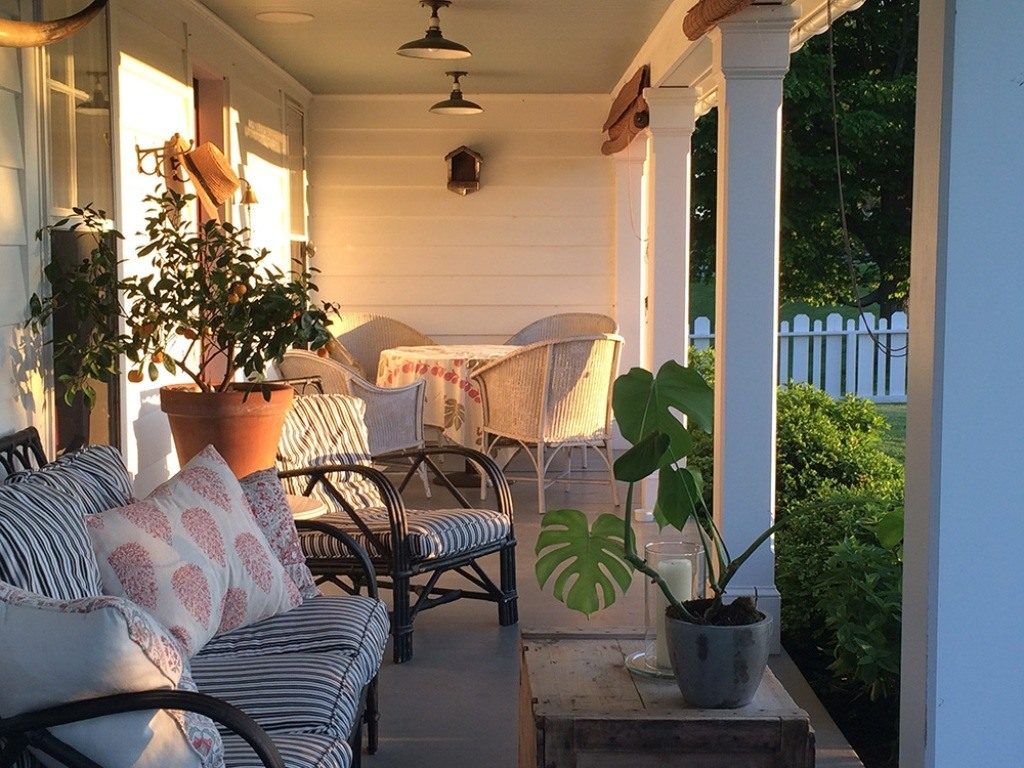 #24. Shed New Light
Change out existing porch light fixtures that are dated or just don't work with your exterior house design with new ones. Besides being more energy efficient, new finishing technologies on these fixtures means brass won't tarnish and paint stays put much longer. Look for fixtures designed for compact fluorescent bulbs with built-in dawn-to-dusk sensor technology. Select fixtures to match the architectural style of your home .
#25. Garage Door Makeover
Replacing an old, worn-out garage door is not only a design choice but a smart safety decision as well to clean up your exterior house design. Choose a door that compliments the architecture of your home to add style and modern safety features that will keep you and your family safe. Garage doors are available as either tilt-ups, with a single panel that tilts to open, or the more typical roll-up design with sections that roll up and overhead as the door is opened. Compliment your new door with an opener, as newer models have more safety features than even those a few years old.
#26. Trim Tips
Adding new decorative trim elements such as muntins, mullions, and shutters around boring windows can create a whole new look. Made from synthetic materials and available in a wide variety of sizes and styles, these low-maintenance additions add depth and detail to your otherwise plain panes.
#27. Siding Solutions
Changing your home's siding can bring about a major change. Choose from stone veneer, cedar shake shingles, vinyl siding, stucco, or HardiePlank to create a whole new façade. Mixing materials is a great way to create design flair on a budget. Use more costly materials such as synthetic stone on the front and save the budget conscious materials like vinyl for the sides and rear.
#28. Wired for Holidays
Holiday lights are a great way to make your house pop during the holidays and is a great addition to your exterior house design. When doing any electrical work to your home's exterior take the opportunity to add extra outlets around the building's exterior and the front yard to handle holiday lighting needs. When the holidays roll around, you'll need fewer extension cords and have enough power to create a display that can even be seen from space .
#29. Crisp Edges Count
A clean crisp manicured landscaped edge at sidewalks and driveways will provide a clear transition between the two materials and make everything seem larger. An edger is a great and fun tool to tackle this project and fix your exterior house design. Neatness also counts when it comes to maintaining curb appeal and sharp edges make sure your home stays in total focus.
#30. Easy Window Washing
While it might not be your favorite chore, sparkly clean windows can make a house shine like new. A mixture of white vinegar and water can make this job much easier. Mix one tablespoon of vinegar to a quart of water and apply with a spray bottle. Then rub wipe down the windows with newspaper, black and white sections only, and you'll find the windows quickly become shiny and absolutely streak free.
#31. Put Your Trees to Bed
Trees make a beautiful addition to exterior house design, but the shade they create makes planting under them a challenge. The solution is to select greenery that thrives in the shade like hostas, a hardy and beautiful plant that is available in many shades of greens and variegated greens, some of which even flower in the summer.
#32. Painted Patios
Dull gray concrete patios can be spruced up with new epoxy paints. These two-part mix-it-yourself marvels are available from several manufacturers and can add pizzazz to your patio that will last a really long time. For added impact, use readily available stencils to paint a brick or flagstone pattern on top that looks close to the real thing to improve your exterior house design.
#33. Stain Glass Style
Have stained-glass panels made to match the size of your front windows or choose a great vintage find on your next antiquing adventure. Hang them just inside for privacy and style. Lights inside your house in the evening will make them magically sparkle.
#34. Focus on the Front Door
Add depth, dimension, and focus to your front entry way by creating an outdoor foyer in front of your door. An outdoor foyer will definitely improve your exterior house design. Smaller than a porch yet larger than a stoop, an outdoor foyer can have just enough room for a bench or chair, as well as space for a bit of container gardening and creates a warm welcome for visitors.
#35. Retaining Walls
Retaining walls can help owners of hilly properties reclaim valuable land for gardens or recreation. Today, a variety of modular materials like interlocking concrete blocks makes constructing retaining walls easier than ever before. This project requires a high degree of heavily lifting but the result is more useable space as well as an attractive terraced look for your property.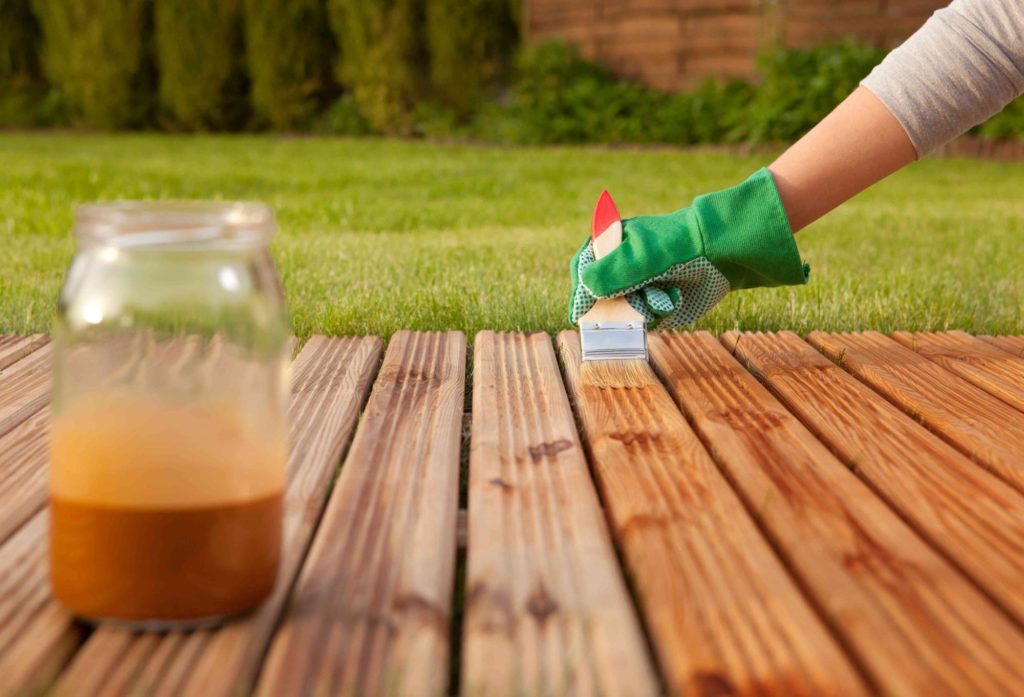 #36. Deck Do-Over
Repairing your deck is an easy and inexpensive way to fix your exterior house design. If your deck has lots of cracked, splintery boards, here's a quick trick for a smooth finish. Using a "cat's paw," a handy curved nail puller, carefully remove the badly split deck boards and flip them over. Since the underside of the board was not exposed to the sun, you'll find that it is usually as smooth as the day it was fist installed. Re-nail the boards with this side up and you'll be able to walk barefoot once again.
#37. Artful Awnings
If your deck or patio becomes an unusable hot spot every summer, consider installing a retractable awning. These attach to the siding above the deck and can be operated manually or automatically with the addition of an electrical connection.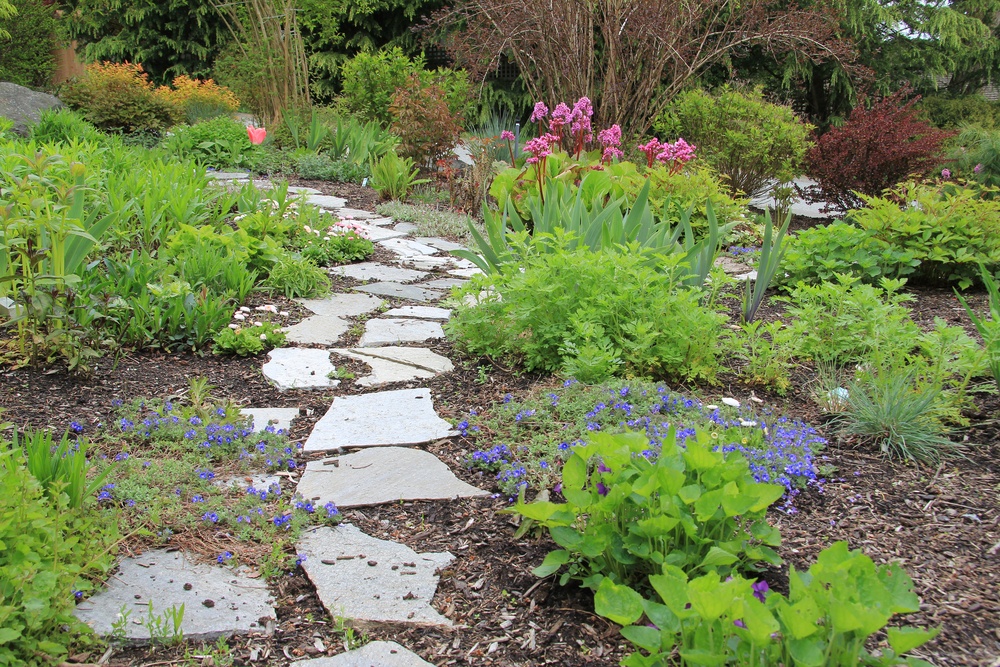 #38. Perfect Paths
Is there an area around your yard that that is frequently trampled due to foot traffic to and from? This could be a perfect place to create a garden path. There's a simple way to build a walkway without ordering a cement truck: just head out to your local landscape supply store and pick up sections of slate or pre-cast concrete slabs made to look like brick. Install these by excavating only the area beneath each one and check to make sure it is level and firm before moving on to the next. By leaving space between each step, you'll allow the grass to grow around your walk while encouraging friends and family to step where they'll do no harm.
#39. Porch Protection
Unless you are one of the lucky few who live in a mosquito-free zone, screening in your porch is a DIY project that can take a bite out of many a summer evening. If your porch is an open design with columns that support the roof overhead, plan to build floor-to-ceiling screened panels that can be easily installed for the buggy season and then taken down to enjoy a wide-open space for the rest of the year.
#40. Go Virtual
Can't decide what improvements will make your home look its best? Take a photo of your home and print it up as an 8 x 10 on your home computer and printer. Now you can lay tracing paper over the image to see what changes will create the home of your dreams – without ever lifting a hammer or brush!