Even lovely homes in excellent condition can have trouble selling in a bad market. That's all the more reason why "quirky" homes with decor or renovations suited only to the owner's eccentric whims call for serious troubleshooting.
It's reasonable to want to customize your home while you're living in it, but when you want to sell, you have to think about the likely needs of most sellers. Some customizations might be so individualistic that they'll end up sending potential buyers running. Sometimes, screaming.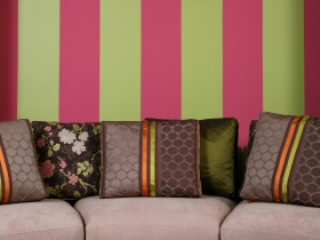 When you're ready to step back and take an impartial look at your home and its "sellability", look for challenging features like these:
Awkward Floor Plans. Traffic flow didn't matter to you when you were living alone. But most home buyers don't want to pass through open bedrooms to reach the kitchen, or be blocked from the living room because someone is using the bathroom and the door is locked, or have to tote trays of food from the kitchen to the dining room — three rooms away. Think about the flow of your floor plan. Is it logical (for most people)? Does it allow multiple members of the same household to co-exist in privacy? If not, a little re-plotting of your home's floor plan might be in order.
Bad Bed-to-Bath Ratio. Homes with too few bathrooms are notorious for lagging on the market. Think about it: a large family will likely be drawn to a home with five bedrooms, but if you've only got one bathroom, they'll be put off by the thought of chaotic mornings and long waiting lines for that one shower. The home with more bathrooms is more likely to sell. Additionally, when a single bathroom is inconveniently situated – for example, in the basement, with all the bedrooms on the second and third floors of the house – you've got an even bigger sellability problem. After all, who wants to trek down to the basement from the third floor in the middle of the night? Consider putting in additional bathrooms, and in places where they're easily accessible from one or more bedrooms.
Ugly Garage-Bedrooms. Some homeowners will convert a garage into a much-needed extra bedroom, but without regard for how it looks on the outside. Did you leave the garage door in place and simply cover it over on the inside? Most home buyers don't consider it attractive to have a "faux" garage door – and no useful garage behind it. If you're going to convert a garage, do it right. Take out the garage-specific features and put in attractive, functional windows. Give some thought to how the new bedroom will blend with the rest of the house visually, from the curb. Otherwise, open it back up again so it can be used as a garage.
Going Living Room-Less. An amateur chef might be living in paradise in a home with a giant gourmet kitchen and no living room – but most home buyers will miss that living space. If you made renovations to accommodate your hobbies and interests at the expense of other space that most homeowners would value, think about converting some of that space back.
Little to No Closet Space. It's not uncommon for homeowners to remove or open up closets to expand living space, but closets are still one of the most desirable features to home buyers. Just look at the real estate ads in the paper – multiple closets and extra-large closets are bragging points, and with good reason. The advertisers know what buyers are looking for. Bedrooms without closets are considered problematic. Consider adding closets wherever possible.
Colors from Hell. What? You mean, not everyone loves a hot pink and lavender kitchen? Sure, colors can be changed, and you may be thinking it's not worth it to repaint the interior of your home before putting it on the market, especially when the buyer will do what they want with the space anyway. But people are fascinating creatures, and often a tricky color scheme can turn people off and make it difficult for them to recognize the home's better qualities. If your budget permits, giving your home a fresh coat of neutral paint or swapping out an unpopular tile color can go a long way towards making your home easier to sell.
Overgrown Landscaping. Attractive landscaping can really lend curb appeal to a home, but there is such a thing as too much – especially if vines, shrubs and other greenery and blocking light into your home. Let the sunshine in and trim back an overgrown landscaping. Remember, when you're trying to sell, it's not about what you want anymore – it's about guessing what most other people would prefer.
When you're trying to make your home as sellable as possible in a bad real estate market, a good rule of thumb is to avoid extremes. Keep things neutral, flexible and toned-down and you'll be more likely to sell your house. And the sooner you do that, the sooner you can move on to that next address where you can personalize your space all over again.