Don't let a slowing market prevent you from putting your home up for sale. Get home selling tips to rev up your home's real estate potential, even in a slow market, with these pointers from www.FrontDoor.com.
Give your house a makeover that adds value. To make your house more appealing to potential buyers, even in a slow market, keep in mind what materials the homes around you are using. If hardwood floors are the norm in your neighborhood, replace the carpet. This will heighten the value of your home significantly when it comes time to sell.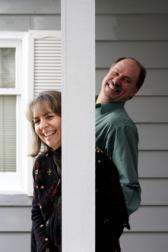 Use the secrets of staging experts, or hire one. Staging can be as easy as a fresh coat of paint, new cabinet hardware and strategically-placed lighting. Think of it as a creative, inexpensive facelift for your home that will help sell.
Find out what's wrong with the house and get it fixed. In order to sell your home with ease, don't wait until that serious buyer finds faulty wiring or a termite problem and then pulls the plug on the deal. Be proactive, and make sure to get a home inspection before putting your home on the market.
Hire an aggressive, well-connected real estate agent. Find an experienced agent with a proven track record who knows how to pound the pavement. In a slow market, name recognition is important, so find the go-to person for buyers and their agents in your community.

Help a buyer buy it. In a slow housing market, potential buyers are looking or deals left and right. Offer incentives that put money in the buyer's pocket, such as buying down the interest rate, absorbing more of the closing costs or offering seller financing. This will make your home seem more valuable as opposed to the others for sale.
Make the house move-in ready. In order to sell your home and give the potential buyer that last push to buy your home, throw in the furniture, flat-screen TV, washer/dryer, appliances, backyard hot tub and the kitchen sink. The less money a buyer will have to shell out to furnish the house, the higher the perceived value of your home.
Selling your home in a slow market is easy when you know how to appease potential buyers. With these tips and a bit of elbow grease, you can be sure that selling your home will some much easier than anticipated, even in a slow market.