Replacement windows are an excellent long term investment for homeowners. According to the "Remodeling Magazine's Cost Versus Value Report" approximately 74 percent of the cost to replace your home's windows with energy-efficient vinyl windows can be recouped with long-term savings on energy bills and added resale value on your home.
Given that most homeowners only replace windows every 20-30 years, choosing the right windows among the plethora of glass options available today is extremely important, but challenging. Weeding through replacement window choices at your local home improvement center or window dealer showroom can be intimidating.
Luckily, the National Fenestration Rating Council (NFRC) is here to help. NFRC's residential window labels can help consumers quickly compare the energy performance of windows, doors, skylights and other fenestration.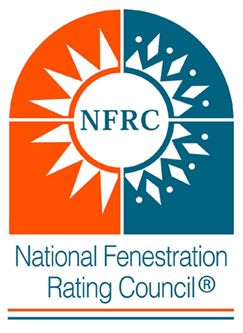 So, what do you look for when choosing the right window for your climate? Two of NFRC's ratings should be top of mind: U-Factor and Solar Heat Gain Coefficient (SHGC). By understanding these ratings, and others, you can make an informed decision when comparing energy efficient replacement windows, which can help save you money on heating and air conditioning costs.
Top 4 Window Energy Performance Measurements
U-Factor
U-Factor measures how well a window prevents heat from escaping a building and is rated from 0.09 to 1.20. The lower the U-Factor, the better the product is at keeping heat from escaping.
Solar Heat Gain Coefficient
Blocking the sun's solar radiation and heat is another important job for energy efficient windows. The Solar Heat Gain Coefficient (SHGC) evaluates how effectively a window is able to do just that. SHGC measures how well a window blocks the sun's heat, and is rated on a scale of 0 to 1. A lower SHGC means that the product is better at blocking unwanted solar heat.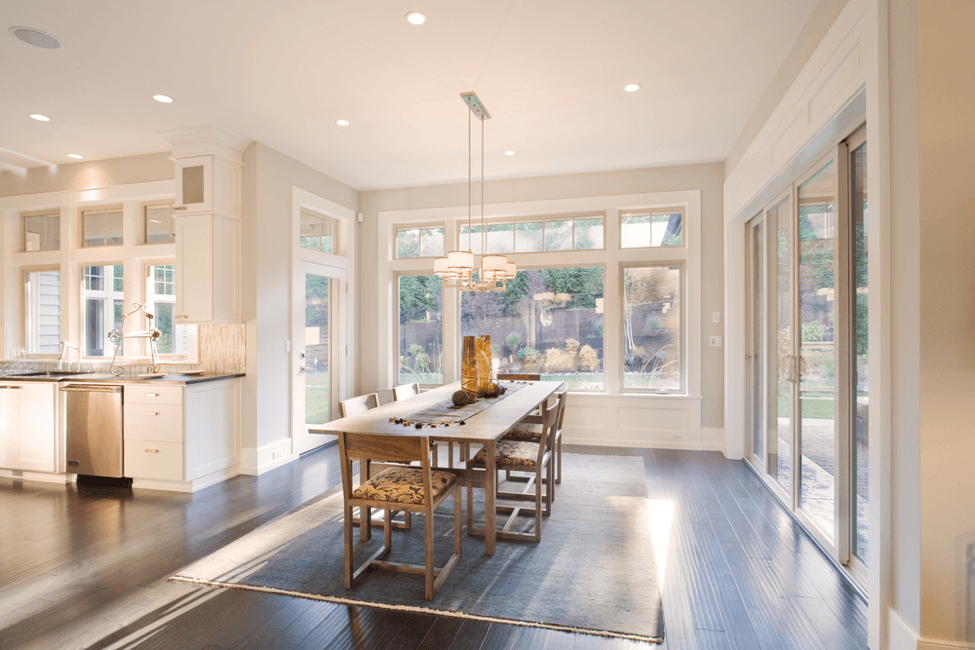 Visible Transmittance
As the name implies, visible transmittance (VT) gauges the amount of visible light that is permitted to pass through the replacement window. It used to be that light and heat went hand in hand, but modern glazing technologies have changed that experience. VT is rated from 0 to 1, with a higher VT indicating that more light is transmitted.
Air Leakage
Evaluated as the cubic feet of air that is able to pass through a square foot of window, air leakage ratings may or may not be included in a window's statistics. Energy Star doesn't take air leakages into account since window construction materials are subject to alter over time and subsequently cannot be measured precisely. Though the standard building code rating is .03, the lower the figure, the less air is able to seep through your energy efficient windows
Condensation Resistance
With a range of 1 to 100, condensation resistance (CR) calculates how much moisture is able to collect on the interior of the window and between glazing layers. Most Energy Star-approved replacement windows are already built to withstand moisture, so they will generally come with higher CR rating already.
Should I replace my windows? 7 Key questions to ask
It's not that hard to know when it is time to replace your windows, if you know what to look for. The answers to these 7 key questions can help you decide:
Are your heating and cooling bills growing every year? Windows and doors are one of the largest sources of energy leaks. A blower-door test done by an energy auditor can pinpoint how leaky your widows actually are. Check with your Utility Company to determine if they provide such services.
How old are your windows? Every product in your home has a lifespan. For windows, a good time to start assessing their condition is after about 10 years "on the job". At the 15-year mark, it's time to seriously determine if your windows are still doing their job.
Are your old wooden frames so swollen that your windows won't open? Windows that stick or those that are so loose they won't stay up are a big detraction from home value, and a source of drafts.
How many panes of glass are in your windows? Single-paned windows are the least energy efficient, and can cause your energy bills to soar. Replace these inefficient windows with double- or highly-efficient triple-paned ENERGY STAR® qualified windows to enhance energy savings and make a home more comfortable during all seasons.
Does condensation appear inside the glass on double- or triple-paned windows. This could indicate seal failure. If this is the case, you might need to replace the glass or the entire window.
Do your windows open and close easily? If your windows are hard to open or close—or they won't stay open or locked—this could be a sign that the windows need replacing.
Does it seem especially noisy in your house? If you live near an airport or busy street, consider replacing your windows with laminated glass or double-paned windows to help reduce noise transmission into your home.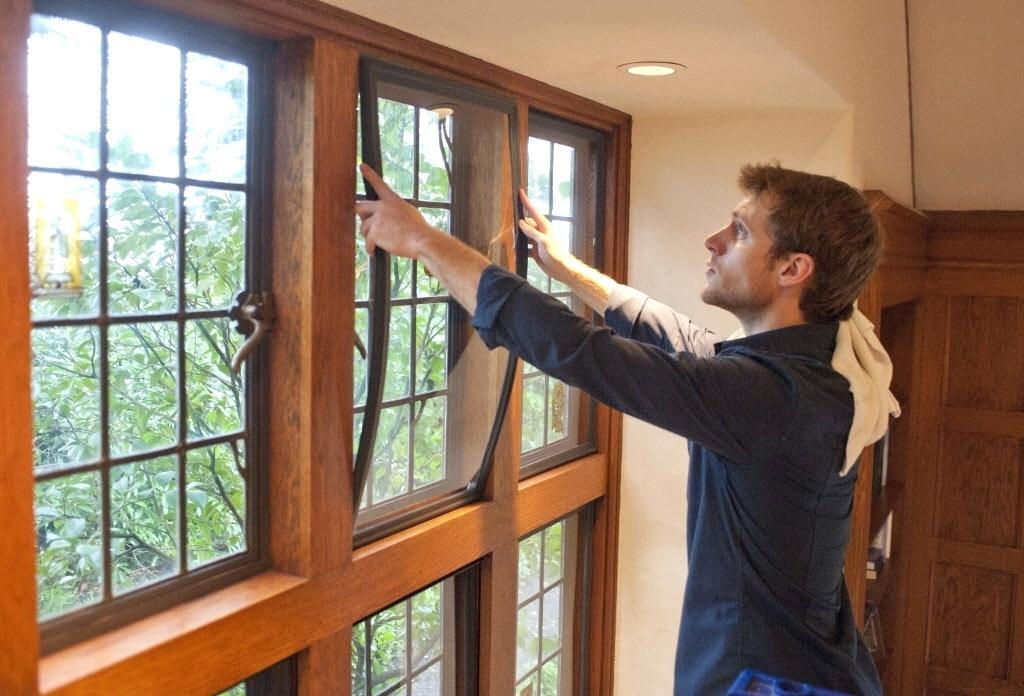 Before you buy replacement windows
If you're considering replacement windows, here are several tips for replacement window that can add both style and return-on-investment to your home's improved window package.
How to choose the best window style for your house
P
There are many styles available in replacement windows. Generally, you'll save money by sticking with your existing window style. But updating just one side of the house is also an option if your existing style looks dated. Here are the options major varieties include:
Double-Hung: With a double-hung window, you push the bottom window upwards to open the unit. The top window also slides down vertically. Screens are located on the outside of this style.
Casement: These are hinged at the sides and are opened by turning a crank that folds down and tucks neatly out of the way when not in use. Screens are placed on the inside of the window.
Sliding: Popular as openings to patios and decks, a sliding window can be virtually any size, but only opens about half of its total width (only one side slides horizontally in a single-sliding window). Double-sliding windows are also available, and screens, if desired, are located on the outside of the side that opens.
Awning: These windows are hinged at the top and open outward. Screens are placed on the inside of the window.
Hopper: These are hinged at the bottom and open inward. Screens are placed on the outside of the window.
Important considerations for window screens, child safety and security bars
One of the components that is probably more dangerous today than it was in yesteryear is the window screen. That's because years ago, screens were associated with storm windows and made out of sturdy aluminum screening that could actually take a fair amount of pressure before it would give out. Today, screens are very, very light─almost flimsy, in fact─and they're designed only to keep the bugs out and not really part of the structure.
If you have open windows, especially on second floor bedrooms near children, add child safety bars on the inside located on the second floor in or near kids' rooms. Make sure the child safety bars have quick-release features that can be easily opened in the event of an emergency.
Child safety bars are not to be confused with security bars, which should be put on the outside of homes. If you put security bars on your home, you want to make sure that they also have a quick-release mechanism so that they, too, can be opened in the event of a fire.
What to look for in new replacement windows: 9 things to know
Check your community's energy requirements. Before heading out to purchase your new windows, contact your local building permits department to inquire about your community's energy requirements for residential windows. Having this information on hand will make your purchasing decision simpler as you will know which ratings are compliant with local energy codes.
Shoot for the Energy Star. Request ENERGY STAR® qualified replacement windows and doors for your home to help lower your energy bills and qualify for tax incentives from the government.
Select the best window glass. If you live near an airport or in a busy neighborhood, request laminated glass or double-paned replacement windows to help reduce noise transmission into your home. Many storm resistant windows are made to withstand severe weather and impacts, have the added value of helping keep the inside of the home quieter.
Garden windows good for kitchens. For hard-to-open window locations (such as above a kitchen sink) replace existing windows with a Garden window. This mini-greenhouse style features dual, fully-operational casement side windows that crank open to bring air and sunlight into the room. As a bonus, you can grow small plants on the shelves or use the space for displaying collectibles.
Assess the lead paint risk. If your home was constructed before 1978, make sure to hire a window replacement expert certified in lead safe renovations. Many homes built prior to 1978 had paint on the exterior and in the window cavities that contain lead so it's critical to use a qualified window contractor to remove that paint when windows are replaced.
Consider casement windows. Consider replacing older single or double hung windows with easier to operate casement windows. These crank-open replacement windows are less stressful on aging backs and hands because they require no lifting action. Slider windows also operate easily and can be a good option.
Check company history. In addition to the big name brands, there are literally dozens of smaller window manufacturers serving any one neighborhood. Be sure to comparison shop and research a company's history, industry achievements, the product warranties and the reliability of the product line before investing in windows for your home.
Select secure locks. Make certain to purchase windows with sturdy, easy-to-operate locks to secure windows in the home. For added security, order impact-resistant glass in windows. And, for decorative appeal on the inside of the home, consider the hardware options which may offer a range of colors and styles.
Look into low maintenance vinyl. For ease of maintenance, order replacement windows with vinyl frames. With vinyl window frames, you never need to worry about upkeep such as the scraping and repainting hassles you have with wood frames. Vinyl windows resist rotting, decay, insect infestations and provide years of effortless beauty in the home.
Once it's time for installation, here are a few things you can do to get your house ready for the window replacement project.
Now that you understand the ins and outs of energy efficiency window ratings, take the time to compare various options and talk to a professional who can help walk you through exactly which window will best serve your home!