Leslie: This is Leslie Segrete, coming to you from the 2015 National Hardware Show in Las Vegas. We are here bringing you the news on the newest, best and most innovative do it yourself products. Springtime is here, it's officially spring, I'm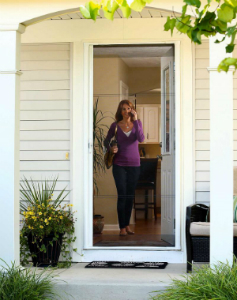 going to say that. It's time now to open up all the windows and let the fresh air in but with spring also comes spring bugs and all sorts of pests and birds and squirrels and whatnot. How do we keep the pests out and the fresh air in? Here to tell us how to do just that, we have Mark Delman and he's the account manager for ODL's retail products. Welcome Mark.
Mark: Thank you, glad to be here.
Leslie: I think this is really interesting. You're here to talk about the Brisa, sort of screen system.
Mark: Retractable screen door, that's correct.
Leslie: This is really interesting. You've got a retractable screen door, it's basically a cartridge that you install yourself?
Mark: That's correct. We've been in the retractable screen door business for many years and the traditional styles are a lot like storm doors where you've got to cut, measure, drill, attach it to the frame of the door and we've actually come up with a system that clicks together. You build it on the ground, put it up against the door frame, open it up, it fits thirty two to thirty six inch doors, which is ninety five percent of the doors out there.
Leslie: Now you're explaining it very confidently and comfortably, so it makes me feel like it's a very simple, do it yourself process.
Mark: Absolutely. We've designed it as such that anybody can do it with a screw gun and thirty minutes or less is all you need and it really has come to fruition for me as well. I can do them about twelve to thirteen minutes and that's only because I had a ten year old who needs a run through once, so I'm familiar with it.
Leslie: Tell us a little bit about the screen. I know when you think about screening technology, there's so many different types of screening, strengths of screening, I guess clarity or visibility, however you might call that with the screening. Do you offer choices with that or has ODL honed in on what might be the best choice across the board?
Mark: Yeah, as far as the screen itself goes, we're pretty comfortable with the fiberglass screen that we're using. We have incorporated some sight lines into the screen because sometimes during the sunny days, the screen will wash out. You won't even know that it's there but as far as the different things that we offer would be different colors to match your brick mold, for example.
Leslie: As far as the cartridge itself goes?
Mark: The cartridge itself, right, the frame itself goes, that's correct.
Leslie: Now, when you're installing it, is there a track that sort of plays on the top and bottom of the door frame?
Mark: That's exactly how it goes. What happens is, you've got your cartridge, you've got your strike plate and you've got your top and bottom frame. They actually click together in the corners and that's what actually creates this rectangular …
Leslie: Rectangular opening.
Mark: Absolutely. Sure.
Leslie: All of that, I mean the cartridge obviously is probably a three to five inch profile, but everything else just vanishes I imagine.
Mark: Absolutely. When the screen is not deployed, when it's actually in the cartridge, because of the color choices, it actually will disappear into the door frame for you so you don't see it. What we've found is that a lot of homeowner's association, condo associations don't actually allow storm doors, they don't allow screen doors. We've actually been approved at a lot of these because they do disappear into that brick mold color.
Leslie: Now let's talk about the screen itself. I have small kids, they run into things. We had a squirrel attack on our screen and porch, they ate right through two of them. If you do at some point get some sort of damage to the screen, is it repairable or does that whole insert come out and you can just pop in a new screen?
Mark: Great question. The mechanical parts, everything has a lifetime warranty except for the screen itself.
Leslie: Okay, I imagine.
Mark: What we've seen with failures is like I mentioned, somebody walks through it, somebody cuts through it. You accidentally put something through it. We already have the cartridges loaded up in stock so that the consumer can call the 1-800 number, talk to a customer service rep right then and there and they'll actually help get you one out and help you to replace that. It's the only thing we don't warrant against is the screen itself.
Leslie: What is the price point for these? I imagine it's different because you probably offer a single door, or a double door?
Mark: Absolutely. We offer a single door, we offer a French door option and a sliding glass door option as well. For the single door option, you'll see it anywhere from $179 to $209 depending on the region you're in.
Leslie: Now let's talk about, I know a lot of people will use storm doors just to let in air flow but if you're using the screening system, what about any sort of air leakage around your installation process, the tracks, do we have to worry about any sort of air flow issues there where it might pop in or out?
Mark: No, not really. There will, on a good strong windy day, you might have some bowing or some fluffing of the screen coming out, but because of the way that it's designed, if it's bothering you too much, you click it, it goes back into the cartridge, it resets and it redeploys and then you take care of that. The reason we've got the screen is we want that fresh air in and so that's why we've designed it the way we did.
Leslie: I think it's a really great product because as a designer, I almost never use storm doors on people's homes. I don't like them, I find them kind of offensive but I'm always looking for that airflow and that reliability and I think you've mastered all of that in one. Thank you so much Mark Delman for stopping by the Money Pit.
Mark: Appreciate that, the only thing I'd like to add is that it is made in Michigan, made in America and we're proud to say that.
Leslie: I love it, we love things that are made in America and we love things that help us solve a problem, so thank you so much.
Mark: Thank you very much.