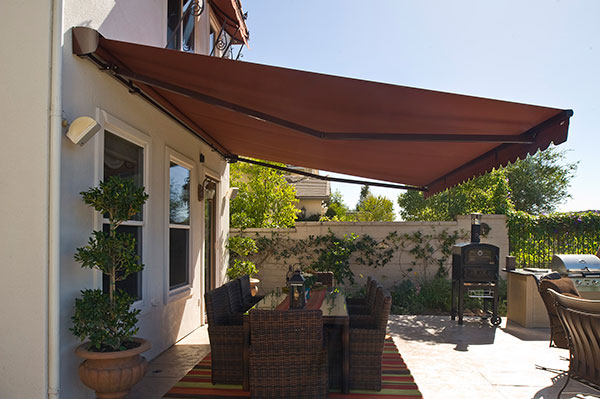 They've always been functional. But for the first time in decades, awnings are regaining popularity as a sources of energy saving and stylishness and increased home value.
Let's start with the numbers: Awnings extending from windows, doors, and patios can cut a household's summer energy bills by as much as 15%. And because home cooling costs are so much higher than the cost of energy-efficient lighting, those savings aren't undone by the need to turn on an additional light or two to make up for loss of natural light.
Even more, fabric awnings can bring to mind visions of early 20th century country clubs and resorts, where they were first popularized in the United States. This association with vacations and luxury certainly doesn't hurt their cause!
So why did awnings ever fall out of favor in the first place? Their dip in popularity can probably be traced to the aluminum versions that were popularized in the 1960s and 1970s, alongside other retro trends like drop ceilings and wood paneling. Add the fact that central air-conditioning became the new norm just as awnings were falling out of fashion favor, and it makes sense that this "old fashioned" climate control all but disappeared from the home design scene for a few decades.
With energy-efficiency and the environment as modern priorities, though, traditional and retractable awnings are back – and brought a high-tech cousin with them: Computerized awning systems featuring light sensors and anemometers, or devices that measure wind speed, allow awnings to extend and retract according to weather conditions.
And whether high-tech or traditional, a sizable awning adds can turn outdoor areas into protected living spaces. Keep the awning well maintained, and it's only going to add to your home's value and resale appeal.
But if you're considering this investment for your home, be sure to ask yourself a few questions beforehand:
What's the primary goal: Aesthetic or function? If energy savings is what you're after, consider a lighter color for your awning, so that it optimally blocks and reflects sunlight.
Stationary or retractable? Retractable awnings can be extended or retracted either manually or with a motor, and are most frequently used over patios and yards – though they are available for doors and windows, too. When deciding between the two, consider the chance you'll sometimes want the option of more sunlight – or don't want the hassle of taking awnings in and out depending on weather or season.
What's the best material for my home? Cotton canvas awnings offer a classic look, but generally don't hold up or retain shape as well as synthetic products. Even more, cotton often requires occasional waterproofing, whereas acrylic-coated polyester is stretch-resistant and weatherproof.