A little regular maintenance goes a long way with your outdoor wood surfaces. A good cleaning every season does the trick. But after a few years, you'll want to refinish your wood deck or fence. If you want to know how to best refinish your wood deck or fence, the most critical step is proper surface prep. Removing dirt, grime, contaminants or previous wood stains and sealers will ensure a long-lasting finish for your wood surfaces. To help with both prep and the actual refinishing, the experts at Flood have the following advice:
Before you start, wear chemical-resistant gloves, boots, safety goggles and protective clothing. Pre-wet nearby plants and shrubs. If there are tough to remove stains on your wood deck or fence, such as mold and mildew, you can scrub the surface with a mixture of 4 oz. of non-ammonia detergent, one quart of household bleach and 3 quarts of water. Let the solution sit on the surface for 10-15 minutes, and then rinse thoroughly. Repeat until mildew or mold is completely removed.
You can also use Flood Wood Cleaner. Mix one part Flood Wood Cleaner with four parts water. Mix the wood cleaner in a plastic container in a well ventilated area. DO NOT mix Flood Wood Cleaner with any other household cleaning solutions including bleach. That could result in the release of highly toxic gases. Use a nylon scrub brush, not wire. Keep the surface wet and allow mixture to stand on surfaces for 20-30 minutes. Allow the wood to dry for at least 48 hours before refinishing.
After properly preparing the wood with a Flood® prep product, apply a Flood finish to protect and preserve your exterior wood surface while also beautifying it. Flood finishes have superior penetration and adhesion, and guard against damage caused by sun and moisture. If you want a semi-transparent color that allows most of the wood grain to show, you will want a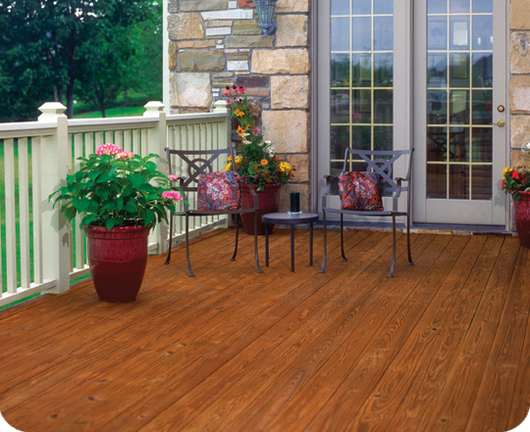 product like Flood TWF-SEMI. This formula resists mildew growth and can be tinted to 35 different colors. It also has E-B Emulsa Bond™, an additive found exclusively in Flood brand products. It provides unsurpassed adhesion to wood surfaces where other finishes may fail.
If you would like a richer, more solid color stain, consider Flood's SWF-SOLID. It is urethane-enhanced for durability in high-traffic areas. SWF-SOLID is guaranteed to last 15 years on wood siding and 5 years on wood decks. It is also fortified with Flood's exclusive E-B Emulsa Bond to provide superior adhesion to even the most challenging exterior wood surfaces – no primer needed!
So now that you know how to refinish a wood deck or fence, take this project on with confidence and consider choosing Flood products to make it a long-lasting one.