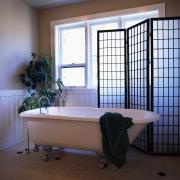 January is Bath Safety Month. Yes, I know — there seems to be a month devoted to awareness for just about every problem. But this one actually deserves a little attention. Falls at home injure millions of Americans every year, but here are simple things you can change inexpensively in your bathroom to make it safer.
Use a non-slip mat or install adhesive safety strips or decals in bathtubs and showers. If you use a bath mat on the floor, choose one that has a non-skid bottom.
Install grab bars in bath and shower stalls. Do not use towel racks or wall-mounted soap dishes as grab bars; they can easily come loose, causing a fall.
Keep the floor clean and dry. Promptly clean up grease, water and other spills.
If you use throw rugs in the bathroom or anywhere your home, place them over a rug-liner or choose rugs with non-skid backs to reduce your chance of slipping on this very common trip and fall hazard.
For more ideas on making your whole house safer, check out our article "Preventing Falls at Home".