Improving your bathroom's safety goes beyond purely cosmetic changes to see you through a parade of trends and extend the number of years you spend in your home. That's not an uncommon desire, as AARP has found that nearly ninety percent of adults 50 and over want to stay in their current home and community as they age.
Updating your bathroom with equipment and products to deliver a safety-first approach will not only benefit you at different stages in your own life, but also increase accessibility and comfort for family members and house guests of all ages and abilities.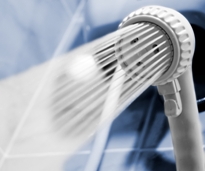 AARP's Bathroom Checklist can help you assess the haves and have-nots of your current setup, and then stroll through the following guidelines to form your safety upgrade plan.
Access and everyday bathroom safety
Start at the door, which should be at least 32 inches wide, have a lever-style handle for easy grasping, and open outward if at all possible. A pocket door is an even better option, being simple to operate and granting quick access for those with wheelchairs or walkers. Pocket doors require plenty of barrier-free adjacent wall space for installation, but can also be mounted on the wall surface if needed.
When it comes to the floor, choose a non-slip surface and secure any small area rugs with double-stick tape. Also make sure there's enough space for comfortable navigation by wheelchair.
Fill the bathroom with plenty of bright lighting, and have a night light on duty at all times. Rocker light switches are handy for everyone, and even come in illuminated models.
At first it may sound like a five-star hotel luxury, but having phone equipment in the bathroom can actually end up being a lifesaver. Select a wall-mounted, non-portable model with the largest touch-tone keys you can find, and install the product at a height that's easy to reach even if you're lying on the floor. Also be sure to program the phone with important numbers for ease and safety.
Outfit cabinets with easy-to-grasp hardware.
Bath products and shower safety equipment

Install new fixtures or make simple upgrades to existing ones for safety and easy access. With tubs, look for products that have a built-in ledge or transfer bench allowing the user to be seated and swing their legs over the side and into the tub.
Incorporated grab bars assist in lowering into the water, and available surface finishes range from traditional non-slip varieties to soft, flexible types that cushion muscles and joints. Accessible tubs are also an option, allowing you to walk into the tub via a door in its wall that seals behind you. If you prefer to work with the tub you already have, outfit it with a free-standing transfer bench, non-slip decals or mat, and grab bars.
Speaking of grab bars, only invest in models that can hold up to 250 pounds. Grab bars come in a range of shapes and textured finishes, but no matter what the style, they should be 1 ¼ to 1 ½ inches in diameter and mounted at a comfortable distance from the wall (usually 1 ½ inches from the wall; as a distance test, you should be able to fit your fist between the grab bar and the wall). You'll find grab bars that attach to the wall at both ends and can be mounted horizontally or vertically, as well as hinged types that attach to the wall at one end and rest against the wall when not in use. Most importantly, be sure the grab bars are attached to the wall's framing and no just to the drywall or tile! To find the framing, use a stud finder and then attach the grab bar with screws long enough to reach deep into the stud.
Consider replacing an existing tub with a walk-in shower, which is easily done with the newer models made to fit the existing tub footprint. Augment the new shower or an existing one with grab bars, a wall-mounted fold-away seat, a shelf for shampoo and soap, and a handheld shower head.
Reduce the water heater temperature for extra safety in the bath. It only takes a few seconds and about 130 degrees to get burned by tap water, so take precautions. Check your water heater's temperature, and if needed, reduce it to 120 degrees. Then shop for anti-scalding devices, which can be added to sinks, tubs and showers, and set to kick in if your water gets hotter than 115 degrees.
Consider having a plumber install a pressure balanced valve that maintains the temperature of the water despite any loss in pressure. For example, Moen's popular Posi-Temp is a pressure-balancing cycling valve which maintains water pressure so effectively consumers will never feel shower shock, a hot or cold surge in water. Even when running a dishwasher or flushing a toilet, this valve ensures that the water remains a constant + 2° F to keep the shower temperature consistent, comfortable and safe.
Sinks and vanities
Install sinks and vanities at a comfortable height that allows for standing or sitting while washing (usually 34 inches). When choosing a model, consider the need for free space immediately under the sink for wheelchair access, and install nearby amenities such as the medicine chest, towel rack, and electrical outlets within an easy-to-reach range. Also check out tiltable wall-mounted mirrors.
The AARP recommends keeping "one" in mind when choosing equipment and products to improve bathroom safety: Go for one faucet, not two, and a one-handled, lever-style tap. Motion-sensing faucets add ease by moving one to none, and also help to conserve water.