Millions of people every year are injured from falls at home that could have been prevented. Nearly six thousand are killed. That makes falls at home the leading cause of home injury and injury-related death in the U.S. That's pretty scary. What's even scarier is that only a quarter of homeowners take any action at all to make their home free of trip and fall hazards.
The most vulnerable family members are children younger than five and older adults. To help raise awareness of trip and fall hazards, the Home Safety Council is encouraging families to follow a few simple safety steps to protect against falls at home. Here are a few of the areas of concern:
Stairways/Walkways:

All stairs and steps should be protected with a secure banister or hand-rail on each side that extends the full length of the stairs.
Make sure all porches, hallways and stairwells are well lit with a bright light at the top and bottom of stairs. Use the maximum safe wattage in light fixtures.
Use nightlights to help light hallways, stairwells and bathrooms during night-time hours.
Keep stairs, steps, landings and all floors clear. Reduce clutter and safely tuck away telephone and electrical cords out of walkways.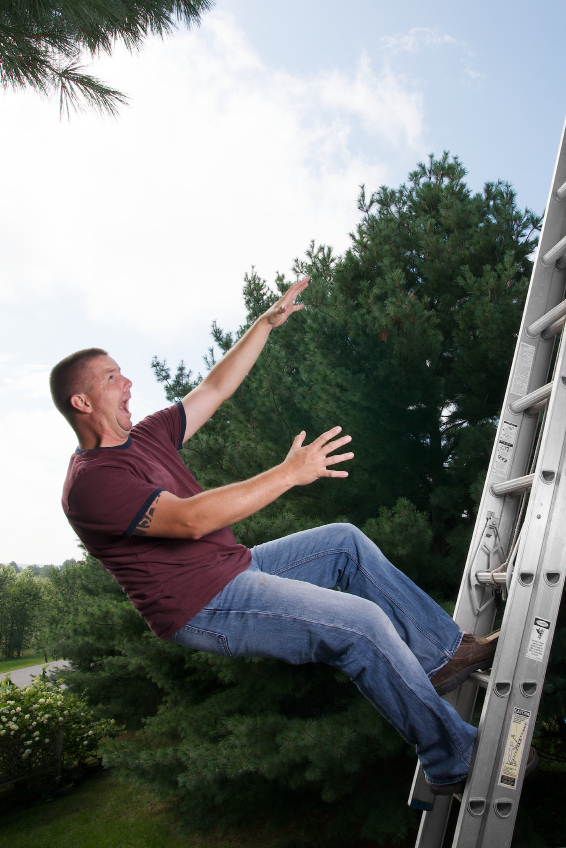 Bathroom:
Use a non-slip mat or install adhesive safety strips or decals in bathtubs and showers to prevent falls. If you use a bath mat on the floor, choose one that has a non-skid bottom.
Install grab bars in bath and shower stalls. Do not use towel racks or wall-mounted soap dishes as grab bars; they can easily come loose, causing a fall.
Keep the floor clean and dry. Promptly clean up grease, water and other spills.
If you use throw rugs in the bathroom or anywhere your home, place them over a rug-liner or choose rugs with non-skid backs to reduce your chance of slipping on this very common trip and fall hazard.
Ladder Use:
Always use sturdy step stools with hand rails when climbing is necessary.
When climbing on a ladder is necessary, always stand at or below the highest safe standing level. For a stepladder, the safe standing level is the second rung from the top, and for an extension ladder, it's the fourth rung from the top.
Every parent wants their home to be a warm and safe environment where children learn and grow. An active child naturally climbs, crawls and rolls- and parents and other caregivers need to take precautions to make sure curious children avoid injuries. From the nursery to the stairway and even outdoors on the playground, children are at alarming risk for being injured from falls at home. In fact, falls are the leading cause of nonfatal home injury for children from birth through age 14. Consider the following safety tips to protect your child from falls:
Nursery:
Be aware that conventional window screens are not designed to prevent a child's fall from a window.
Install specially designed window guards on upper windows with a quick-release mechanism so that they can be easily opened by an adult in a fire emergency.
Never leave young children unattended near open windows and move furniture away from windows in children's rooms to prevent them from reaching windows.
Always use safety straps on high chairs, changing tables and strollers.
Wipe up spills when they happen.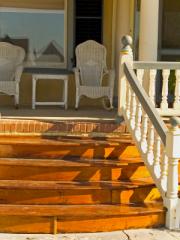 Stairway/Walkway:
Use safety gates at the tops and bottoms of stairs to prevent falls. For the top of stairs, gates that screw to the wall are more secure than pressure gates.
In homes with children, make sure toys and games are not left on steps or landings.
Do not allow children to play on stairs, balconies or landings.
Playground:
Cover areas under and around play equipment with soft materials such as hardwood chips, mulch, pea gravel and sand. Materials should be nine to 12 inches deep and extend six feet from all sides of play equipment.
Check equipment for signs of deterioration or corrosion including rust, chipped paint, splitting or cracked plastic components or loose splinters.
Avoid putting play equipment close together. For example, stationary climbing equipment should have an uncluttered fall zone of at least six feet in all directions of equipment.
Slides and platforms for climbing equipment should not exceed heights of six feet for school-age children or four feet for pre-school children.
Avoid elevated platforms, walkways or ramps that lack adequate guardrails or other barriers.
Watch for possible tripping hazards such as rocks and roots. Clear this debris from your child's play area.
Always supervise children when they are using playground equipment to help prevent falls.
For more advice and information to prevent trip and fall hazards, and falls at home, please visit
mysafehome.org.