Small kitchens can be a challenge, both to work in day-to-day and to work with when it comes to design decisions.
With a little thought and planning, however, you can make the most of your small kitchen space. Start by assessing the bones of your small kitchen, figuring out what can be moved and what's worth updating. Then consider the following big-impact ideas for small kitchens.
Walls and ceilings: Choose colors and patterns that will make the kitchen seem larger through their tone and scale. Add a skylight to open the ceiling to more light and visually expand the space, and remove any soffits above the cabinets to create a wider ceiling line.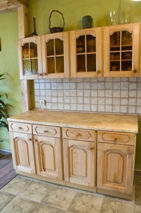 Floors: Again, keep color and scale in mind (save that 18-inch-square tile for a bigger, wider floor space, please). Patterns such as those in narrow-strip wood and laminate flooring can help to create the illusion of depth and length, and lighter finishes will automatically enlarge the room. There are several easy do-it-yourself flooring options that can help you create grand illusions in a kitchen with small square footage.
Cabinets: Keep the light finish design scheme going here, and incorporate glass-front doors and open shelves for added depth. Depending on the construction and condition of your current kitchen cabinets, you may be able to reface or refinish kitchen cabinets to achieve the look you need for a small space. To make better use of the storage space in your kitchen, try adding cabinets with such special features as spice trays and pop-up appliance storage, or shop your local home organization store for free-standing inserts that accomplish the same thing.
Windows: Follow the popular trend of having naked windows in the kitchen by using only minimal window coverings, which will let in more light and help create a transition to the outdoors (another way to build the illusion of more space). Consider installing a greenhouse window over the sink for even more natural light and beauty, and trim all windows in bright white.
Counters: Again, color and pattern are critical design choices. The good news about a small kitchen space, though, is that using a higher-end countertop material will be more affordable since you'll have much less to purchase than you would for a standard kitchen. You can also make a style statement that supports the environment with one of the many green kitchen countertop options.
Sink: If you've got small surface dimensions to work with, select a sink with an extra-deep bowl. Accessorize with a beautiful faucet offering either a low profile or a graceful high curve, in a finish that complements and reflects the rest of your kitchen fittings.
Appliances: Many manufacturers now offer smaller-scale versions of their popular products, from cooktops to refrigerators. Also consider handy stacking units and dual-duty models.
Lighting: Set the stage for efficiency and culinary adventure with a lighting design suited to your small kitchen. Under-cabinet locations are great for task lighting, track lighting units can control shadows and set the mood, and overhead fixtures shed light for utility. A range of energy-efficient lighting products are available to fill all of your kitchen lighting needs while helping to trim home energy bills year-round.