Your house is filled with dirt and dust. You can't use your bathroom or kitchen. People come and go all day. Was it an earthquake? Flood? No. Just some normal home improvements done by an independent contractor that can disrupt your world and make life miserable!
But…the results can be well worth the trouble. A well done home improvement can bring enjoyment and add value to your home for years to come. Sometimes, however, working with independent contractors is worse than a natural disaster. If the workmen do shoddy work, overcharge, or never finish the job, the result can be a nightmare. The following tips on selecting an independent contractor can help make sure your home improvement turns out the way you expect.
Bid Apples to Apples. Know exactly what you want before you pick up the phone and call independent contractors. Research the market to find out what you like. Pick out specific products (by brand name, model and style) to include in the renovation.
For example, if you're updating your bathroom, go to home centers and check out all the latest fixtures and faucets. When you call in contractors for prices, tell them which brand and style you've chosen. Don't leave the choice of materials up to the contractor or you're likely to get the cheapest stuff available.
Contract With Your Contractor. Use a written agreement with an independent contractor whenever the jobs cost more than a couple hundred dollars. Make sure the contract states what is to be done, in as much detail as possible, and when the home improvement job is to be completed.
A common complaint is that the job always takes longer then a contractor estimated. If you want to avoid this, include a "time of the essence" clause which charges a penalty to the contractor if the job takes too long. The contract should also set forth a payment schedule. As a general rule, put up a small down payment and space out the balance. Reserve at least 25% of the total amount for a final payment and release this money only after you are satisfied with the work. If your contractor doesn't give you a contract, you can draw up your own.
Or, write the contractors a letter that outlines everything. For example:
Dear Mr. Smith,
This will confirm that you have agreed to fix my leaky toilet for $95. Per our agreement, I'll look forward to seeing you next Tuesday at 3 o'clock.
Thank you for your assistance.
Mrs. Jones
I recently purchased a telephone system that required a detailed installation. Using this technique, I was able to communicate to the home improvement contractor exactly what I expected and avoided any potential misunderstandings.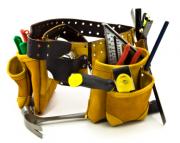 Check Insurance. Don't let an independent contractor set foot on your property unless they are fully insured. This should include Worker's Compensation as well as General Comprehensive Liability insurance. Some home improvement contractors will skimp on insurance and leave you holding the bag in the case of an accident. When checking insurance, make sure the contractor provides you a "certificate of insurance" which names you as an "additional insured". This way, the contractor's insurance company will attempt to notify you if the policy gets canceled for any reason.
Also, be sure to check policy limits on the general comprehensive coverage. A basic policy will offer a limit of $50,000. This isn't much coverage since even a minor accident can result in a lawsuit these days. Insist on at least $300,000 of coverage to be sure you're protected.
Written Record. A written record of the job is critical if something goes wrong later. Keep notes of start and stop times, how many people are working and what's getting (or not getting) done. This is especially important if you are paying for the job by the hour. Also, for bigger jobs, keep notes of conversations you've had with contractors over problems, changes, etc. This may seem like lots of work, but having a thorough written record of day to day events can make a big difference in helping you win any dispute which may arise.
Outside Review. If any question arises about the quality of the job, have the work inspected by an independent professional, such as a home inspector, to make sure you got what you expected. With all contracts, be sure to have them reviewed by your attorney before signing. The expense of such a review can be well worth it if any problems arise.
Not all home improvements end up with problems. Most contractors are hardworking, reliable people. For the few that aren't, being cautious when selecting an independent contractor can save you a world of trouble.