Need a holiday gift for your favorite outdoor enthusiast? Take their camping or tailgating setup to the next level with a lightweight, quiet generator perfect for powering a small refrigerator, freezer, mobile devices, lights or space heater.
The all-new Generac iQ2000 is a versatile inverter generator specifically designed to deliver clean and quiet power in a compact package. Its innovative design provides the benefits of power without intrusive noise spoiling your music, conversation or the sounds of nature.
Just how is it able to run so quietly? The iQ2000 uses a different type of alternator than standard generators. A digital inverter module converts the raw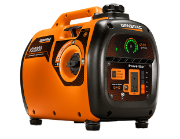 power produced from DC to AC power. Engine speed varies depending on electrical demand — which significantly reduces noise levels.
This generator has three engine speeds – from Economy to Standard to Turbo – which saves fuel and reduces noise, but delivers maximum power when needed. The iQ2000's innovative PowerDial integrates the start/run/stop functions into one easy-to-use control, making the unit extremely easy to operate. The intuitive, fully functional LED dashboard shows fuel level status, remaining runtime and wattage use so you'll always know how much capacity you have.
The iQ2000 also can run parallel with another iQ2000 unit, nearly doubling power without losing portability. It's also great for powering essential items in the event of a power outage. However, if you want your whole house powered in the event of an outage, you might want to consider a home standby generator that turns on automatically as soon the power goes out, such as the Generac Guardian Series 22KW – the largest air-cooled home standby generator on the market.
But for anyone looking to bring the comforts of the indoors along on their outdoor adventure, the Generac iQ2000 is the ideal generator. It's a portable, powerful yet quiet companion for tailgating parties, camping trips, hunting expeditions and more. The Generac iQ 2000 Portable Inverter Generator has a suggested retail price of $799.