Leslie Segrete: This is Leslie Segrete, coming to you from the 2015 National Show in Las Vegas. We are here bringing you news on the newest, best, and most innovative do-it-yourself products out there this year. Well, our calendar is officially saying that it's springtime, so we are doing our best to welcome Spring. That means that inevitable Spring to do list, which brings on a favorite chore, cleaning. Joining us is Roxanne Piagentini, and she's the Senior Channel Marketing Manager for Generac Power Systems. We are here to talk about an amazing cleaning tool that you guys are working on for us.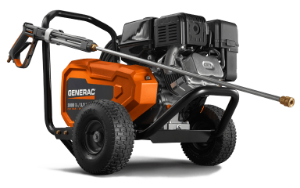 ROXANNE: That is correct, Leslie.
Leslie Segrete: We're talking about your Generac belt drive pressure washer. A pressure washer is one of those things that once you break yours out as a homeowner, your neighbors start to look around and say, " Oh, you have a pressure washer, it's doing a pretty good job." Really a pressure washer can make the most tremendous difference, night and day … Sidewalks, siding, pretty much anything. Tell us what makes the Generac one so special?
ROXANNE: Obviously, with a Generac pressure washer, we have a Generac engine. That alone is special in our pressure washers. Also, this has a belt drive. A belt drive that basically is three tone [inaudible 00:01:19] tone than a regular pressure washer with your [inaudible 00:01:24] pumps. It's belt driven, it's more for industrial, it's more for a professional. You get more power out of this pressure washer, it's 3800 PSI.
Leslie Segrete: Well, that's big. I think a lot of things to keep in mind is that, when people get excited about a pressure washer, they forget that pressure per square inch that's being offered or extended from that pressure washer. Can almost do some damage, so this is good that you're given so much power that it's really more for a pro, because you've got to know how to dial back that pressure for whatever surface it is that you might be cleaning.
ROXANNE: That is correct.
Leslie Segrete: I think that's really interesting, because you have all this amazing technology that's helping the belt driven motor do a really fantastic job. Does that impact the size, or the weight, or the portability of it?
ROXANNE: One thing really nice about this, with this pressure washer is although it has maximum cleaning power, it's very compact. It's very lightweight. It's like 50% lighter than your normal pressure washer. It does have the Generac higher engine through TCC oytry engine. It's a compact, very easy to push like a wheel barrow design.
Leslie Segrete: It comes of course, with the ergonomic spray gun and 5 quick connect nozzle tips, so you can really tackle whatever the project might be. Even if it removing a finish from a siding or a deck itself, to prep for a new look for the Spring season. This is great for a pro and great a do-it-yourselfer, if you've got a bigger project. When we hear Generac, I always think of your home standby generators with the automatic transfer switch. The big deal, real power saving, being saved in a situation where there's extended power outages. What's interesting was this past February Generac launched Home Link. Why don't you explain a little bit to that, because I think that helps a homeowner bridge the gap between a portable generator unit and a whole home standby unit.
ROXANNE: That is correct, Leslie. What it is, our Home Link manual transfer switch. You pair it with a portable generator, and with a click of switch you have power. There are many transfer switched out there. There are automatic transfer switches that go with standby. This is an interim. If you can't quite afford the home standby generator installation, you can use a portable generator paired that Home Link. Which is a pre-wired transfer switch installed next to your home circuit panel.
Leslie Segrete: Okay.
ROXANNE: You can choose 8-10 hard-wired circuits that you want wired.
Leslie Segrete: In this situation, if you've got Home Link with a portable generator you have predetermined which circuits that you want. You connect those to Home Link and then the Home Link, with 1 cord connect to your portable generator, correct?
ROXANNE: That is correct.
Leslie Segrete: That's really great, because a lot of times you're dealing with dangerous weather situations. Then, you get an overzealous homeowners that's like, "I've got all these cable and I'm just going to this up to this, and fire away and get power." I think this really makes it a safe and simple alternative. I like that the Home Link then … You can then take your Home Link transfer switch up attached to you home, and upgrade it to an automatic standby transfer switch?
ROXANNE: That is correct. That's what makes this so unique. When you are ready to invest in home standby generator, you contact a certified Electrician who will then come, replace out the panel in the Home Link to an automatic transfer switch panel. Replace the face plate, and you are ready to have it basically hooked up to your automatic home standby generator.
Leslie Segrete: Of course when you're dealing with an automatic standby generator there's so many different sizes available. You really can pick from a simple amount of circuit to pretty much everything in your home, correct?
ROXANNE: Right. The unique thing about a Home Link is you're halfway there. Once you install that Home Link transfer switch, it means you're halfway there to your installation of your home standby. Like you said, it's safe and easy, it powers your hard-wired items.
Leslie Segrete: I think it's important whether you are using Home Link or not whether you have a portable generator make sure that you keep it a safe distance away from you home, not near any open windows or doors. You want to make sure that you operate any sort of home portable generator system, Generac or not, in a safe manner. Correct?
ROXANNE: Yes, that is correct.
Leslie Segrete: Well, it's always so great to hear of the new things, and exciting things that Generac is introducing always at the National Hardware Show. If you want some more information, you can head on over to generac.com. Roxanne, thanks so much for joining us today.
ROXANNE: Thank you for having me.