Whether the plan is to repair, improve or design, all you really need to make a big impact on the home front are the right tools and a little time. Tom Kraeutler and Leslie Segrete deliver both in this useful, FREE, year-round home improvement project guide, which is presented by Arrow Fastener.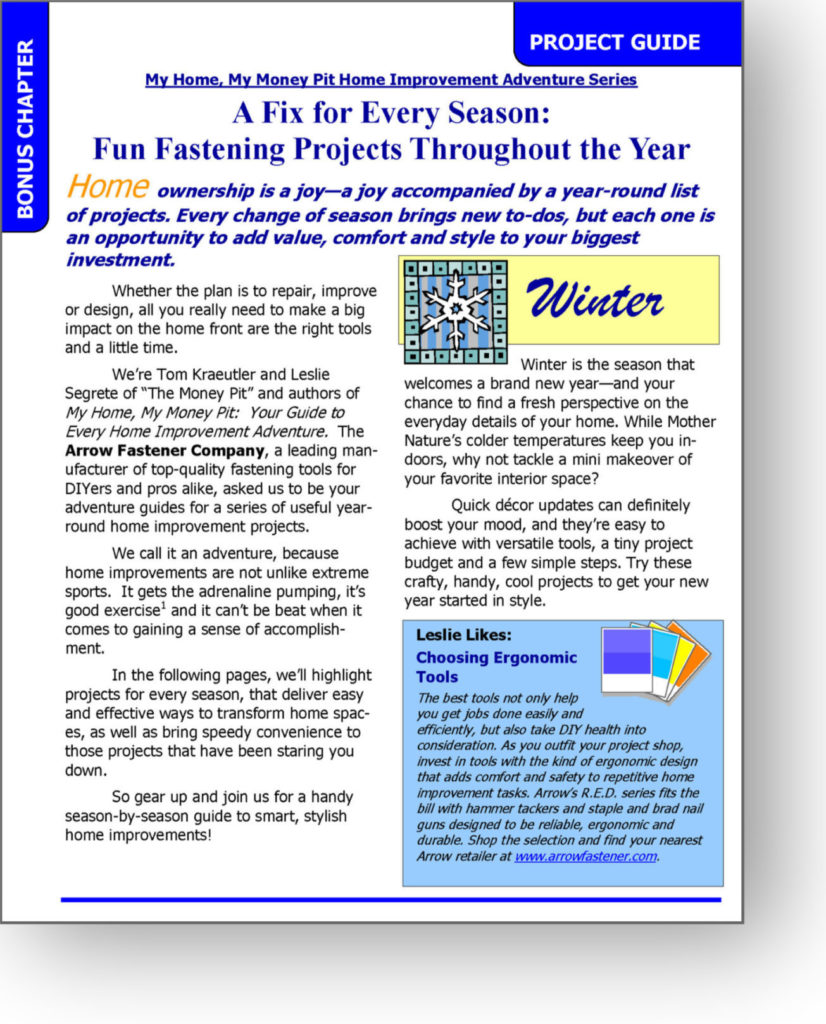 "A Fix For Every Season: Fun Fastening Projects Throughout the Year" highlight projects for every season, that deliver easy and effective ways to transform home spaces, as well as bring speedy convenience to those projects that have been staring you down, including:
Winter Projects
Decorative Panels for Cabinet Doors & Drawers. Learn how to completely makeover your kitchen cabinets and more for a fraction of the cost of replacement.
Decorative Trim, Molding and Wainscoting. Add personality and style to any room with these easy trim projects.
Personal Wall Art. Learn how store-bought stretched artist canvases and a little creativity can be combined to create a wall beautiful collage showcasing your treasures.
Simple Style Makeovers. Creating a beautifully designed room is all in the details—learn thoughtful little touches that truly create a memorable space.
Spring Projects
Deck Dress Up. Easy improvements to get your deck ready for enjoyable seasons ahead, filled with friends, family and great outdoor conversations.
Furniture Fix-Up. Learn how to restore your outdoor furniture for the summer days ahead.
Screen Repair. Get fast fix tips for repairing screen doors and screened-in porches.
Leaky Gutter Fix Ends Wet Basements. Find out the sure-fire 100% guaranteed way to keep your basement dry.
Summer Projects
Rustic Natural Planters. A well-appointed garden and patio can turn a basic backyard into an outdoor oasis. This easy-to-build planter can help!
Custom Birdhouse. A fun family project that kids and parents can build together!
Privacy Panels. Find out how to hide A/C compressors, trash cans and more with these attractive, simple-to-build, privacy panels
Fall Projects
Insulation and Weather-stripping. Cut drafts, stay warm and lower heating bills this winter with these simple tips.
Dining Chair Re-do. Learn how to spruce up your dining room before holiday guests arrive with this simple chair makeover.