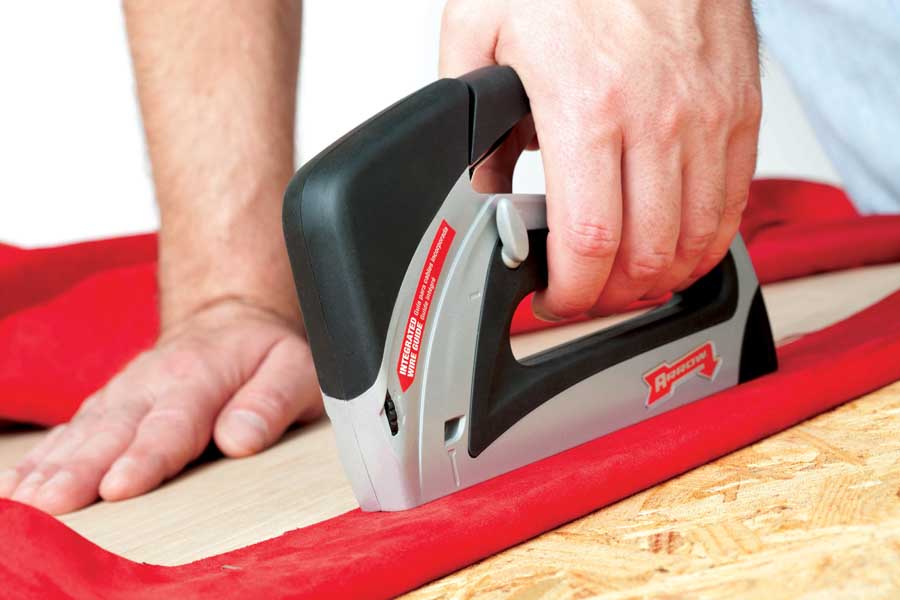 Summer is over and the fall season is soon to be here. I look at this time of year as the start of the busy season for family and home. It is also a time to begin new projects at work. The Money Pit is so thrilled to be partnering with the Arrow Fastener Company during this exciting time of year to bring to you ideas and inspirations to help get your money pit in shape for the holidays.
We often get asked to name the tools that we find most helpful and would consider toolbox must-haves regardless of skill set. For me it has to be a staple gun. I'm not talking about your office stapler that somehow found its way into your home, but a for real staple gun that is meant to fasten materials, not paper, to one another. Ever since my high school days when I gathered my first working tool kit for design and theater work, there has always been a T-50 Staple Gun in that kit. The Arrow Fastener Company has been in the business of making professional quality fastening products since 1929 and is of course the maker of the world's best selling staple gun, the T-50. Over the years the design and ergonomics of the tool have changed to make using the T-50 easier to squeeze. As a result, projects around the home are now much more comfortable to tackle.
As a do-it-yourselfer, I find myself reaching for my T-50 staple gun for many projects, and at this time of year I like to get my home ready for the cooler weather that lays ahead. Adding insulation is a great project to improve your home's efficiency, and the T-50 is perfect for fastening fiberglass bats and insulation hangers in place. The summer brought some pretty harsh storms to my area of the country and the screened in porch took a beating. However, re-attaching the screens was not a problem for my staple gun and now I know the porch is ready to go for next spring.
In the garden a staple gun comes in very handy when creating privacy screens or affixing lattice panels to decking. With the holidays approaching, simple projects can really make huge transformations to tired furnishings and boring spaces. Whether you are updating the fabric on your dining chairs, creating easy-to-make upholstered headboards, revamping cabinet doors or drawer fronts with fabric wrapped panels or adding decorative trim and moldings to walls and furnishings for a truly custom look, your T-50 can help you achieve any project with ease. The scope of doable projects keeps expanding thanks to the innovations in the fastener itself, and since the T-50 Elite can fire up to a 1″ brad nail, the list goes on and on. If you don't have a fastener in your tool kit, go get one. If you've had yours a long time, update it–your hand will be glad you did.