With the wide variety of paint formulas available today, you can find the ideal paint for almost any interior painting project.
But with so many paints to choose from, knowing what you need beforehand will make your trip to the store quicker and easier.
With that in mind, the following advice from Debbie Zimmer, paint and color expert at the Paint Quality Institute, will help you choose the right kind of paint for five common interior paint applications.
Saving time: For a project that needs to be completed fast, a self-priming paint – one that serves as both primer and paint – is a good choice. You'll be able to cover up even hard-to-conceal colors with fewer coats than normally required.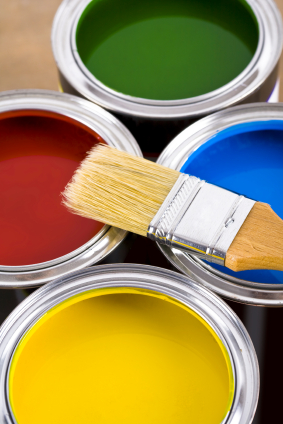 Stain resistance: For a household with children who leave fingerprints wherever they go, a high-sheen, top quality 100% acrylic latex paint provides a tough finish with exceptional stain resistance, giving your walls a fighting chance to remain clean and fresh-looking.
Versatility: For painting a room with a variety of different surfaces – say, vinyl doors, wood trim, and walls made of plaster or drywall – it's a good idea to buy a "universal" coating such as a high-end latex paint made with 100% acrylic. This type of paint performs well on many different surfaces and provides excellent adhesion even to slick surfaces like vinyl.
Hiding flaws: For walls or woodwork full of little nicks and imperfections, choose a totally "flat" paint, which will dry to a non-reflective, matte finish. The lack of sheen will make minor imperfections less noticeable.
Durable color: For a homeowner who has their heart set on exactly the right paint shade, choose a paint with good color retention, like a quality acrylic coating, to ensure that it will be less likely to fade over time.
According to Zimmer, today's paint manufacturers have anticipated all of these needs and more, and have formulated coatings to meet each and every challenge. Take time to consider your needs, try to imagine the characteristics of your perfect paint, and you'll likely find it sitting on a shelf at your local paint store.
For more information on paints and painting, vist blog.paintquality.com or www.paintquality.com.