Interior painting is one of the most effective ways to improve your home. But there is one type of painting that is actually fun for most people: painting kids' rooms.
"Unlike painting a dining room or living room, where the goal is often to create a restrained, subdued, or sophisticated look, painting kids rooms like bedrooms, playrooms, and bathrooms offer the chance to really let loose, color-wise," says Debbie Zimmer, spokesperson for the Paint Quality Institute.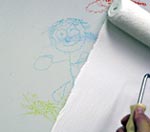 "When selecting paint for kids' rooms, concentrate on colors that are strong and bright, especially if your children are younger," says Zimmer. She cites apple green, sky blue, lavender, periwinkle, magenta, pink, yellow, and tangerine as some of the colors that have great appeal for kids.
And don't feel that you have to limit yourself to just one or two of these colors, she says. "When it comes to color in kids' rooms, the more, the merrier."
According to Zimmer, there are many ways to work additional colors into the kids room decorating scheme: "Paint one wall a different color than the rest, make the window trim one color and the molding another, paint the ceiling, create a fun pattern on the walls. On this project, you can totally indulge yourself," she says.
But don't lose sight of the fact that this is still your kids' room. With that in mind, Zimmer suggests that you involve your children in the color selection process right from the get-go. "Getting input from your kids will tap into their creativity and give them a sense of ownership of their colorful new room," she says.
Once everyone is satisfied with the color of the walls, ceiling, and trim, see if the room has any furnishings that would benefit from a fresh coat of paint. Is there an old bureau, night table, or chest in the room? Picture them painted in multiple, playful colors. You can use some of your leftover trim color for this purpose — or paint the furniture in other hues to add fresh splashes of color.
To complete the makeover, consider adding cheerful artwork, decorative accessories, and rugs or other floor coverings that match your kids room colors. But those embellishments are optional. Make no mistake: Paint is the star of this production.
What will it cost? According to Zimmer, most rooms can be painted by a do-it-yourselfer for well under $100, especially if you already have some painting tools like brushes and rollers. "It's actually a bargain compared to fleeting pleasures like taking the kids to a theme park for the day," she says.
Zimmer suggests that you use a durable, top quality 100% acrylic latex paint for this project: "These paints are good for kids rooms because they resist fading more than ordinary paints, so they'll help keep the colors bright and cheery."
And don't gloss over sheen level when selecting your paint. Paints with higher gloss are more stain-resistant and easier to clean, features you'll appreciate when the little ones get messy.
"Gloss and semi-gloss paints offer the best stain resistance when painting kids rooms, but even a coating with a satin or eggshell finish will resist stains better than a flat paint," says Zimmer. "If ease of cleaning is a major concern, use a semi-gloss on the walls and ceiling, and paint the woodwork and furniture in a high-gloss coating."