Tom Kraeutler:
This is The Money Pit's Top Products podcast. I'm Tom Kraeutler, coming to you today from Washington, D.C, site of Greenbuild 2015. Folks today are always trying to find ways to make their homes more energy efficient and more comfortable. CertainTeed is a company that has specialized in that with a wide variety of products across many different product lines. Now they've got a new type of insulation called
SMARTBATT
. It's an insulation with moisture sense technology. With us to talk about that is Mike Loughery. Mike, what does SMARTBATT do that traditional insulation doesn't?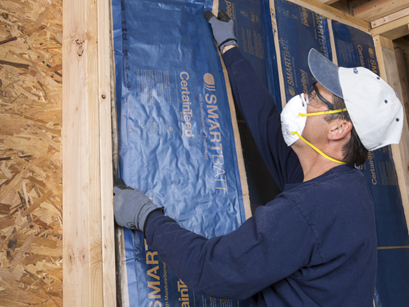 Mike Loughery:
What SMARTBATT does is really change the paradigm around what we think of insulation. Typically you think, "Oh, insulation keeps me warm in the winter, cool in the summer. If it's drafty, you put some in, it makes you feel better." SMARTBATT has technology in it in the facing that actually allows wall cavities to dry. A lot of times moisture can get trapped inside the wall cavity, and the Kraft facing in the insulation allows for the water to be pulled out of the wall, because if it doesn't what happens is you can get moisture damage, mold and mildew, and unfortunately, unhealthy indoor air quality. This really helps to improve that situation at home.
Tom Kraeutler:
Now Kraft paper faced insulation's been around for many, many years. What's different about this particular product that we didn't have before?
Mike Loughery:
Well, without getting into the extreme technical aspects of it, this is a special Kraft facing that actually, if you think of skin and you think of pores that open and close, this is molecularly, the pores of this Kraft facing open and close depending on moisture sensing in the walls or whatever. If it senses moisture in the walls, the pores open and allow the moisture to come into the home, and then inside the home, either air conditioning or heating will dissipate the moisture and help keep the wall cavity dry.
Tom Kraeutler:
So it's smart paper?
Mike Loughery:
Smart paper, smart batt.
Tom Kraeutler:
We're talking to Mike Loughery. He's a spokesperson with CertainTeed. Now, Mike, you guys also have a drywall product that you've had out for a fairly short period of time that actually helps us reduce formaldehyde in our indoor air. Formaldehyde is a common addition to many different building products. It's in flooring, it's in carpeting, it's in cabinets, it's in different types of finishes. If you've ever brought a new piece of furniture into your house, a lot of what you're smelling, that new product smell, is unfortunately formaldehyde, which is not good for you. You guys have a drywall now that absorbs that. How does it work?
Mike Loughery:
Again, this is a game changer. When you say, "Hey, we've got a drywall that can actually improve indoor air quality," you're like, "What? Wait a minute. No, no, no. Drywall's for hanging pictures and things." But this is a product that again, through science, removes formaldehyde from the interior space, brings it into the board and chemically converts it to something that's safe and stores it in the board, therefore in effect, helping to remove and dissipate the formaldehyde in the interior air, improving indoor air quality, again. People with allergies and asthma and things, if you've got moisture and mold in your walls, if you've got formaldehyde in the interior space, they can aggravate those things. These are 2 products, between SMARTBATT and AirRenew Gypsum Board, that can help improve that.
Tom Kraeutler:
Now when I heard about the AirRenew product, the first thing I thought, "Well, what happens when you paint it? Aren't you defeating the purpose of having this absorbent surface?"
Mike Loughery:
No, actually not if you … There are certain types of paints that … On our website it outlines exactly the types of paints you can use. Standard, off-the-shelf latex paints where the performance will not be affected.
Tom Kraeutler:
Fantastic. Mike Loughery with CertainTeed. Where can our listeners go for more information?
Mike Loughery:
Go to our website. It's the best choice.
Certainteed.com
. You can click on the gypsum button or on the insulation button to learn all about the different types of products, and to learn about improving indoor air quality. It's a total game changer and it's changing the paradigm in terms of we talk about drywall and insulation. It does more than what you think it does. It's not your father's drywall and insulation any longer.
Tom Kraeutler:
Well said. Mike Loughery with CertainTeed. Thank you for stopping by The Money Pit.
Mike Loughery:
Thank you, Tom.