Planning home improvement projects are always fun. From a designer bath with plush fittings to a luxurious outdoor pool to beat the summer heat, renovating your house can add to its overall appeal and increase its value in case of a resale. But remodeling can have an added cost of increased premiums which most potential renovators know little about and have huge expenses to pay from their pocket midway through remodeling their living spaces.
Sharon Hanby-Robie knows a thing or two about how inadequate insurance can play spoilsport in your renovation plans, as she shares a couple of stories of renovation gone awry in this Bankrate article. For all the excitement a new project brings, there are extra insurance costs that many fail to think of, says Ms. Hanby-Robie.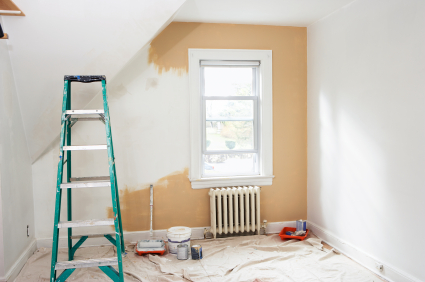 Your homeowner's insurance cost can go up depending on the additions you make to your home. Also, it's important to ensure that the contractor, subcontractors, inspector and any other persons involved in the project are insured to avoid liability claims in case of any unfortunate incidents, informs the blog Lifetips. You need to get in touch with your insurance provider to make sure you have adequate coverage for your home before starting a new project is the advice in a Kiplinger article.
Mission Renovation: 7 remodeling projects that can affect your insurance
Some renovation projects can increase your premiums while some are insurance cost-cutters. Here are 7 popular home improvement projects that can impact your annual homeowner's insurance costs.
1. Swimming pool. A pool on your property hikes up the risks associated with your house and there's an automatic increase in premiums. There are safety issues and also liability coverage to be taken into consideration if others like your neighbor's kids are going to play n the pool, says Lifetips. Building a swimming pool in your backyard for those sweltering summers can be a valuable investment provided it has adequate safety barriers, informs review website Angie's List.
2. Kitchen. Your kitchen may be long overdue for a makeover, but spending on costly marble countertops and classy decor are not the only expenses that have to be factored in. A high-end modern kitchen increases the value of your home, which means that your home's total replacement value also goes up and you end up paying higher premiums, says Angie's List.
3. Roof. Planning to do over your old house? First, plan to replace the roof if it's old and leaky and see your insurance premiums fall. The risks of your roof crumbling down in a big storm are lowered and your insurer will be willing to lower your premiums, says Angie's List. As the costs of damage to your roof can be extremely high, make sure you regularly get your roof inspected, especially if it's an old property.
4. The garage. You may want a music studio to practice with your buddies or your teen may want their own private space- converting the spacious garage may seem the best possible option. Other than adhering to the local building codes, you need to inform your insurance company about this change as it increases the total living area of your home, says Angie's List. Your car insurer should also be informed that the car will no longer be parked in the garage. You might have to pay a little extra as insurance, but you've got the benefit of an extra room!
5. Security systems. Why feel unsafe when you can install cutting edge security systems and secure your home? The Insurance Information Institute (III) informs that insurance companies give homeowners discounts of 15 to 20 percent if they upgrade their home security features. For example, installation of a burglar alarm and sprinkler system can get you a discount of up to 20 percent on Hartford homeowner's insurance rates. Fit in dead-bolt locks and smoke detectors and get bigger discounts.
6. Electrical fittings, plumbing and heating. Just like replacing an old roof, upgrading your home's old electrical connections, plumbing and heating can see your insurance bills drop. It's a safety project that could cut down on your insurance expenses, tells The Chicago Tribune.
7. Home office. Running your business from home is a great idea- commuting costs are reduced and you can have more time to spend with the family, but make sure you have additional business coverage or you have to face liability claims on your own, says Angie's List. Find out from your insurer if you can extend your current policy to cover your business or if a different policy is required.
The III gives some tips on things to consider before a home renovation project. Other than verifying the credentials of the contractors and workers, it's important to take an inventory of the objects and appliances in your home in case of theft, vandalism or loss. Also, don't forget to update your policy after the project is finished. It may increase your annual premiums, but you know your newly spiffed up home is safe.
Elvis Donnelly, a father of two who works from home. I am a voracious reader and like to keep abreast of current affairs on personal finance, technology and innovation. In my spare time, I love taking on home improvement projects and consider myself a closet chef.
All Rights Reserved. Elvis Donnelly is the original Author and moneypit.com is the authorized publisher of this content. Unauthorized republishing of this content will result in violation of Copyright laws. Doing the same may lead to the initiation of legal proceedings by the Author and/or Publisher. However, you are allowed to like, tweet, share or promote the article link in your network without prior permission.