Keeping seniors safe at home has become a top priority for millions of Americans and their elderly loved ones. According to a recent survey by the American Association of Retired People (AARP), most seniors want to remain in their own homes as long as possible as they grow older. But this desire to age in place means improvements aimed at improving senior safety at home… and creating an environment that's comfortable, convenient and secure for these golden years.
It's expected that by 2030, 20 percent of America's population will have already celebrated their 65th birthday. That's approximately 70 million older persons making their home in the U.S. Keeping those seniors safe at home will become paramount.
Research shows that older homeowners typically own older homes. According to the Department of Health and Human Services, almost 50 percent of homes owned by older persons in 1997 were built prior to 1960, and 6 percent of these homes had structural problems. And, a study by the Administration on Aging proved that these older Americans are staying in their homes much longer than their younger counterparts. In 1998, only 4.6 percent of older Americans had changed residences (compared to 17.5 percent of persons under 65.)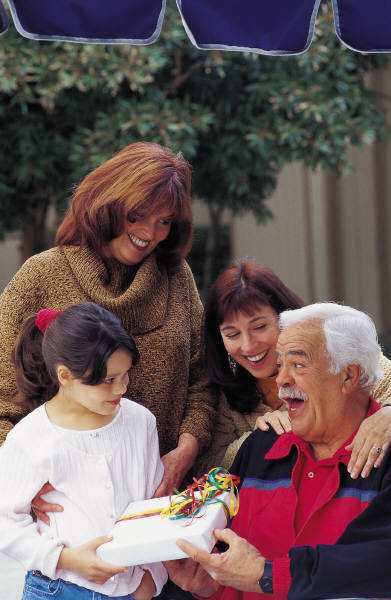 Combining these facts means older homes can place seniors at risk of injury. Fortunately, a few minor adaptations and safety improvements can easily help keep seniors safe at home. Making some common sense improvements around the house can greatly reduce risk of serious injury. Here's where to begin.
Troubleshooting for tripping hazards: Age brings about physical changes to body which affects the center of gravity and makes bones and muscles lose strength. The result is a loss of balance and mobility that can lead to falls and other accidents. In fact, 75% of all reported falls involve senior citizens.
To keep seniors safe at home from dangerous falls or trips, eliminate cluttered areas and provide wider paths between rooms. High traffic rooms are most prone to accidents, so check the bathroom, bedroom, kitchen, stairs and dining room carefully to improve safety with an eye toward eliminating obstructions.
Next check the floors for slippery spots. High gloss finishes like vinyl and ceramic tile are dangerous, especially when wet. Likewise, old shaggy rugs can catch feet and send you for a tumble. If you use throw rugs, make sure they have anti-slip pads installed underneath them to avoid a first hand experience of the flying carpet. Make stairs safer by removing loose runners and installing a second hand rail on the wall opposite the existing railing.
Firm Furniture: Unstable furniture, like a broken chair leg, can lead to broken bones or worse so repair or replace all broken furniture. Elevated platform beds are difficult to get into and can lead to an unexpected fall. Use a bed only as high as necessary. If you need a step stool around the house for hard to reach places, make sure it has a firm-footed design and never substitute a chair to reach high spots.
Electrical safety: Cataracts and diabetes are also troublesome for the elderly. Poor lighting makes this worse. Have overhead light fixtures cleaned and install new bulbs to the maximum wattage printed on the fixture. But never install a bulb larger than the fixture is rated as this can cause a fire. Make sure electric and telephone cords are out of the way. If necessary, consider re-arranging furniture closer to outlets or have additional wiring installed to shorten the distance to the light or other appliance. Better yet, have an electrician install occupancy sensor light switches. These neat devices can automatically switch lights on whenever they sense movement, such as the opening of a bathroom door.
Healthy heat: As seniors spend more time indoors, they become susceptible to heating system dangers like carbon-monoxide poisoning and gas leaks. To be safe, make sure heating systems are professionally serviced at least once per year. Most utility companies have programs that will help. Plus, install a carbon monoxide detector near the bedroom. Carbon monoxide is the number one cause of accidental poisoning deaths and cannot be detected any other way.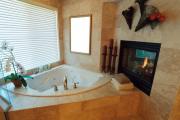 Easy access: Difficulty getting in and out of the house and mobility within the house are the main issues that often make older homeowners worry about living on their own, says Bill Paglia Scheff, Vice President of Construction Services for the Corporation for Independent Living, (CIL) a nonprofit housing development corporation. CIL recommends that stairs have adequate handrails, front doors be widened to accommodate wheel chairs if necessary and that swinging doors be used inside wherever feasible.
Bathroom basics: Experts at CIL also suggest raising the height of the toilet seat to create more comfort for seniors with physical disabilities and installing grab bars to add more personal security. In the shower, lower the curb to minimize the height a person must lift their legs to get in and out. Grab bars are a great safety idea here, too, as well as an anti-scald valve on the showerhead to regulate hot water output.
Emergency contact: According to A Profile of Older Americans 2000, prepared by the US Department of Health and Human Services, 31 percent of all older persons live alone. Plan for the unexpected by setting up an emergency contact plan with family and friends. If you live alone, consider investing in a medical alert system. But use caution – there are several types available and service can vary dramatically from company to company. Be sure to check out the company thoroughly before signing up.
Keeping seniors safe at home not only makes common sense, it can also save dollars. According to the US Census Bureau, national spending for long-term care in 1997 was $115 billion; with nursing home care accounting for 72 percent of that bill. The average nursing home cost per person was $51,000 a year.
The American Psychological Association also found that despite common physical difficulties, 75 percent of seniors aged 65 to 74 who live in their homes report their health to be good, very good, or excellent compared with others their age who live in nursing homes and other assisted living facilities. The same results were found for two-thirds of persons 75 years and older.
Aging in place is clearly more desirable for both older persons and their families. Just think how much nicer it might be to visit your mom and dad in the house in you grew up in. Practicing senior safety at home can accomplish a sense of independence and security for them and peace of mind for you.