If you're big on the soothing power of a hot bath after a long day, a bathtub upgrade could be your dream home improvement project. And while you understandably might want to rush the process along so you can jump into that new tub sooner, you'll get the best result if you take your time and plan it out carefully.
First of all, you'll need to work with a plumber to understand limiting factors such as access points for pumps, drains and water supplies. Once you've figured out the parameters of your particular setup, you can go about choosing a bathtub that will work for your situation.
Ready to go bathtub shopping? There's no better way to tell if a tub's right for you than to actually sit in it. Seriously. You wouldn't buy a car without sitting behind the wheel and a bath should be no different. While you're in there, pay attention to the following things: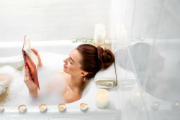 Does it fit your body type comfortably?
Check lumbar and neck supports, as well as arm rests and grab bars.
Are the controls conveniently located?
Do the jets aim at the right spots or dig right into where you want to sit?
It's important to keep comfort at the top of your priority list, but you should also make sure your new bathtub will mesh with the style and decor of your bathroom. Most manufacturers offer a wide range of tub choices, from contemporary to traditional, in an array of different colors.
Types of installation
Bathtub installation is tricky business, and the correct way to proceed will depend on the size and location of your bathroom, and, of course, personal preference. Here are the options:
Recessed: If you have a small bathroom, you probably have a recessed tub with three sides of the tub directly attached to walls. You can actually get nice deep soaking tubs and whirlpools to fit into this space.
Corner: Similar to recessed, but only two sides are attached directly to walls. You need some space to consider a corner tub.
Drop-in/Undermount: These can be dramatic designs, the type you see in magazines. The tub is surrounded by a platform, which is often finished with breathtaking natural stone. Safety is key—don't use stone for "steps." And no one does sunken tubs anymore, because it's just too easy to step back to check your makeup and fall backwards into the tub.
Free-standing: The look is amazing: old-fashioned claw-footed tubs and other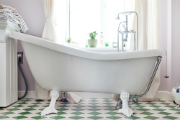 sculptural bathtubs. Elaborate trim such as shower walls, overhead showers and even body sprays are offered on these high-end luxury baths. For master bath and high-use locations, check the comfort of free-standing tubs to make sure you can live with the style over time. And if your bathroom is on the second floor, the combined weight of cast iron and water should be taken into account – not to mention the weight of getting the tub up there in the first place.
Whirlpools/air tubs
If you're looking to create a truly indulgent bathing experience, there's no better option than a whirlpool bath. To put you in the lap of luxury, today you can choose your massage therapy: hydro, air or both.
Hydro Massage: This is the more common type, in which a water pump recirculates bathwater out of several jets. Most offer user control to mix air into the water coming out of the jets, which reduces the force of the water as well as adding an invigorating feeling from the air bubbles. For regular users, a heater is a nice option to consider. Ask about the noise level of the motor to make sure your planned relaxation doesn't blow you out of the water.
Air Massage: Air pumps engulf the user with thousands of tiny bubbles coming from small holes in the bottom and sides of the tub. Some people prefer them over whirlpools, as they are quieter. Look for a system that heats the air before it enters the tub, as cool air can quickly lower the temperature of the water.
If you can't decide, and whirlpool bathing is a big part of your life, choose a tub that has the best of both options.