LESLIE: Well, one overlooked space where we spend a lot of time is the bathroom. And if you're trying to give a small bathroom a makeover, you have got to make every inch count.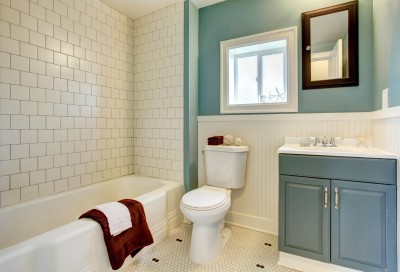 TOM: That's right. And if you're going for a renovation, you need to think smart design to make the most of a small space. Joining us now with advice on how to do just that is This Old House general contractor Tom Silva.
Welcome, Tommy.
TOM SILVA: Thanks, guys. Nice to be here.
TOM: Now, why is it so important to think through this carefully before going ahead with any makeover or renovation?
TOM SILVA: You always want to know where you're going to put things. And if you have a small bathroom, guess what? You're going to need the same things in the small bathroom that you need in a big bathroom. But you have to know how to place them and what to use to make the bathroom look like it's bigger than it actually is.
TOM: Well, that's true, because every bathroom pretty much has the same things. If it's a full bath, it's going to have a shower or – and a tub or one of the other. It's going to have a sink, it's going to have a toilet. So beyond that, your space is your own and if you don't have a lot of it, there are some tricks of the trade to actually take advantage of some of those hidden nooks and crannies, right?
TOM SILVA: Right. I think the first is how you're going to get in or out of the bathroom, so you think about the door, the swing of the door if it's a small space. Do I even have place to swing the door? A pocket door comes in great for this.
TOM: Now, how does a pocket door differ?
TOM SILVA: Well, a pocket door will actually go into the wall cavity or you can mount it on the face of the outside wall before you even go into the bathroom. And that can be a nice, little feature that you're trying to celebrate.
TOM: Right.
TOM SILVA: A pocket door will go into that wall and be right out of the space; it won't take space for that door to be.
LESLIE: And if you're dealing with a super-small bathroom, you might not, as you mentioned, have that space in the wall cavity because of plumbing.
TOM SILVA: Right.
LESLIE: And that barn sort of hardware that mounts on the outside, it really can be beautiful and really be a modern or industrial kind of look for the space.
TOM SILVA: Surface mount, yeah.
LESLIE: Now, what about tricks that you can do? I mean every space needs a mirror. Is there anything, as far as choosing my mirror for that space, that's going to make it feel bigger?
TOM SILVA: Absolutely. The larger the mirror, the bigger the space will be. A mirror will double the size of the space. So if you have a mirrored wall – and you may laugh but a mirrored ceiling makes a huge difference. You take a boat, for example, with a small bathroom, what do they do? They mirror the ceilings because it gives you the illusion of the space going up and up and up.
TOM: Now, what about the color of the finish materials? Probably lighter has got to be better, right?
TOM SILVA: Lighter is always better. That means the tile, if you're going to use tile, the paint finishes and the shower glass door. If you use a shower glass door that's not clear glass, guess what? That's a wall.
TOM: Yeah, good point.
TOM SILVA: You want to be able to look through the back wall to see the back wall of the shower. You don't want it to stop at that door.
LESLIE: Now, having a small bath myself, at our money pit, storage is always a big, big problem. So how can you cleverly sneak out those spaces very sneakily to get you all the storage you need?
TOM SILVA: Right. It's difficult and sometimes, you can put a recessed mirror above the sink. But sometimes, you run into a vent line or a vent pipe, so you're stuck with maybe recessing the cabinet into a wall cavity somewhere else in the room. You want to be careful not to recess that cavity into an exterior wall, because you don't want to have a cold spot.
TOM: Right.
TOM SILVA: So interior walls are great for making recessed or hidden cabinets.
TOM: Now, one of the must-haves for bathrooms, really, regardless of size – like let's talk about safety.
TOM SILVA: Safety is important. You want to make sure that you have a hand bar, tile bars, grab bars, that kind of thing, especially if you have relatives that visit. Like my mother, for example, I would always be concerned about her being safe in the bathroom, so …
TOM: And those grab bars can actually be very stylish today. In fact, they could match the bathroom faucets.
TOM SILVA: You can get them in colors, you can get them in finishes: bronze, satin, all kinds of finishes.
TOM: And of course, ground fault is critical.
TOM SILVA: Absolutely. That's the code.
TOM: Yep.
TOM SILVA: And that's why you want a building inspector to basically – you want to get a building permit to make sure that the job is done right. So that's very important. You don't want to get electrocuted.
TOM: And finally, one thing that a lot of folks – shockingly, the building code allows you to leave out, which is an exhaust fan. There is this provision of the code that says if you've got a window, you don't need to have an exhaust fan, as if we love to leave our windows open in the winter. But the exhaust fan is really a critical piece of equipment in a bathroom.
TOM SILVA: Absolutely. It's very important and I like to have an exhaust fan that's on a timer. They have timer that could be a 15-, 30- or a 90-minute timer but they also have fans today that are humidity-sensitive so that when you leave the bathroom, the fan stays on as long as it senses humidity. It shuts off and then it turns itself back on again because even though you think it's dry enough to shut it off, it isn't.
And you also – I want to make a point of saying this: it's very important that you do not vent that bathroom into an attic.
TOM: Yeah. Oh, absolutely. Because then you're dumping that moisture up into the attic where it gets the insulation damp, causes mold to grow and the insulation is just not going to work that well.
TOM SILVA: Mold, mildew and rot.
TOM: Yep. A real mess. Good advice, Tommy Silva.
There's a lot you can get into a little bathroom with a device like that, folks.
Thanks so much for stopping by The Money Pit.
TOM SILVA: My pleasure.
LESLIE: Alright. You can catch the current season of This Old House and Ask This Old House on PBS. For your local listings and great step-by-step videos on projects you can tackle and articles, as well, visit ThisOldHouse.com.
TOM: And This Old House and Ask This Old House are brought to you by GMC. GMC, we are professional grade.