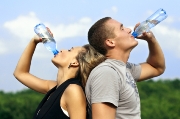 With near-record breaking temperatures across the country, smart homeowners can still stay cool and cut costs with these seven simple tips from the Edison Electric Institute:
Set the thermostat at 78 degrees or higher when the house is occupied, and at 85 degrees when no one's home (you'll save 1-2 percent on cooling costs for each degree you can raise your thermostat). And if its air filter hasn't been cleaned in over 30 days, then it may be time to do so.
Close the curtains or shades closed on any south- or west-facing windows (save 2 – 4 percent on cooling costs).
If available, turn on ceiling and table fans—a fan will allow you to raise the thermostat setting about 4 degrees and still feel cool. For ceiling fans, make sure they are turning in a counterclockwise direction (you should feel a cool breeze standing directly under the fan)—but only use the fan while you're in the room—fans cool people not places.
For unused rooms, shut the door and close any air supply vents inside them (save up to 3 percent on cooling costs).
Cook with the microwave oven instead of the regular oven (save up to 90 percent on cooking costs), or if available, an outdoor grill.
Install compact fluorescent lights in high-use fixtures (save about 66 percent on lighting cost per fixture). Turn off any lights that aren't being used, and dim those that are, if possible.
Wash/dry full loads of clothes (in cold water when possible) and dishes (save 2 – 4 percent on energy costs).
Another energy-saving tip: check out your electric company's Web site. All electric companies offer free, expert advice on saving money, and many also have special energy-saving programs and incentives. These can include:
Energy-efficiency rebates—Make purchasing high-efficiency appliances, including lighting, air conditioning, and refrigeration, more affordable.
Low-interest loans—Help consumers finance the purchase of high-efficiency equipment.
Free online energy audits—Enable consumers to analyze their home energy use and get recommended adjustments right from their own computer or smart phone.
Direct load control programs—Load control programs give consumers a credit on their monthly utility bill in exchange for allowing the utility to cycle their central air conditioning unit or heat pump or water heater on-and-off during peak electricity demand periods.