Table of Contents

[Hide]

[Show]
Staying cool in the summer is a priority for most homeowners. But along with summer temperatures, your utility bills are bound to start heating up unless you take steps to help your home create a more efficient cool. According to the EPA's Energy Star program, almost 20% of a typical household's utility bill goes toward cooling costs. By taking a few simple steps this summer to improve energy efficiency, you can save energy, save money and help fight climate change.
Fortunately, there are lots of easy no-cost to low-cost ways to choose from to beat back the heat this summer.
Lose Inefficient Windows
Roughly 40 percent of the unwanted heat that builds up in your home comes in through windows. But when it comes to buying new windows, what you see is not necessarily what you get. Since most energy efficient features can't be seen it's important to know what to ask for. For starters, be sure to ask for double-pane windows with low-e glass. The e stands for emissivity and that is what stands between you and lots of heat producing UV radiation driving your cooling bills up.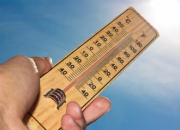 Avoid Humidity
AYou've probably heard it said a million times: It's not the heat, it's the humidity! But did you know that there is something you can do about it? Aprilaire makes a whole home dehumidifier that removes the proper amount of moisture from your home, and as a result keeps you comfortable while preserving your home. And, unlike portable dehumidifiers that sit in the basement and need to be constantly emptied, the Aprilaire Whole-Home Dehumidifier is professionally installed into your heating and cooling system where it runs 24/7 keeping humidity down throughout your entire home. The unit can remove 90 pints of water a day from your home ensuring that you stay cool and comfortable in the summer.
Strategic Landscaping
Carefully positioned shade trees can help you stay cool in the summer and save up to 25 percent of a household's energy consumption for heating and cooling. On average, a well-designed landscape provides enough energy savings to return your initial investment in less than eight years. Trees can reduce surrounding air temperatures as much as 9 degrees because cool air settles near the ground, air temperatures directly under trees can be as much as 25 degrees cooler than air temperatures above nearby blacktop. A well-planned landscape can reduce an unshaded home's summer air-conditioning costs by 15 percent to 50 percent. The type of trees you select vary based on your part of the country so check with a nursery to select the best ones for your yard.
Grading
Homes will stay cooler in the summer if the outside grading and drainage conditions are maintained. Poor drainage leads to higher moisture levels inside the home which are uncomfortable and unhealthy. There are two areas that should be checked:
Yard Drainage: Slope soil around the house in such a way as to divert water away from the house.
Roof Drainage: Diverting all water from the roof and gutters away from the house. Don't allow roof drainage to saturate the soil around the foundation of the house.
No Cost Tips to Cut Energy
Besides these low-cost tips, are there are other things you can do to stay cool in the summer while keeping costs down and they're free:
Work at Night: Run heat generating appliances like your clothes dryer or oven only at night.
Close Storm Windows: If you have central A/C or in rooms where you are running window units. The same air that leaks in during the cold winter months also leaks in during the summer and drives up cooling costs.
Reverse Ceiling Fans: If you have ceiling fans, take advantage of their one energy efficient feature — reversible motors. By controlling the direction of the blades, you can use the fan to "pull" cold air up in the summer and "push" warm air down in the winter. Upgrade to a more energy-efficient ceiling fan. ENERGY STAR qualified models are up to 50% more energy-efficient than conventional fans and can further help you stay cool in summer.
Be Strategic with Room Fans. Room fans provide that great "evaporative cooling" effect, moving air and thereby causing any moisture on your skin to evaporate so that you feel more cool and comfortable. Position them for maximum air circulation in living areas, and if you're using a window fan, make sure to open another window across the room to help with cross-ventilation.
Summer heat is a welcome escape from winter chills. But to keep cool this summer without making energy bills rise, follow these tips to enjoy the best of the season.